This post is sponsored by Florida Beef Council in conjunction with a social media campaign through Sunday Supper LLC. All opinions are my own.
Shredded and crispy flank steak is served with sauteed onions, black beans and rice to form one of my favorite meals – Vaca Frita Rice Bowl. Garnish with cilantro and a lime wedge for the perfect Cuban-inspired dish.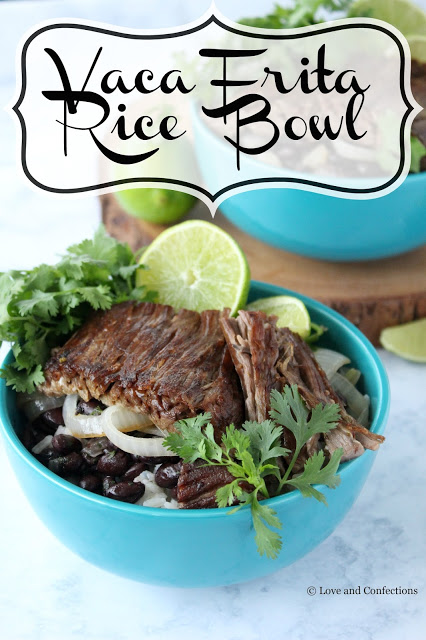 I grew up in Miami, where I was immersed in the Cuban culture. Cuban Coffee flowed strong, pastelitos, flan and tres leches were always a treat, and Vaca Frita was my favorite Cuban dish. I loved going to restaurants like Versailles or Sergio's to fulfill my Vaca Frita cravings, until I learned to make it at home.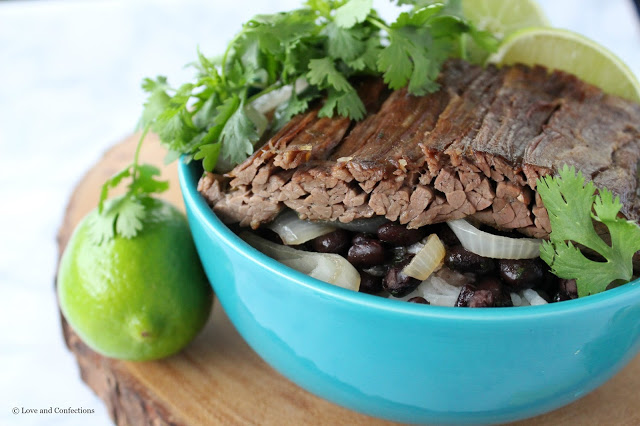 It is easy to get restaurant-quality Vaca Frita at home, using spices, marinade and flank steak. Flank steak is one of my favorite cuts of beef. A single serving of beef provides 50% of your recommended daily value of protein, and also has high amounts of zinc, iron, vitamins B6 and B12, as well as other key vitamins and minerals.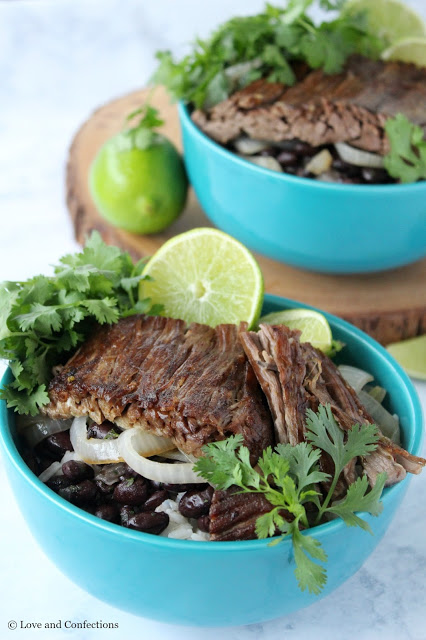 Flank steak comes from the abdominal muscles of the cow and is a long, flat and lean cut. Did you know that a single 3 oz. serving of lean beef has an average of 150 calories and less than 10 grams of fat. It has a great beefy flavor and is best when cut against the grain, for maximum tenderness. I love using flank steak for fajitas, satay, stir fry, and seared on the grill.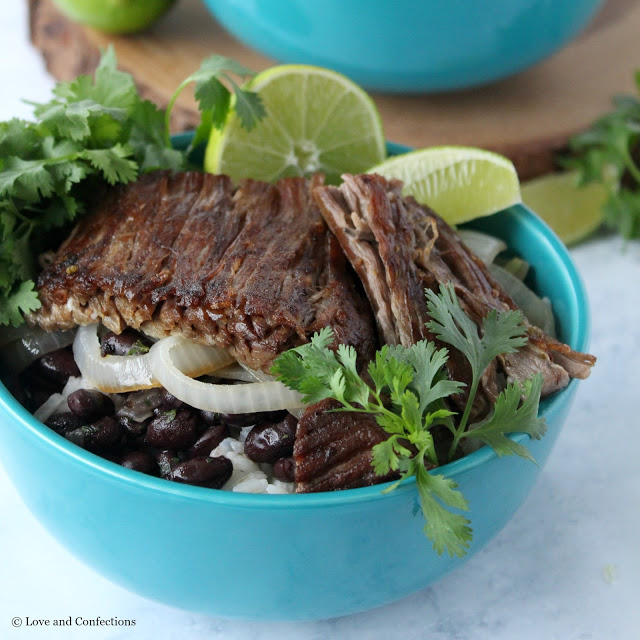 Vaca Frita is such a flavorful dish. It is cooked, flattened, marinated with garlic, oregano, lime juice, and other spices. Then, it is seared in a hot pan to create the signature crispy texture on the outside. I always serve my Vaca Frita with either sauteed or caramelized onions. The onions balance out the dish because they are so sweet and juicy.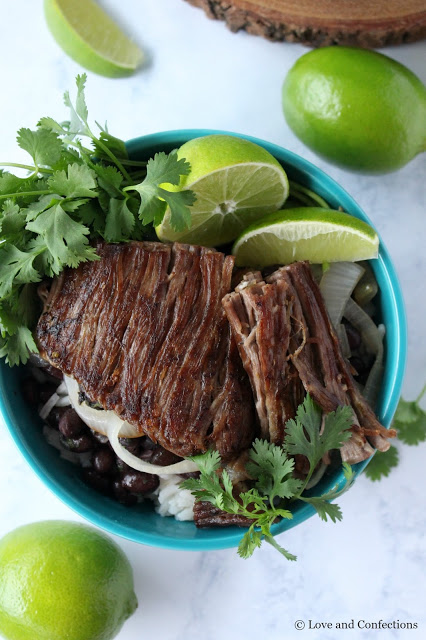 Black beans and rice are also a staple in Cuban food, and I decided to create a bowl for my meal, rather than a larger platter. I love individual bowls because everyone can customize it how they like. Mr. L&C is not fond of black beans, so he left that out of his. #ToddlerLnC and I love black beans, so we had plenty for our bowls.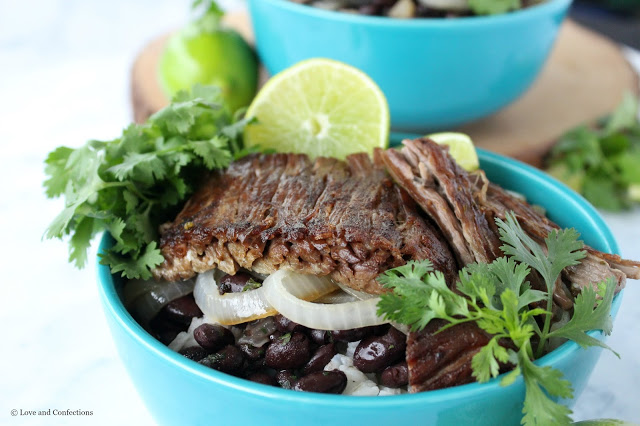 Lime is a key part to this dish. I love the acidity and flavor it gives to the beef. The flank steak is not only marinated in lime juice, but I also serve with lime wedges. If you are a fan of cilantro, then you can use it as a garnish too. I hope you try my delicious Cuban-inspired Vaca Frita Rice Bowl, enjoy!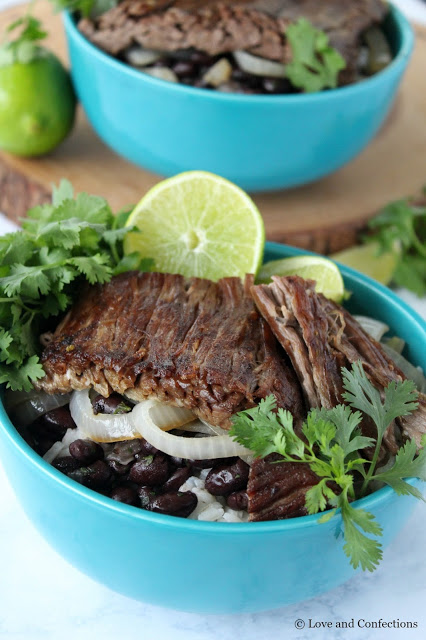 Beef is a great ingredient in your recipes, instead of as the center of the plate. It is a nutrient-packed and delicious addition to any bowl, salad, or veggie-focused meal! You can find more information and other delicious Florida Beef Council recipes on the Florida Beef Website, Facebook, Instagram, Pinterest, Twitter and YouTube channel.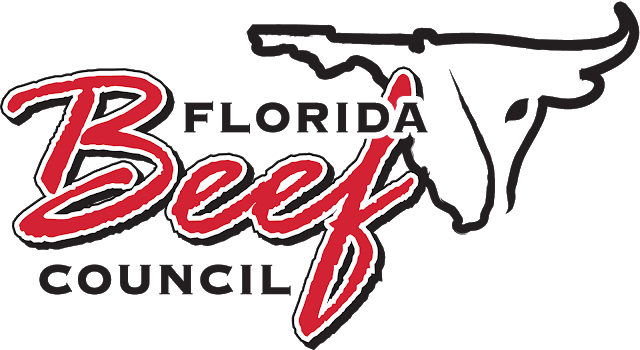 Vaca Frita Rice Bowl
By adapted from a family recipe
Published 08/21/2016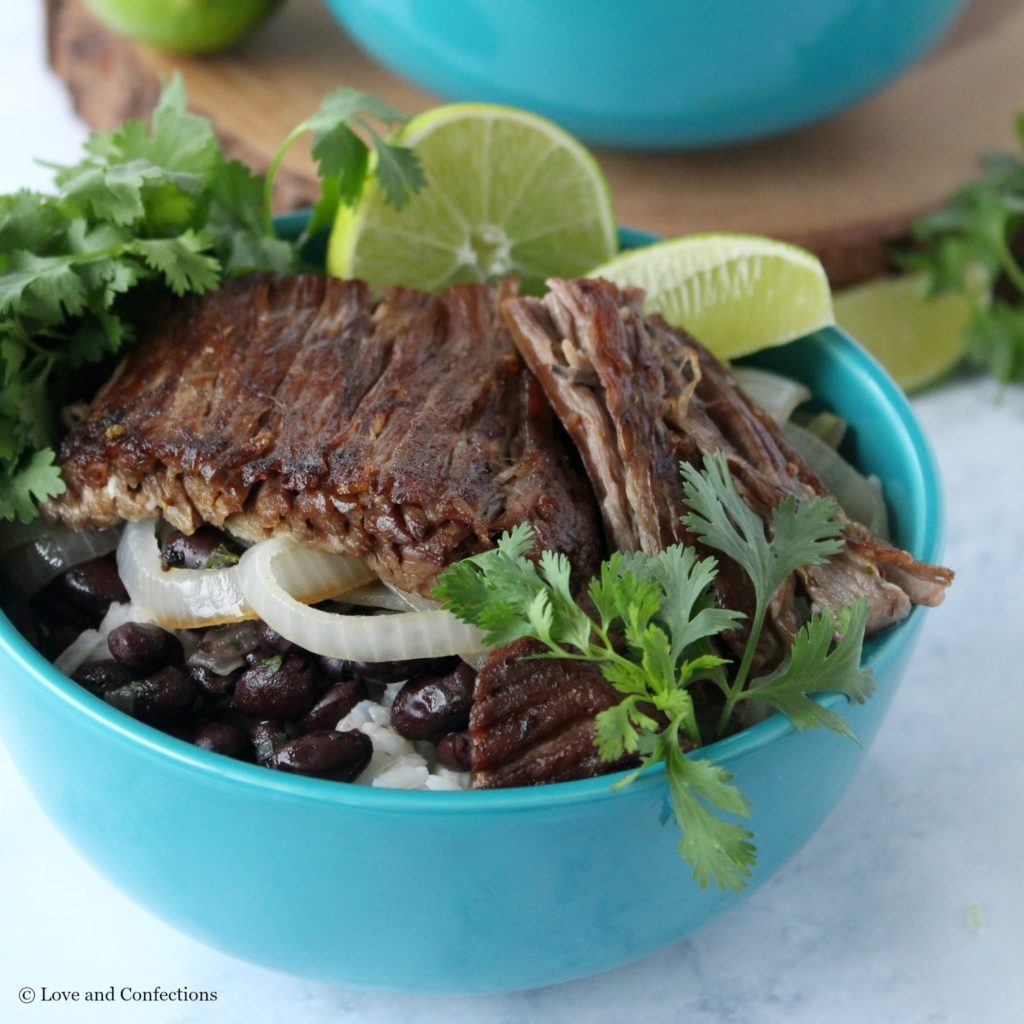 Shredded and crispy flank steak is served with sauteed onions, black beans and rice to form one of my favorite meals – Vaca Frita Rice Bowl. Garnish with cilantro and a lime wedge for the perfect Cuban-inspired dish.
Ingredients
2-3 lb flank steak
1 1/2 teaspoons salt
6 garlic cloves, minced
3 medium onions, sliced thin
2 teaspoons dried oregano
2 bay leaves
1/4 cup freshly squeezed lime juice
1-3 tablespoons vegetable oil
Prepared white rice
Pprepared black beans
Lime and Cilantro for garnish
Instructions
Place flank steak into a large stock pot. Cover with water and add 1 onion, chopped and 1 teaspoon salt and 2 cloves of minced garlic. Bring to a boil, then reduce to medium-low heat and cook for 1-1.5 hours, until tender, making sure the meat stays covered with water the whole time.
Remove the steak, discard onions and water, place on platter or cutting board, and cover with foil while it cools. Once cooled, cut the steak into 6 even pieces. With a meat mallet or wooden rolling pin, pound the meat into thin shredded steaks.
Place the steaks in a large baking dish. Cover with remaining minced garlic, oregano, bay leaves, lime juice and salt. Let the meat marinate for 2-4 hours in the refrigerator.
Remove steaks from marinade and wipe clean with paper towels, so no garlic pieces get burnt on while cooking. Heat a large skillet with 1 tablespoon vegetable oil until hot. sear steak in batches, about 2-3 minutes per side, until golden brown and crispy. Remove and continue with remaining steaks, using extra vegetable oil if necessary.
In same large skillet, add 1 tablespoon vegetable oil and saute remaining 2 onions until translucent. Place steaks back into pan, garnish with chopped cilantro.
To build your bowl, layer rice, black beans, and vaca frita. Garnish with more cilantro and lime slices. Enjoy!
Yield: 6 servings
Prep Time: 04 hrs. 00 mins.
Cook time: 02 hrs. 00 mins.
Total time: 6 hrs. 0 mins.
Tags: Vaca Frita, Beef, Main Dish, Sunday Supper
Join the #SundaySupper conversation on twitter on Sunday! We tweet throughout the day and share recipes from all over the world. Our weekly chat starts at 7:00 pm ET. Follow the #SundaySupper hashtag and remember to include it in your tweets to join in the chat. To get more great Sunday Supper Recipes, visit our website or check out our Pinterest board.
Until next time,
LOVE & CONFECTIONS!