Reminiscent of the Cuban sandwiches I grew up eating in Miami, this Cuban Sandwich Cheeseburger brings all the flavors of the traditional sandwich with the addition of a delicious beef burger for #BurgerMonth!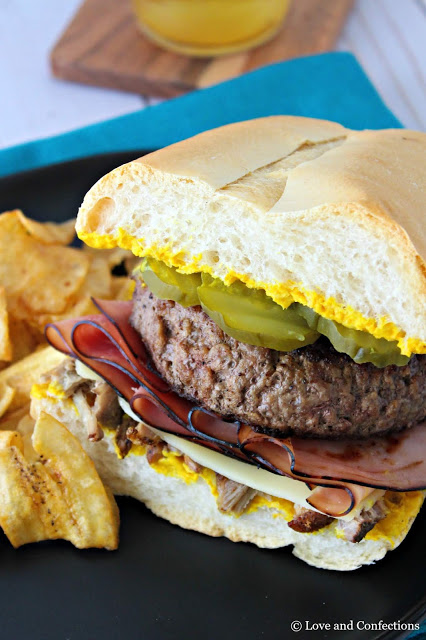 I love burgers and am so happy to finally be able to participate in Girl Carnivore's #BurgerMonth. Enter the giveaway below! We eat a fair share of cheeseburgers and grill out often year-round (yay for living in Florida!). When I was coming up with ideas for this month's burger, one flavor profile stood out – Cuban sandwiches.
I grew up in Miami, and while I am not Cuban – or Hispanic for that matter – it greatly influenced my life and what I ate. Cuban sandwiches and Medianoches were always a go-to, and my very favorite Cuban meal is Vaca Frita.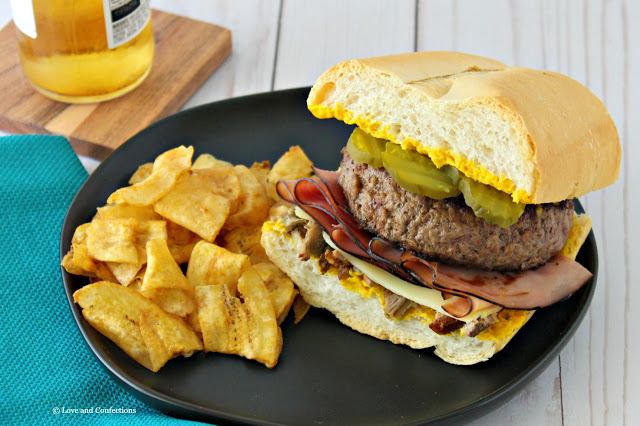 We would frequent the local Cuban bakeries for pastelitos on the weekend. One of my favorite memories as a child was when a family friend took us to this little Cuban cafe and I was first introduced to pan tostado and cafe con leche – it was a delicious culinary experience and one that I have always remembered. We often visited our favorite Cuban restaurant and order tostones, arroz con pollo, vaca frita, and so much more. The tastes and smells of Miami will always be a part of who I am, even though I no longer live there.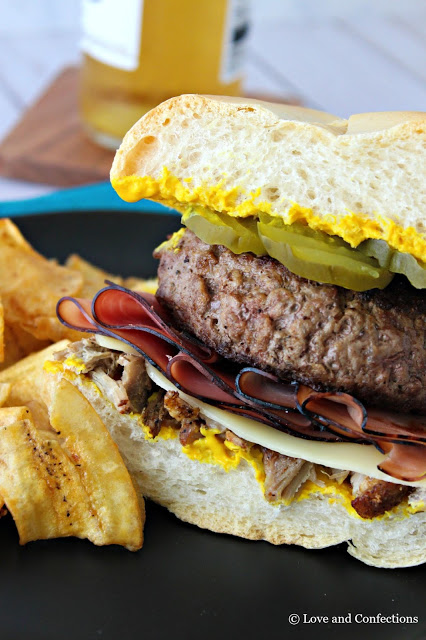 Back to the burger – how could I pass up the opportunity to recreate a favorite sandwich in burger form. Authentic Cuban bread is a must for this recipe. Luckily my grocery store carries it, so I didn't have to trek across town to find some.
The sandwich is relatively simple if you have all the parts. Cuban bread, mustard, pork, ham, Swiss cheese, and sweet pickles are the original components. We made slow cooker pork the other night, so I used leftovers for my sandwich. Pulled pork is always good to have in the freezer for an easy meal, and is perfect on my Cuban sandwiches.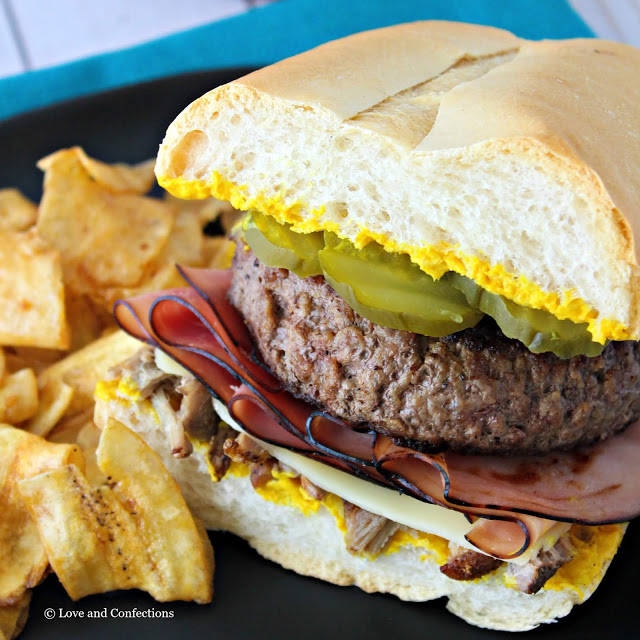 Grab a side of plantain chips, maduros, yuca fries or arroz con frijoles to accompany the Cuban Sandwich Cheeseburger for the full experience. I hope you enjoy my homage to my hometown with this delicious #BurgerMonth creation! Don't forget to enter the giveaway below!!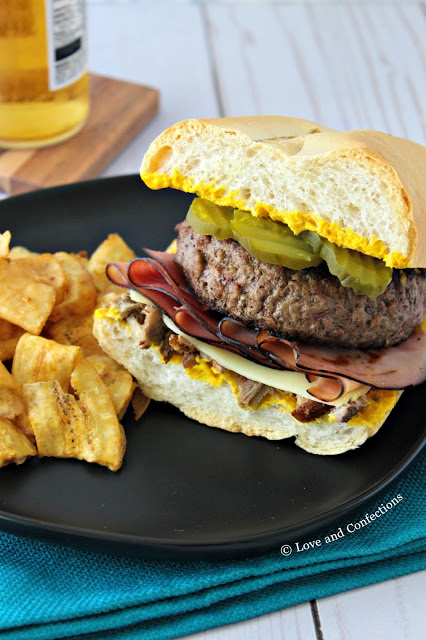 Cuban Sandwich Cheeseburger
By Love and Confections
Ingredients
Cuban bread
Mustard
Pulled Pork
Ham (2 slices per burger)
Swiss Cheese
Hamburger (1/4 to 1/3lb is best)
Sweet pickles
Instructions
Prepare burger to liking. While burger is resting, slice Cuban bread in half and top each cut half with mustard. Layer on pulled pork, ham, them cheese on one side, and pickles on the other. Place the burger on top of the cheese and place the top half of the sandwich on. You can eat it as is, or press the sandwich.
Until next time,
LOVE & CONFECTIONS!