Vanilla bean and mint smoothie is a refreshing and fun layered drink. Flecks of vanilla bean float in one layer while mint combines with spinach for a beautiful green layer.
Thank you Stonyfield and Walmart for sponsoring this post.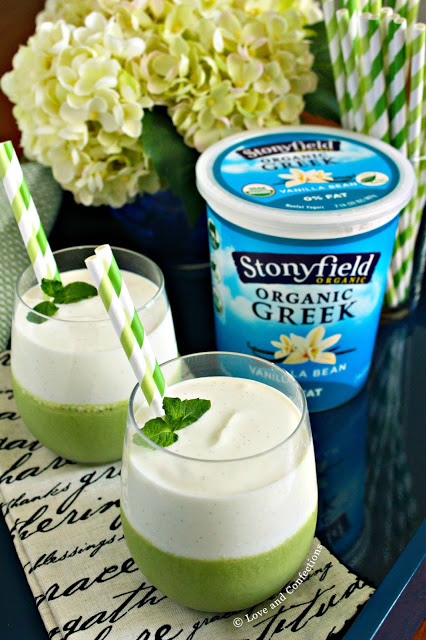 Toddler LnC and I usually have a smoothie every day, and recently I have been wanting to play around with different fruits and vegetables, so we have a variety. A layered smoothie is not only pretty, but a great way to have different flavors.
Green smoothies are great for adding extra veggie goodness to your smoothies. Sometimes the toddler will drink a green smoothie, but sometimes I have to camouflage it, and mint seems to be a new favorite. Spinach doesn't have too much flavor, so when it's blended with some home-grown mint, it creates a refreshing and vibrant green layer.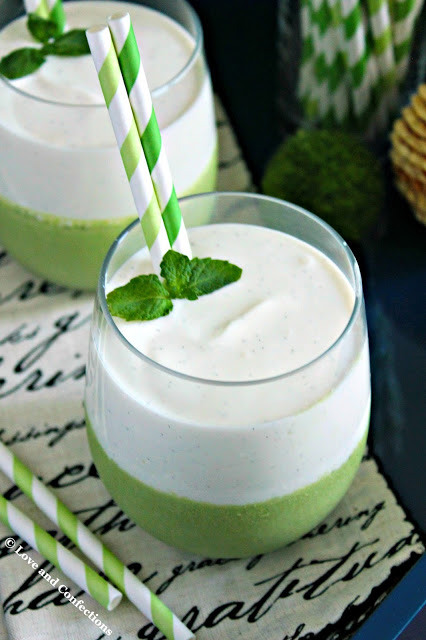 Walmart as started to carry quite a few organic products, including
Stonyfield Yogurt
! I try to eat organic, but it isn't always wallet-friendly. Luckily, now that
Walmart
is carrying more organic products, my family can eat healthier and I don't have to worry about taking out a loan for groceries.
In my latest haul, I purchased a good amount of organic food from Walmart. Stonyfield Yogurt is always on our shopping list. I also bought organic sugar cookie mix, cereal and macaroni & cheese for the toddler. Some other organic produce, like spinach for smoothies, and carrots and green onions for dinner that night. I always keep a good supply of organic dark chocolate chips and unsweetened coconut flakes on hand in case I need them for baking. I also stocked up on a few organic canned pantry items.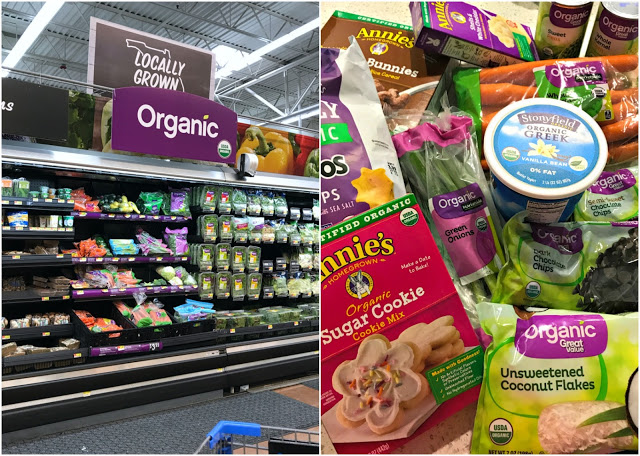 I hope you try a layered smoothie soon, and don't forget to check out all my
Smoothie recipes
!
Vanilla Bean and Mint Layered Smoothie
By Love and Confections
Published 06/23/2017
Ingredients
10-20 mint leaves
1/2 cup packed baby spinach
1 teaspoon vanilla bean paste
1 frozen banana
1 cup Stonyfield Vanilla Bean Greek Yogurt
1 cup milk
1 cup Stonyfield Vanilla Bean Greek Yogurt
1 cup milk
2 teaspoons vanilla bean paste
1 frozen banana
Instructions
Place ingredients for green smoothie in high-powered blender. Blend until combined then divide between glasses. Freeze for 20+ minutes so distinct layers are made
Blend ingredients for vanilla smoothie. Top green smoothie and enjoy!
Yield: 2
Until next time,
LOVE & CONFECTIONS!
I have an ongoing relationship with Stonyfield Yogurt as a recipe developer and brand ambassador. I receive product, coupons and/or compensation for posts featuring their products.