Homemade Vanilla Bean Bourbon Whipped Cream is the perfect topping for your sweet treats.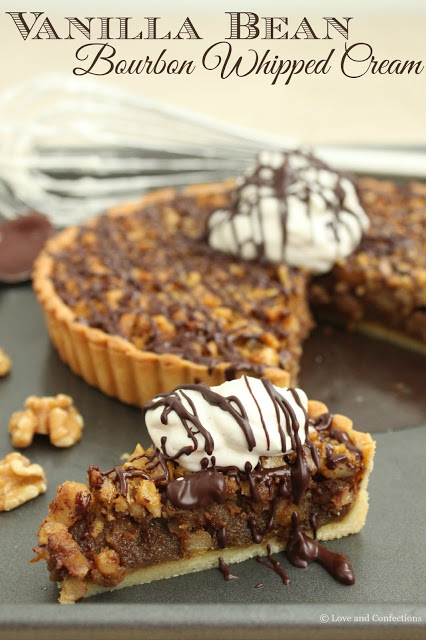 There is something decadent about homemade whipped cream. It is so easy to make, yet is a light and luxurious topping to any dessert. I love flavored whipped cream, and nowadays, you can add almost anything to it. Vanilla Bean Paste is my go-to whipped cream flavoring, but I thought about going over-the-top delicious and added Bourbon as well.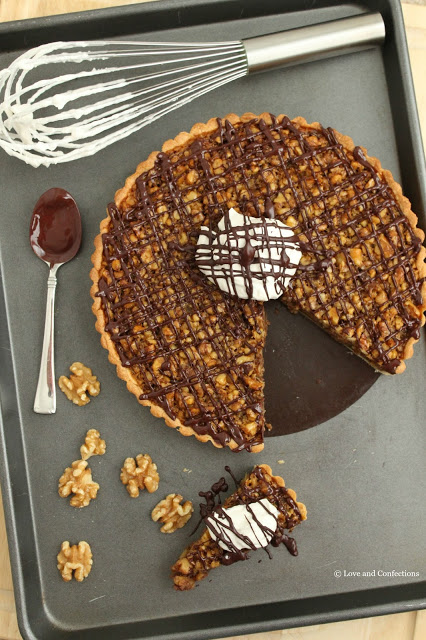 I made this whipped cream after creating my Whiskey Walnut Tart. This tart is fantastic – a delicious and gooey whiskey and walnut filling with a chocolate drizzle. The only thing that could make this tart even better is to be topped with Vanilla Bean Bourbon Whipped Cream.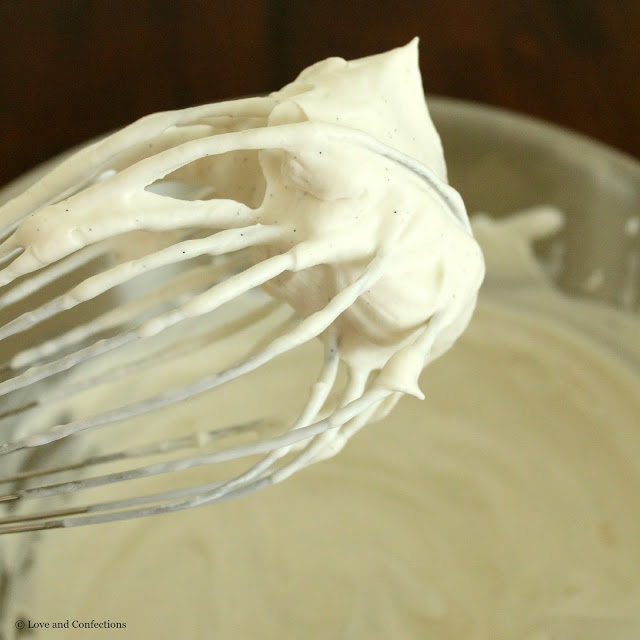 I love seeing vanilla seeds in baked goods and confections. The little black flecks let you know you have a good quality and delicious product. I use Vanilla Bean Paste in so many recipes and baked goods, like ice creams, cakes, pancakes, etc. It is one of my go-to flavorings.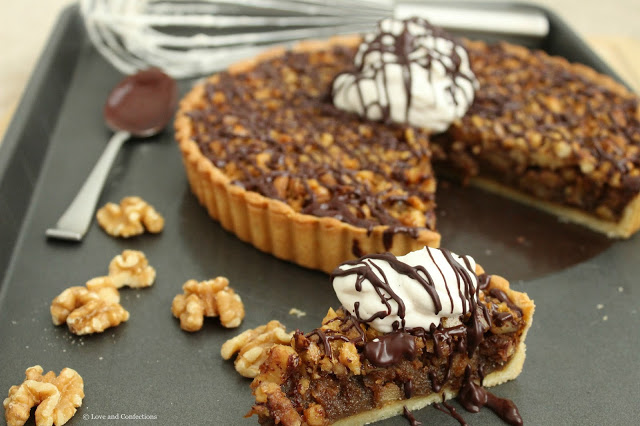 Homemade whipped cream is so easy to make, especially if you have a stand mixer with a whip attachment or a hand mixer. I have both, but this particular batch was made by hand. #ToddlerLnC was napping while I made this, and unfortunately with thin walls and the kitchen right below her room, I couldn't use my mixers without possibly waking her up. It takes a little effort to hand whip heavy cream, but it is glorious and delicious when it's done. I hope you enjoy this easy recipe and have it with your favorite treats.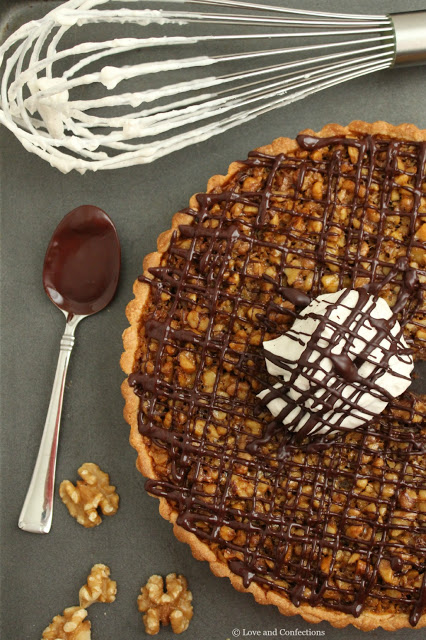 Vanilla Bean Bourbon Whipped Cream
A Love and Confections original recipe
Click here for a printable recipe
Vanilla Bean Bourbon Whipped Cream Ingredients:
– 1 cup Heavy Whipping Cream, cold
– 1 tablespoon Kentucky Bourbon Whiskey
– 3 tablespoons Powdered Sugar
– 1 teaspoon Vanilla Bean Paste (I used Nielsen-Massey Madagascar Bourbon Pure Vanilla Bean Paste)
Vanilla Bean Bourbon Whipped Cream Directions:1. 30 minutes prior to making whipped cream, place your stand mixer bowl and whip attachment in the refrigerator to chill it. Cold cream whips better.
2. In your stand mixer bowl, combine the Heavy Cream, Bourbon and Powdered Sugar. Whip until soft peaks form
3. Add in the Vanilla Bean Paste and whip just until it has stiff peaks. Store in refrigerator for up to 24 hours if not using immediately. Re-whip for a few seconds before using. Enjoy!
Until next time,
LOVE & CONFECTIONS!
Disclaimer: All opinions are my own. This post contains affiliate links.