Italian Pizzelles are one of my must-have Christmas cookies. Vanilla extract and vanilla bean paste help make this a delicious and delicate cookie that is perfect for all your holiday occasions.
I received product from Nielsen-Massey Vanillas to help create this post. This post contains affiliate links.
Vanilla Bean Pizzelles are my favorite pizzelle flavor. This delicate and crisp cookie is perfect for Christmastime, or any time of year in my opinion. The traditional flavor, and one my best friend loves, is anise. I have to admit that I am not a fan of licorice so I steer clear of it.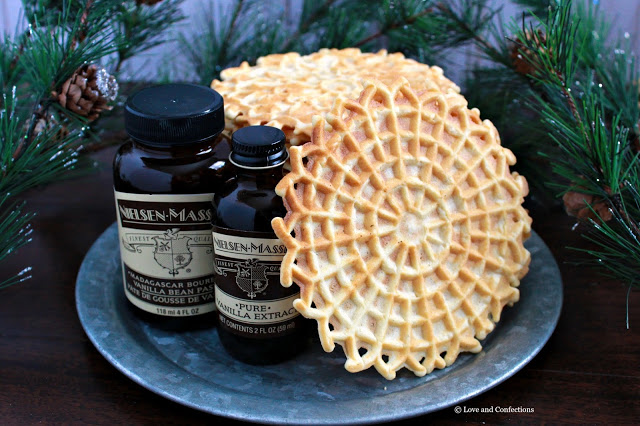 If you're like me and don't want anise seeds, vanilla, almond, citrus and chocolate are great alternatives to the original. In addition to creating the traditional shape, you can also roll them into faux cannoli shells or form them into a cone for fillings. All are delicious in my book, but I like standard pizzelle shapes the best.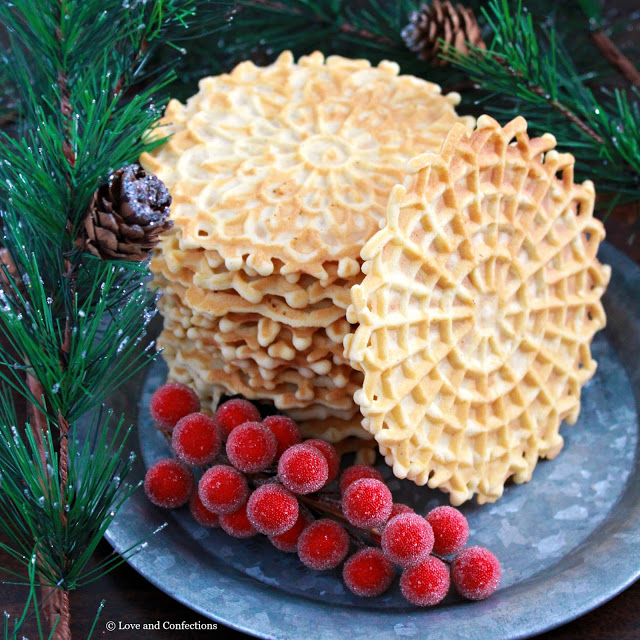 Pizzelles are a pretty easy cookie to make. I used my mom's pizzelle make, but definitely need to get one of my own. If I had two, we could make batches twice as fast, and believe me, when a cookie tastes this good, they are eaten as fast as they are made. These cookies also cook really fast, so you cannot step away while making them.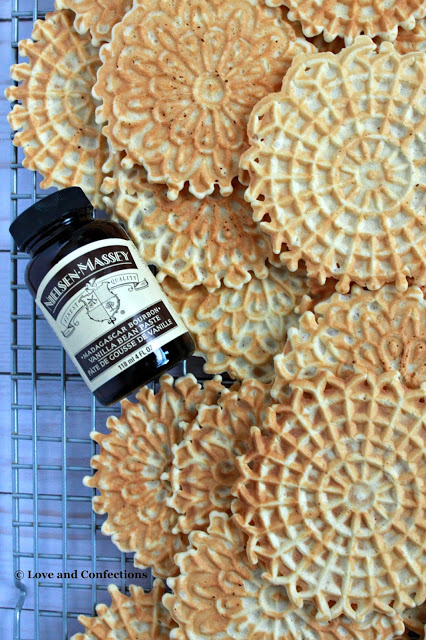 A tip I have found while scouring the internet for recipes is to use a towel with vegetable oil to coat the pizzelle maker instead of cooking spray. Sometimes the cooking spray can leave a sticky residue. You have to let the pizzelle cool completely before storing, so they get nice and crisp. Nobody wants a soggy, soft pizzelle.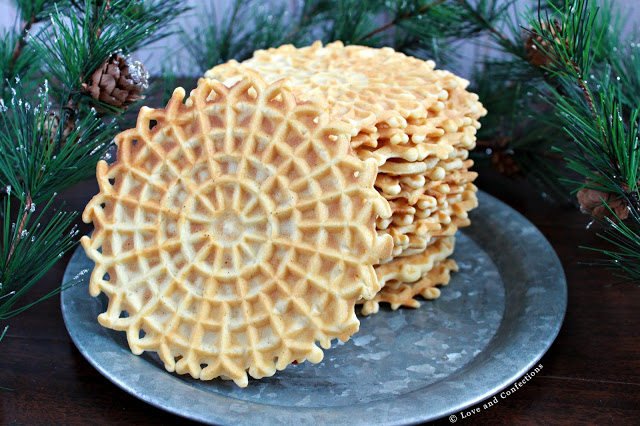 This is my first recipe for Christmas Cookie Week and I cannot wait to see what everyone else has made. All the recipes are at the bottom of the post, as well as a fun giveaway! Hope you enjoy a sweet holiday season with lots of cookies!
Tools to use:
Vanilla Bean Pizzelle
By adapted from King Arthur Flour
Ingredients
3 large eggs, room temperature
3/4 cup sugar
1/2 teaspoon salt
1 teaspoon vanilla extract
1 teaspoon vanilla bean paste
1 3/4 cups all-purpose flour
2 teaspoons baking powder
1/2 cup (8 tablespoons) melted butter
Instructions
Whip eggs until foamy. slowly add in sugar and salt while whipping. Add vanilla and whip until well combined.
Switch to paddle attachment and add in flour and baking powder, mixing until smooth. Add melted butter and combine.
Heat pizzelle iron. Grease according to manufacturer's directions. The batter stiffens as the iron heats
Cook pizzelle according to manufacturer's directions. Mine cooked for about 30-45 seconds.
Use an offset spatula to help remove the pizzelle from the iron and cool on a wire rack.
Yield: 30-50 pizzelle
Until next time,
LOVE & CONFECTIONS!
Try some of these delicious cookies this Christmas season:
Nielsen-Massey Fine Vanillas & Flavors is giving one winner a set of their pure flavors: 2-oz each of Orange, Lemon, Peppermint, Almond, Chocolate, Coffee, Rose Water, and Orange Blossom Water.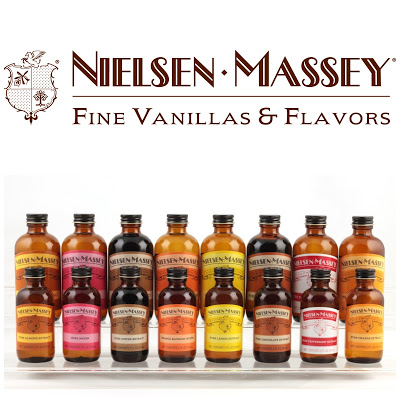 This post may contain Amazon Affiliate links – if you make a purchase after clicking the link, the price will not be higher, but a portion of the sale will go towards the sustainability of this website. As always, all opinions are my own.