Vanilla Bean White Hot Chocolate is simple to make with minimal ingredients. It is an excellent choice for when it's cold outside and you need something hot to warm you up.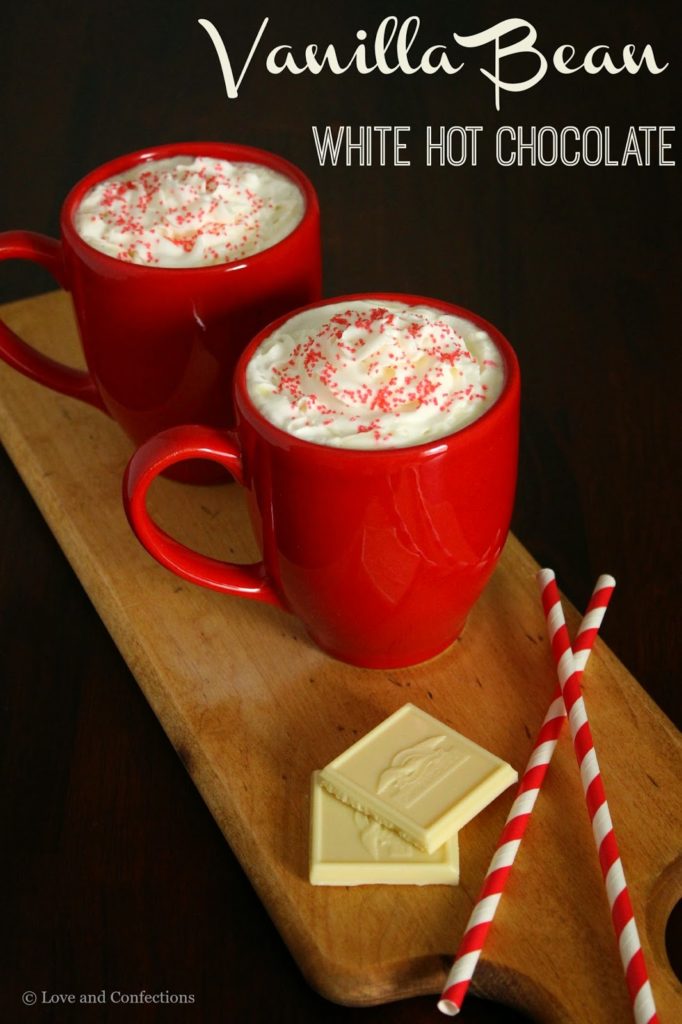 I can't believe it's already day 5 of #VanillaWeek!! I hope you enjoyed my Vanilla Bean Doughnuts, Vanilla Bean Tiramisu, Vanilla Bean Ladyfingers and Vanilla Bean Macarons so far. Today I made everyone's favorite treat – doughnuts! Don't forget to head on over to my blog post with all the details for the #VanillaWeek Giveaway! The #VanillaWeek Bloggers and I have some great recipes today, so please head on over to their blogs as well. We hope you join us throughout the rest of the week as we share vanilla recipes that include breakfasts, drinks, desserts and even savory dishes!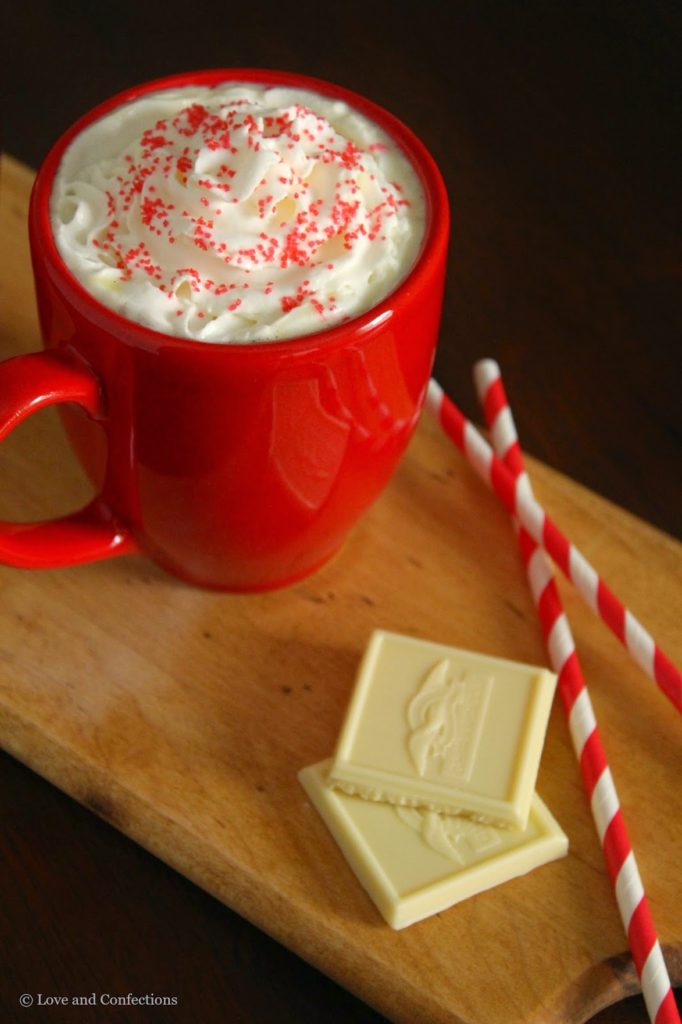 Snow is blanketing most of the north, while here in Florida it is in the 60s. While I do love cool weather, I have never lived in an area where it snows, so I don't know the first thing about it – aside from playing in it on some childhood vacations. I imagine that a lot of people are tired of shoveling, de-icing, commuting to work, etc. That might get my mood down and make me want to just stay inside with a warm fire and hot cup of something delicious.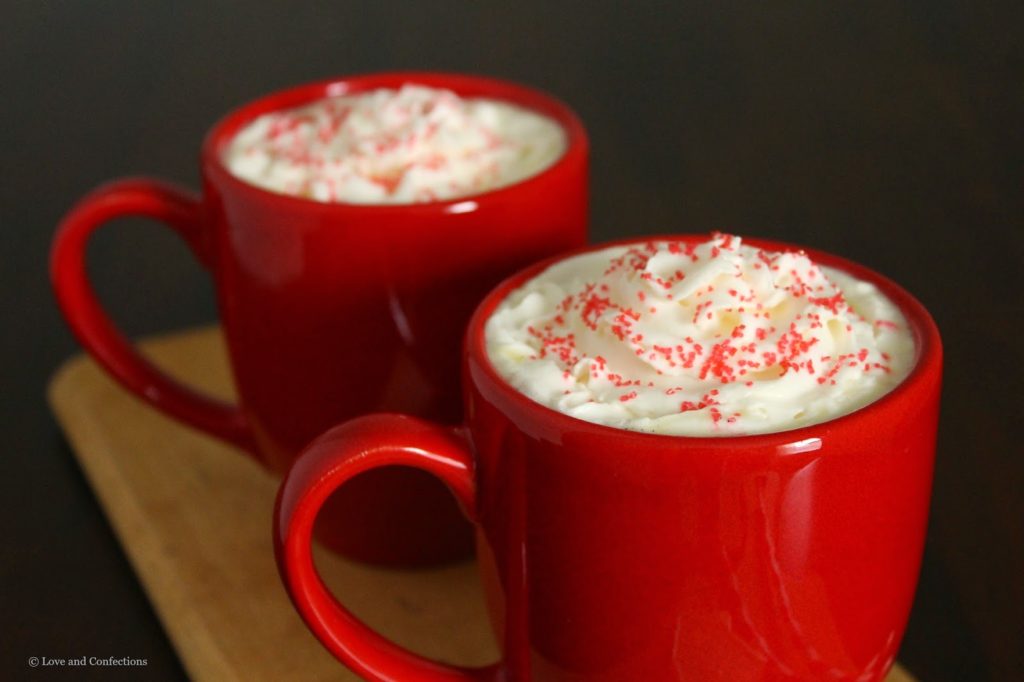 White Hot Chocolate is definitely one of those go-to treats when the weather gets chilly here. I used to go get my hot chocolate fix from a barista in some shall-not-be-named coffee shop, until I started making my own at home. It is so simple, costs less, and I almost always have all the ingredients on hand.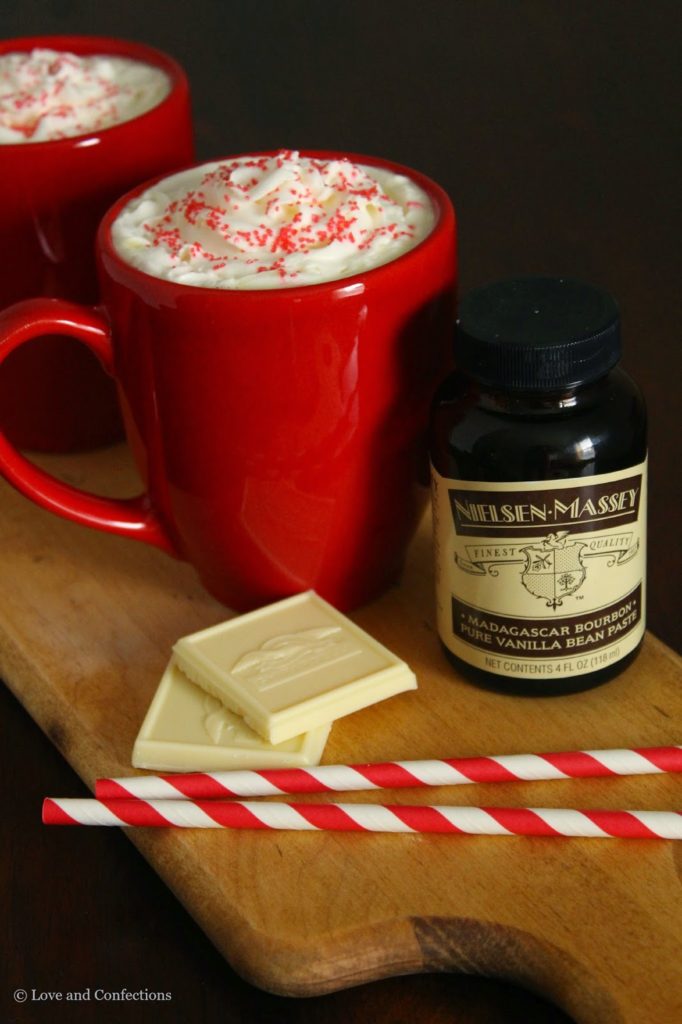 I decided to amp up the flavor by adding one of my absolute favorite ingredients – Vanilla Bean Paste. I seriously cannot get enough of this stuff! I love seeing all the tiny vanilla seeds spread throughout all the goodies I create. From Vanilla Bean Ice Cream to Pink Vanilla Bean Cupcakes and everything in between, vanilla seeds are amazing. I hope you make yourself a nice hot mug of this delicious hot chocolate, especially if you are snowed in. Sending warm thoughts and don't forget to enter for our big #VanillaWeek giveaway!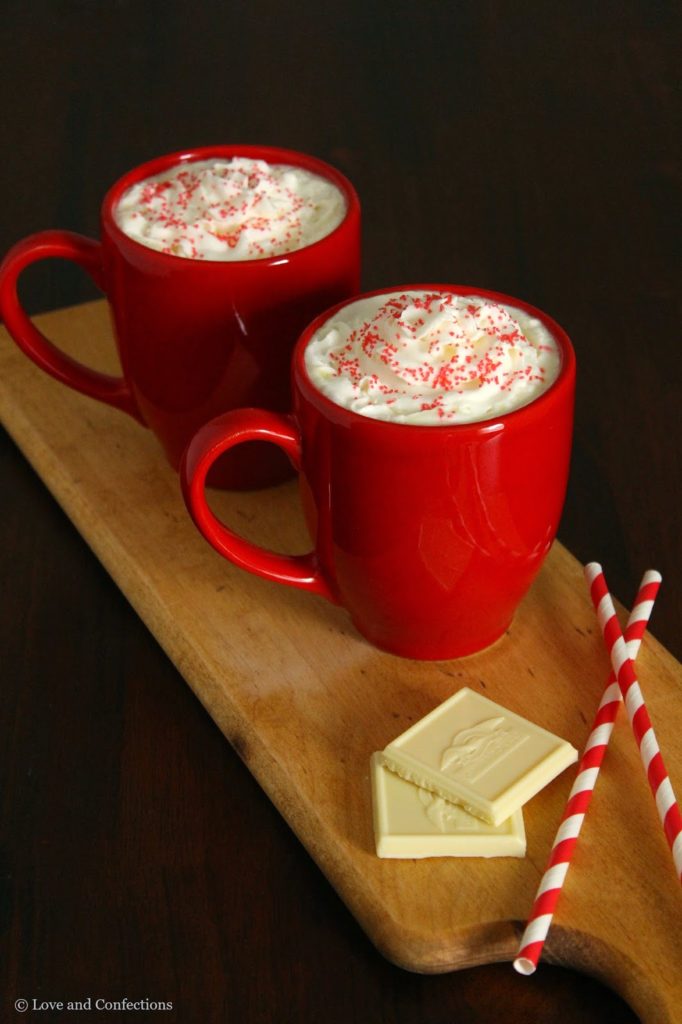 Vanilla Bean White Hot Chocolate
A Love and Confections original recipe
Click here for a printable recipe
Yield: 2 mugs
Vanilla Bean White Hot Chocolate Ingredients:
– 1 & 1/2 cups Half and Half
– 1 cup Whole Milk
– 2 ounces good quality White Chocolate, chopped
– 2 teaspoons Dixie Crystals Extra Fine Granulated Sugar
– 1 tablespoon Nielsen-Massey Madagascar Bourbon Vanilla Bean Paste
– Whipped Cream and Sprinkles, optional
Vanilla Bean White Hot Chocolate Directions:
1. In a medium saucepan, heat the Half and Half and Milk until warm.
2. Add in the White Chocolate, Granulated Sugar and Vanilla Bean Paste. Whisk until the chocolate is completely melted and incorporated.
3. Divide between 2 mugs and top with Whipped Cream and Sprinkles. Enjoy!
Until next time,
LOVE & CONFECTIONS!
Here are more #VanillaWeek Blogger recipes:
Vanilla Pineapple Margaritas from Pineapple and Coconut
Tomato-Basil Soup with Vanilla from Take A Bite Out of Boca
Vanilla Bean White Hot Chocolate from Love and Confections
Snickerdoodle Waffles from It's Yummi
Disclosure: Nielsen-Massey Vanillas, Bob's Red Mill, Silpat, Quirk Books and Dixie Crystals/Imperial Sugar are providing the prizes free of charge. These companies are also providing the bloggers with samples and product to use for #VanillaWeek. All opinions stated are my own.