My favorite spice cookie is extra special when dipped in white chocolate and topped with festive sprinkles. Ginger Crinkles are crunchy on the outside, chewy on the inside, and has the perfect amount of spice!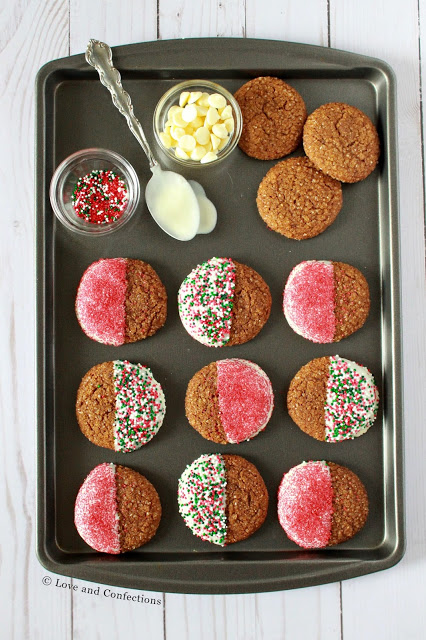 Ginger Crinkles are a family favorite. We make at least 8 dozen every year, usually more. They are perfect to give out as Christmas goodies to family and friends. We have to make a few dozen just for us because the whole family devours them – they are that good!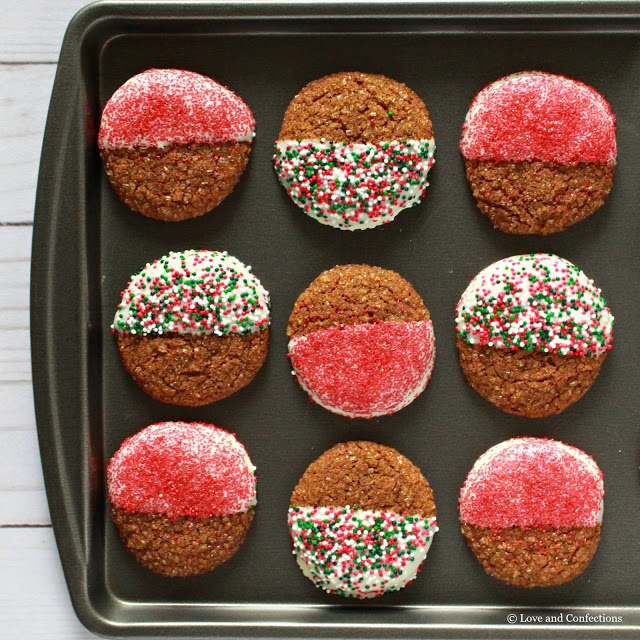 I decided to jazz up my favorite recipe with a little white chocolate and sprinkles, because you can never have too many sprinkles! You can easily use white candy melts or white almond bark, but since I didn't have any on hand, I went with the white chocolate.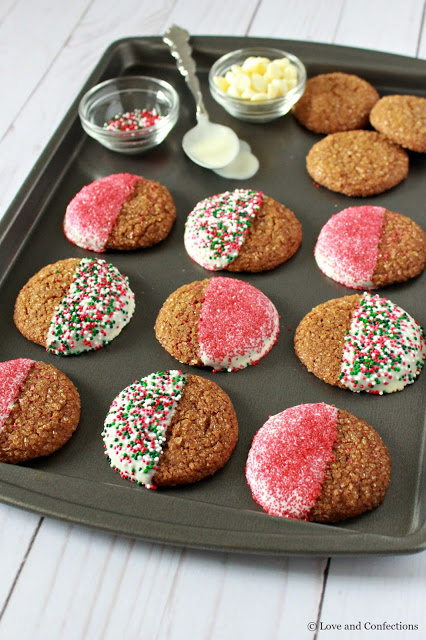 These cookies can easily be customized for any occasion with different sprinkles, chocolate, or frosting. Trust me when I say that Ginger Crinkles will become a holiday favorite!
Tools to use:
White Chocolate Decorated Ginger Crinkles
By adapted from The Food Network
Ingredients
2 cups all purpose flour
2 teaspoons baking soda
1 1/2 teaspoons ground ginger
1 teaspoon ground cinnamon
1/2 teaspoon salt
1/4 teaspoon ground allspice
1/4 teaspoon ground cloves
1/2 cup vegetable shortening
1/4 cup unsalted butter, room temperature
1/2 cup packed brown sugar
1/2 cup packed granulated sugar
1/4 cup molasses
1 large egg
Turbinado sugar for rolling cookies
White chocolate
Sprinkles
Instructions
Heat oven to 350F. In medium bowl, whisk together flour, baking soda, ginger, cinnamon, salt, allspice and cloves. Set aside.
In bowl of your stand mixer, beat together shortening, butter, brown sugar and granulated sugar until light and fluffy. Add in molasses and egg and beat until combined. Slowly add in flour and beat until just combined.
Place turbinado sugar in a small bowl. Using a tablespoon-sized small cookie scoop, drop the batter into the sugar. Roll around to cover completely.
Place 12 dough balls onto an ungreased cookie sheet, about 2 inches apart, and bake for 9-11 minutes, rotating halfway through baking. Cool on baking sheet for 5 minutes, then continue cooling on a wire rack.
Line a cookie sheet with wax paper. In a microwave safe measuring cup or bowl, melt a small amount of chocolate according to package directions. Dip cookies halfway into chocolate then place on cookie sheet. Cover in sprinkles. Place in refrigerator a few minutes for the chocolate to harden. Best when dipped no more than 2 hours before serving.
Yield: 4 dozen
Until next time,
LOVE & CONFECTIONS!
Try some of these delicious cookies this Christmas season:

This post may contain Amazon Affiliate links – if you make a purchase after clicking the link, the price will not be higher, but a portion of the sale will go towards the sustainability of this website. As always, all opinions are my own.