Moist and delicious, this Zucchini Walnut Bread is sure to quickly become a family favorite!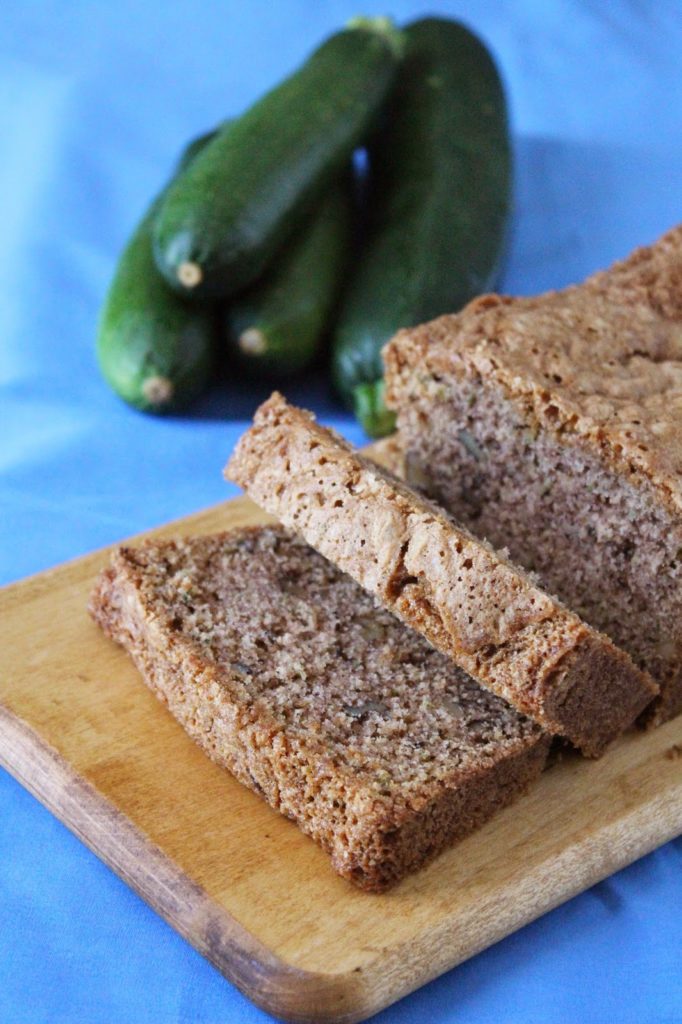 I never used to like zucchinis. I'm not sure why, but the green vegetable and I did not get along. A few years back, I was feeling adventurous and tried a piece of my Mom's Zucchini Bread. Where have you been all my life? Right under my nose, of course!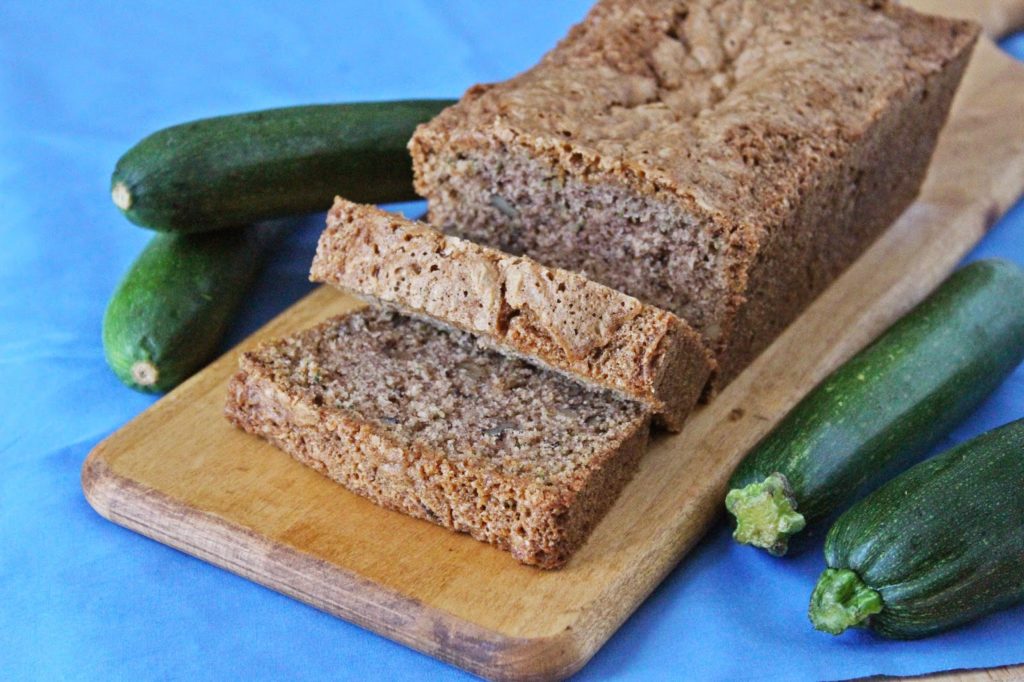 Turns out, I love zucchini bread. Not only that, but now I love zucchini as well. I cook with it so much and usually have a few of them on hand to make with dinner. It is a great vegetable to roast, saute, fry and especially bake with.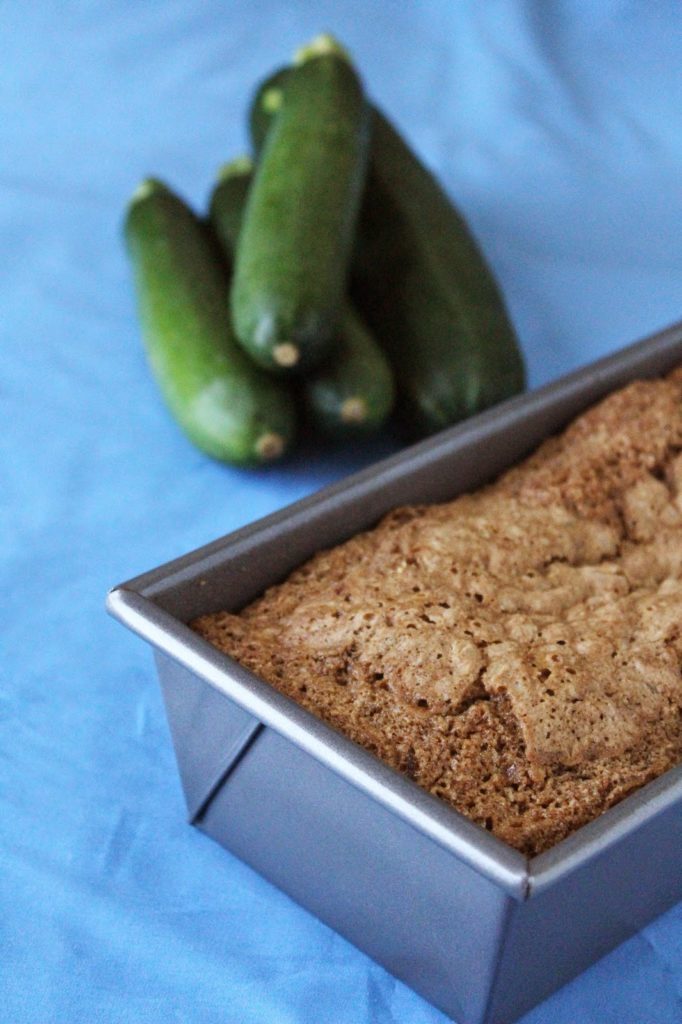 When I make this break I usually double the recipe. Once the Zucchini Bread is cool, I slice up one loaf and individually bag it and freeze it. This bread is perfect for a quick breakfast while taking care of a 6-month old. I place the bag either in the refrigerator or on the counter overnight to let it thaw. In the morning, I toast it slightly and spread on some cream cheese. The tang of the cream cheese mixed with the sweetness of the warm bread is heavenly – a total winner!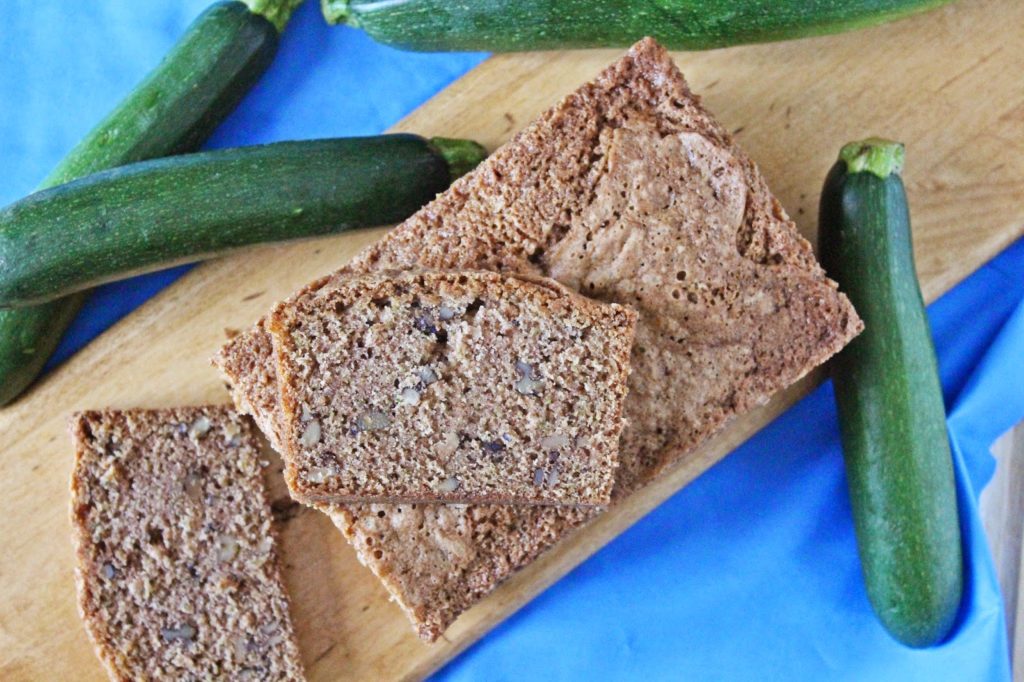 Also, I just added a feature to Love and Confections with a link to the printable recipe – yay! Enjoy!
Zucchini Walnut Bread
adapted from a Love and Confection family recipe
yield 1 loaf
Zucchini Walnut Bread – 2 large Eggs
– 1/2 cup Vegetable Oil
– 1 cup Granulated Sugar
– 1 & 1/2 cups All Purpose Flour
– 1/2 teaspoon Salt
– 1/2 teaspoon Baking Soda
– 1 & 1/2 teaspoons Baking Powder
– 1 tablespoon ground Cinnamon
– 1 teaspoon Vanilla Extract
– 1 cup Zucchini, grated and drained
– 1 cup Walnuts, chopped
Zucchini Walnut Bread
1. Heat oven to 325°F and grease and flour a loaf pan.
2. In the bowl of your stand mixer, or in a medium bowl with a hand mixer, beat the Eggs for 1 minute.
3. Add in the Vegetable Oil and Granulated Sugar. Beat until well combined.
4. Add in Flour, Salt, Baking Soda, Baking Powder and Cinnamon. Beat on low until all the dry ingredients are incorporated. Scrape down the sides of the bowl to insure everything is mixed together well.
5. Add in the Vanilla Extract and grated Zucchini. Mix briefly, just to combine. By hand, stir in the Chocolate Chips.
6. Pour batter into loaf pan and bake for 50-60 minutes, until golden brown and a toothpick inserted into the center comes out clean.
7. Cool on a wire rack. Can be stored in an airtight container for up to 3 days. For freezing, once room temperature, slice and wrap each piece individually with plastic wrap, store in plastic bags for up to 2 weeks.
Until next time,
LOVE & CONFECTIONS!