One of my favorite appetizers has been transformed into a delicious salad. Almond Chicken Salad is topped with homemade Honey Mustard Yogurt Dressing for a delicious everyday meal.
Thank you Stonyfield and Taylor Farms for sponsoring this post.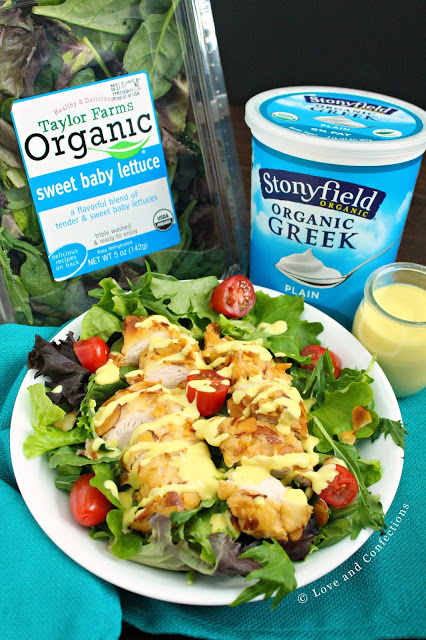 My mom used to make this amazing almond-crusted chicken when I was little. It was usually an appetizer at a party, but I would fill my plate with them and could have it as my meal. I haven't had it in a while and knew that it would be the perfect topping to my salad.
Stonyfield tasked us with creating a yogurt-based dressing to go along with Taylor Farms salad greens. So many options sprung through my head, and I had a hard time narrowing it down. I eat Taylor Farms quite often so coming up with a new salad took a little time thinking, and a little bit of craving.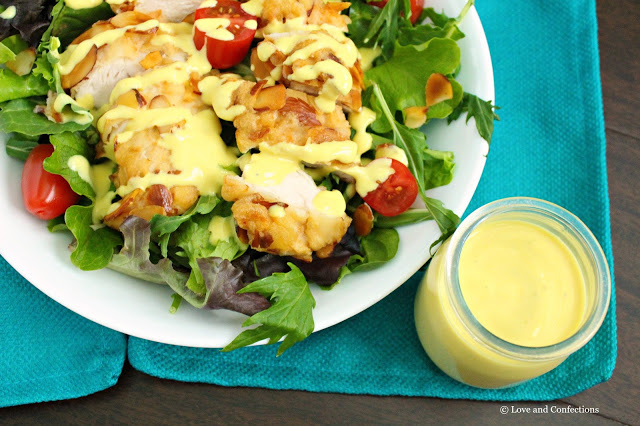 I hadn't had my mom's almond chicken since childhood. Since I have a toddler (going on teenager), lately I have been thinking about all the delicious recipes my mom used to make for us as kids. I cook almost every night, but I want to cook more of the recipes I grew up with too. So, my mom and I made this chicken and I used it in my salad the next day. It is best when freshly made, but crisped up just fine in the oven too!
Homemade honey mustard is so easy to make. I had all the ingredients already in my pantry and whipped it up in less than 2 minutes. Homemade dressings are easy to make and it feels great knowing exactly what goes into them.
I love using Stonyfield Organic Yogurt in my dressings for that rich creamy texture. Greek yogurt is good for a dressing with body and when I want a tangy taste. Stonyfield's Smooth & Creamy is also a great choice if you can't find the Greek yogurt. I hope you try my almond chicken salad and homemade honey mustard yogurt dressing soon!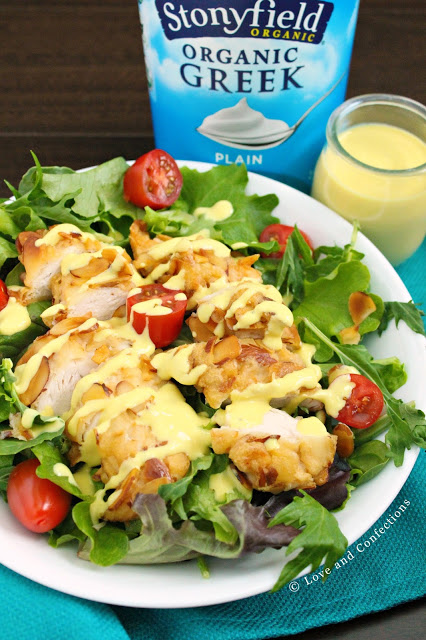 Almond Chicken Salad with Honey Mustard Yogurt Dressing
By Love and Confections
Published 06/30/2017
Ingredients
Taylor Farms 50/50 Spring Mix and Sweet Baby Lettuce
Tomato, diced
1/2 cup Stonyfield Whole Milk Greek Yogurt
2 teaspoons yellow mustard
2 teaspoons Dijon mustard
1 tablespoon honey
2 teaspoons apple cider vinegar
salt and pepper, to taste
Instructions
Place salad greens in bowl. Top with sliced almond chicken and tomatoes.
In small bowl, mix yogurt, mustards, honey, vinegar, salt and pepper. Pour desired amount over salad. Alternately, cut chicken tenders and coat with dressing, then add to salad.
Until next time,
LOVE & CONFECTIONS!

I have an ongoing relationship with Stonyfield Yogurt as a recipe developer and brand ambassador. I receive product, coupons and/or compensation for posts featuring their products.