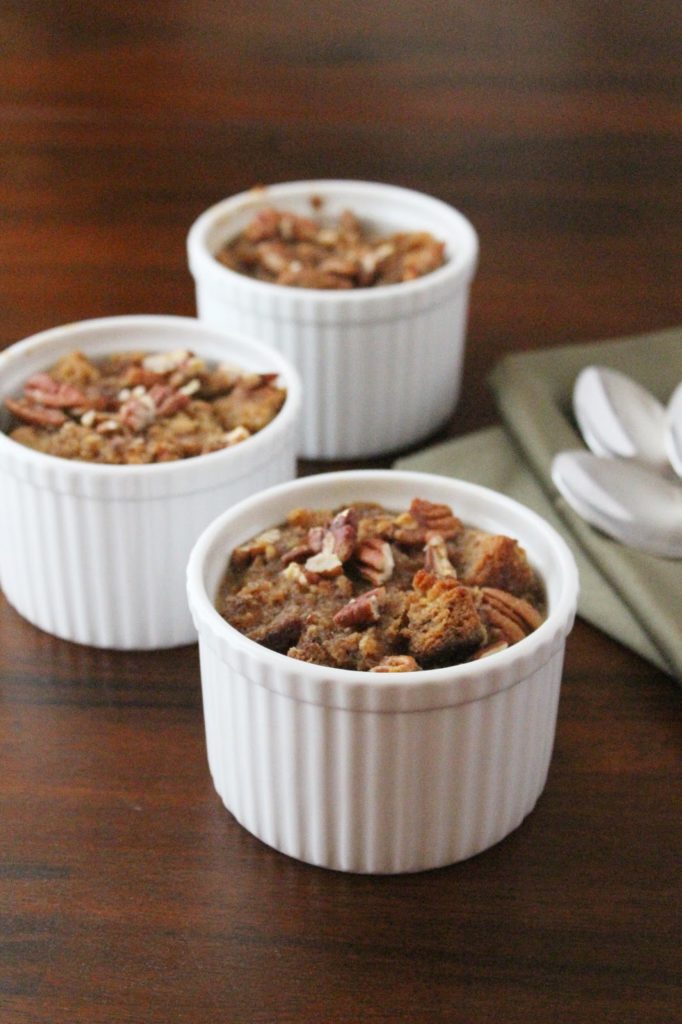 A few weeks ago, I went to Boma, a restaurant in Disney's Animal Kingdom Lodge, to celebrate a friend's birthday. It is a buffet style meal, showcasing the flavors of Africa. The food was great! I didn't really have any expectations because I had never had African cuisine before. They had Salads, Soups – I am totally going to recreate the seafood soup – Meat, Chicken, Vegetables, Rice and Curry; the list goes on and on.
Everyone's favorite was the dessert buffet, of course. Bite-sized treats filled our plates, some were very boozy. There was also a Fruit Crisp and a Banana Bread Pudding. This bread pudding was pretty great. It also had a choice of Vanilla or Rum Sauce. As if there was really a choice? Most of us tried both.
While we were finishing dessert, I decided to recreate this at home. I do have an affinity for Bread Pudding, and always love a moist and delicious Banana Bread – so why not put the two together? I also added some chopped Pecans for a little crunch. My Brown Sugar Butter Rum Sauce was the "icing on the cake" Come back tomorrow for the Brown Sugar Rum Sauce recipe! Warm Bread Pudding is, in my personal opinion, the best way to serve this dish. Definitely one I will make again!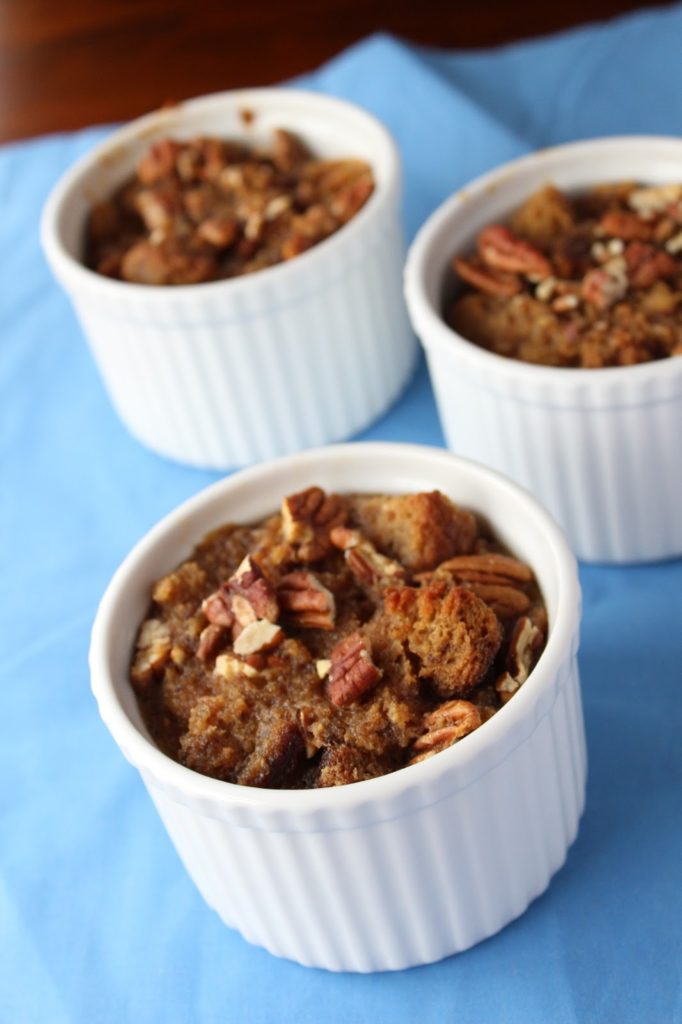 Banana Bread Pudding
a Love and Confections original recipe
Bread Pudding Ingredients:
– 400 grams day-old Banana Bread, cubed
– 300 grams Crusty Bread (Italian or Country), cubed
– 500 grams Whole Milk
– 5 medium to large Eggs
– 200 grams Granulated Sugar
– 2 very ripe Bananas
– 50 grams chopped Pecans or Walnuts (optional)
– 4 cups hot tap Water – for water bath
Bread Pudding Directions:
– Cut the Banana Bread and Bread into inch-sized cubes and set aside.
– In a medium saucepan, scald the Whole Milk but do not bring it to a boil. While the Milk is heating, crack the Eggs into a large bowl and whisk vigorously with the Granulated sugar. Add in Bananas and whisk or use immersion blender to mix thoroughly.
– Once the Milk is warm, slowly pour into the Egg and Sugar mixture while whisking constantly (called Tempering, so the Eggs don't curdle/scramble).
– Place all the bread into the large bowl so it can soak up the mixture. You can toss it with a spoon and press down to make sure all the bread touches liquid. Leave it to "soak" for 30 minutes.
– Heat the oven to 300F.
– Add Nuts to the bread mixture after it has soaked, tossing to combine. Divide mixture evenly between 6 ramekins.
– One of the most important steps when making bread pudding is to use a water bath, or Bain Marie. Place a large dish or pan (big enough to fit the ramekins and about 4 cups of water) on the rack in the middle of your oven. Place the ramekins inside and then add the water – this is the easiest way so you don't create a big mess by moving the already full water bath into to oven.
– Cook for 45-55 minutes. The top will look slightly crisp and the bread should be moist, but cake-like with no excess liquid around the edges. Very carefully, and if you can, take the bread pudding out of the water bath and let it cool slightly before eating. If you can't grab the ramekins, take both containers out of the oven and let the water cool, until you can get the ramekins out of the water bath. Again, please be careful, because the water bath is extremely hot!
– Best served warm with either vanilla ice cream or Brown Sugar Butter Rum Sauce.
Until next time,
LOVE & CONFECTIONS!