A favorite childhood treat gets a nutty upgrade with Cheerios Peanut Butter Treats. Honey Nut Cheerios, peanut butter, and marshmallows are a delicious sweet and crunchy snack the whole family will love.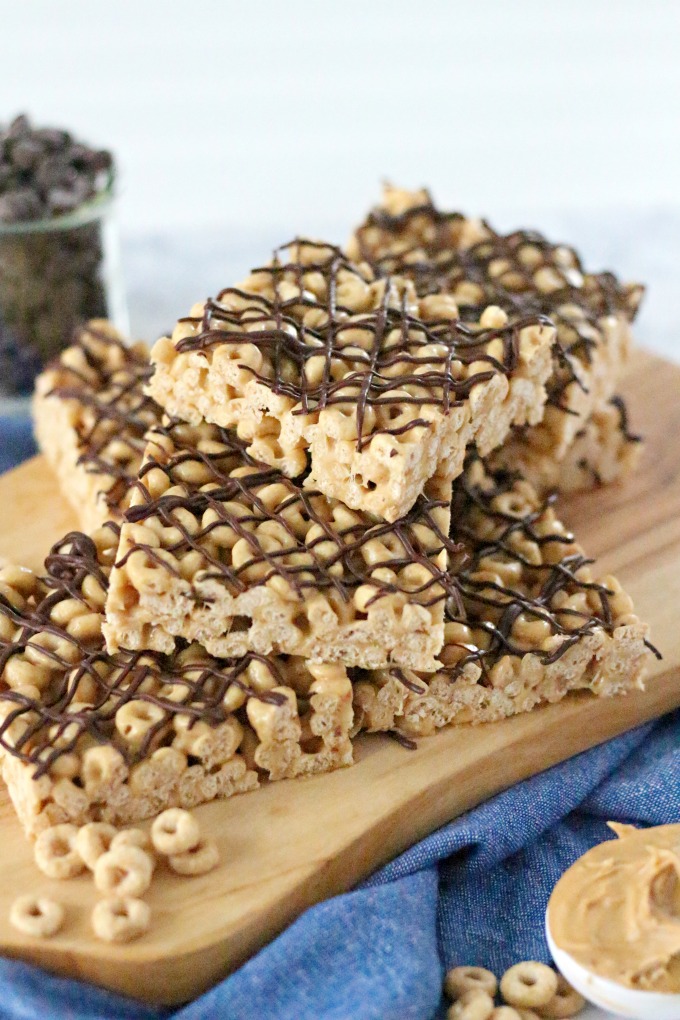 Cheerios Treats:
Cheerios has always been a snack food for us. When I was a toddler, and when my daughter was a toddler, Cheerios were a go-to. Now, this recipe is a little more grown up, with the addition of marshmallows, peanut butter and chocolate. Cheerios Peanut Butter Treats can definitely be customized, which is a great part of this recipe. Some nut butters can be used interchangeable, but I have not experimented with anything other than Jif peanut butter.
Cheerios comes in many different flavors, but our favorite is Honey Nut. Other flavors that would also work with this are Original, Toasted Coconut, Chocolate, Banana Nut, Multi Grain, and Chocolate-Peanut Butter. If you experiment with these or other flavors, let me know how it turns out.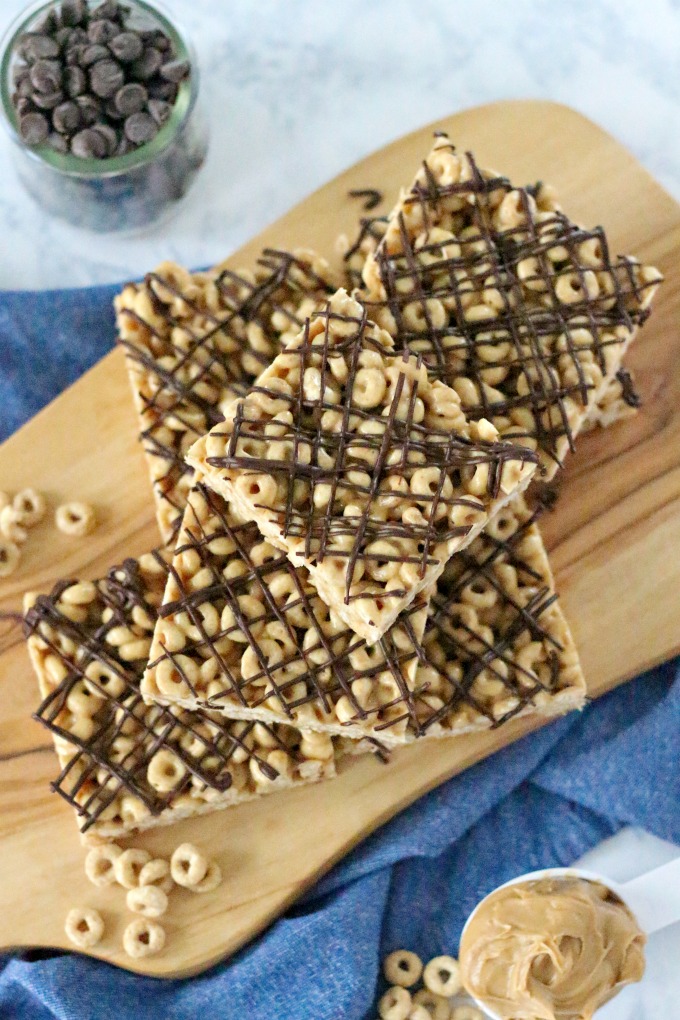 Chocolate Drizzle:
The chocolate drizzle on top is optional, but I love chocolate and peanut butter together. I was originally going to leave the bars as-is, which I might do next time, but the whole family asked for chocolate on top. I used semi-sweet chocolate chips, but you could also use milk chocolate if you prefer.
Chocolate drizzle always adds a nice touch, like on my Chocolate Coconut Congo Squares or German Chocolate Cookie Bars. This chocolate does harden pretty fast, so if you want it to stay more liquid, add a little bit of coconut oil or shortening to the chocolate as you are melting it in the microwave.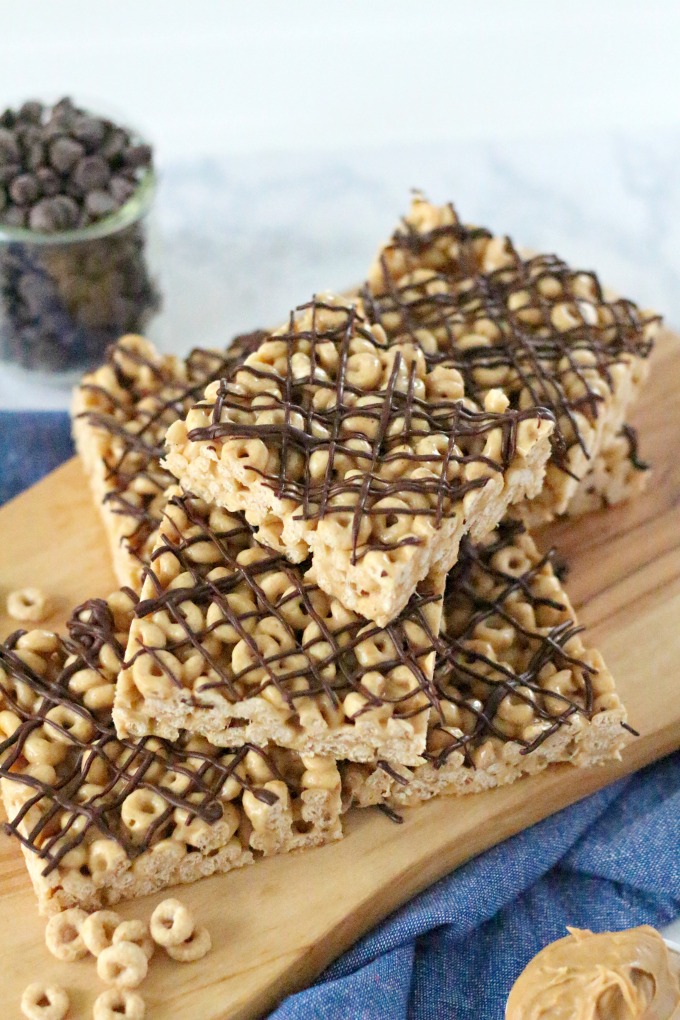 TIPS, TRICKS, AND TOOLS:
Here are a few of my favorite entertaining products, like including wood boards and cake stands to display the treats.
Chocolate drizzle is optional.
Store in an airtight container at room temperature for up to 3 days.
Be careful of allergies, including nuts, if making this for other children.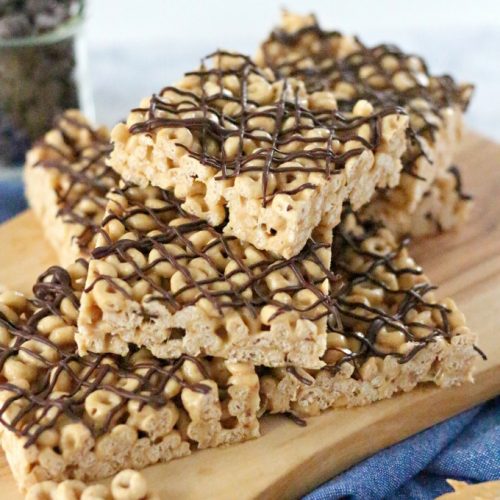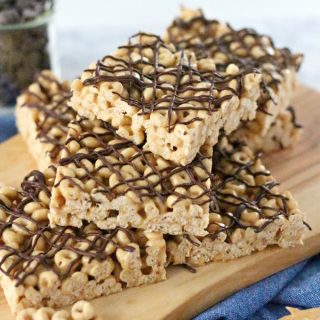 Cheerios Peanut Butter Treats
Ingredients
3

tablespoons

Salted butter

10

ounces

Mini marshmallows

½

cup

Peanut butter

5¼

cups

Honey Nut Cheerios

2

ounces

Melted semi-sweet chocolate chips, optional
Instructions
Prepare 9x13 baking pan with parchment paper and non-stick cooking spray. Set aside.

In large non-stick pot on medium-high heat, melt butter. Reduce heat to medium and add marshmallows and stir until mostly melted. Reduce heat to medium-low and add peanut butter and stir to combine. It's okay if some marshmallows are still whole.

Remove from heat and stir until most of the marshmallows melt. Add Cheerios and stir until completely coated. Pour into prepared pan and spread evenly. Optional: use a piece of parchment to press Cheerios into an even layer.

Let cool completely, then remove from pan. Optional: Drizzle with melted chocolate. Cut into 24 pieces.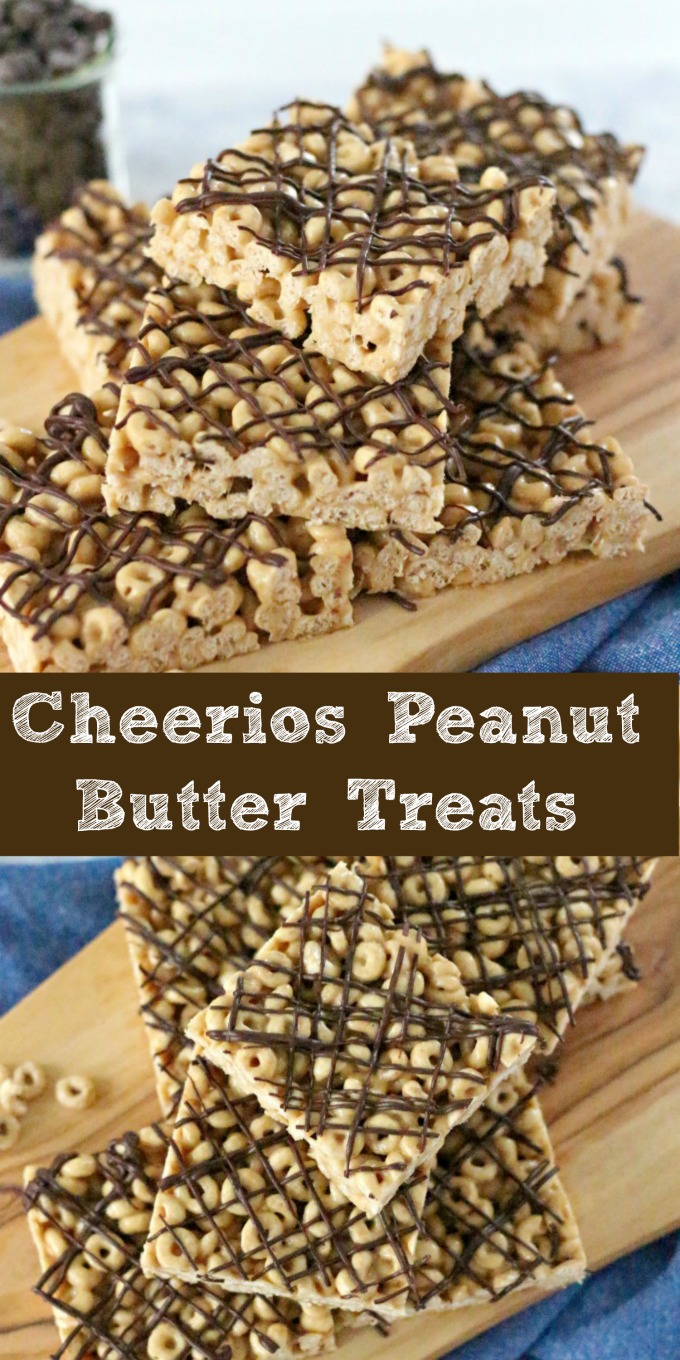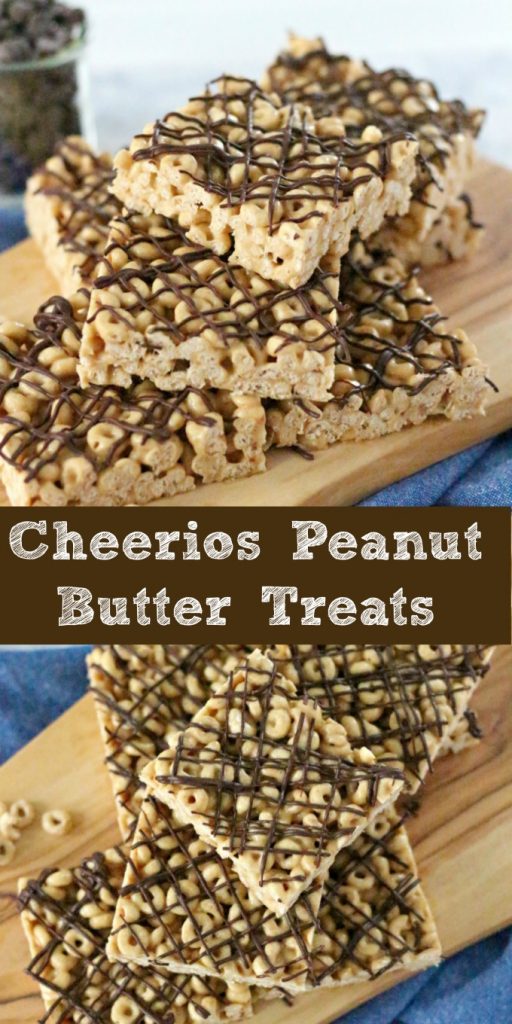 Summer is winding down, and we are celebrating with #BacktoSchoolTreats hosted by Terri from Love and Confections and Christie from A Kitchen Hoor's Adventures. All week-long 11 bloggers will be sharing 30+ fantastic recipes for both parents and kids, with breakfasts, snacks, desserts, and drinks to get you back in the school routine.
Breakfast Recipes
Banana Chocolate Chip Muffin Breakfast Casserole by Making Miracles
Snack Recipes
Cheerios Peanut Butter Treats by Love & Confections
PB&B Ritz-wiches by A Kitchen Hoor's Adventures