This shop has been compensated by Collective Bias, Inc. and its advertiser.
All opinions are mine alone. #SummerToGo #CollectiveBias
The following content is intended for readers who are 21 or older.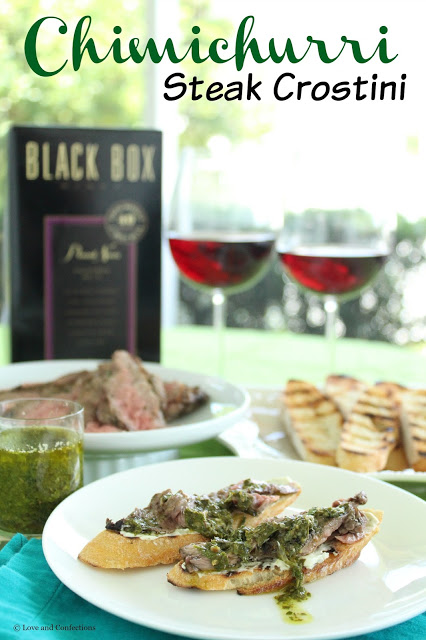 Chimichurri Steak Crostini has moist marinated and grilled skirt steak placed on a toasted piece of baguette with a cream cheese chimichurri spread, and topped with more bright and herbaceous chimichurri sauce. They are the perfect grilled finger food for any Summer party.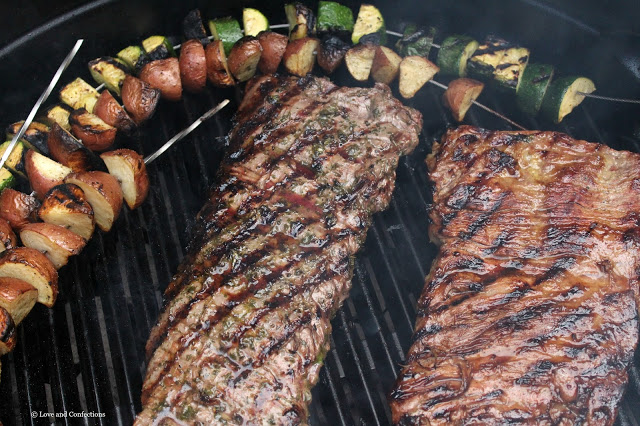 I look forward to the long days and late nights of Summer. As a kid, we would stay outside and play or swim for hours. As an adult, I love gathering with friends or family and enjoying time together. Summer entertaining is always fun, and especially easy when everything is cooked outside on the grill, including dessert. Chimichurri Steak Crostini are a simple and easy recipe that is sure to be a hit at any Summer gathering!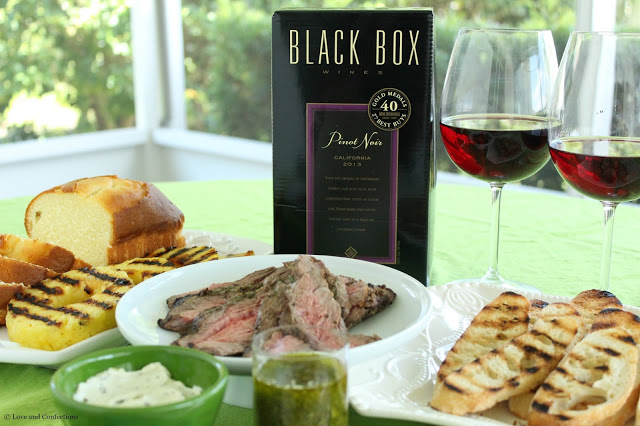 Party-planning is in my genes – my mom plans the best parties – Christmas, birthdays, showers, she does it all. I love parties; from the menu to the little details, and everything in between. While I enjoy elaborate or themed parties, an easy-going and simple Summer get-together is a nice change of pace. I am usually the one cooking and love Summer grilling. Grilling the entire meal outdoors is a great way to enjoy time with guests and not have to worry about being in the kitchen and away from all the fun.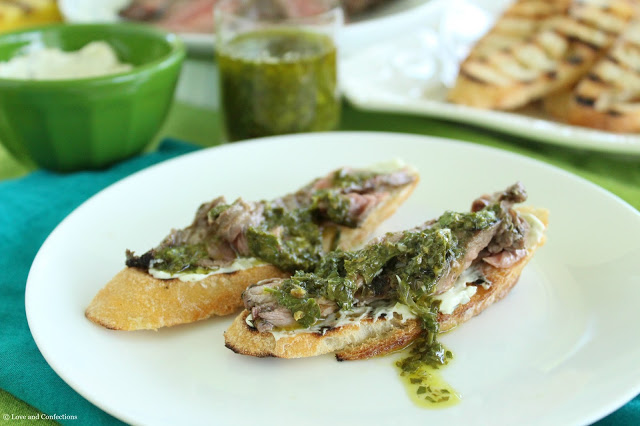 There is usually an adult beverage or two at our parties and when we happen to go to friends' houses we bring a bottle of wine. More often than not, while at another house, a corkscrew is nowhere to be found. We have had to resort to knives, chopsticks and even screwdrivers before, just to get into a bottle of wine. Those are definitely some "don't try this at home" situations. I offered Black Box Pinot Noir at a recent Summer party and am so glad that I didn't have to worry about finding a corkscrew. Their box is easy to bring to any party and so nifty – I seriously love the pour spout attached to the wine! Plus, the Pinot Noir doesn't need to be refrigerated, so it is perfect for a Summer barbecue.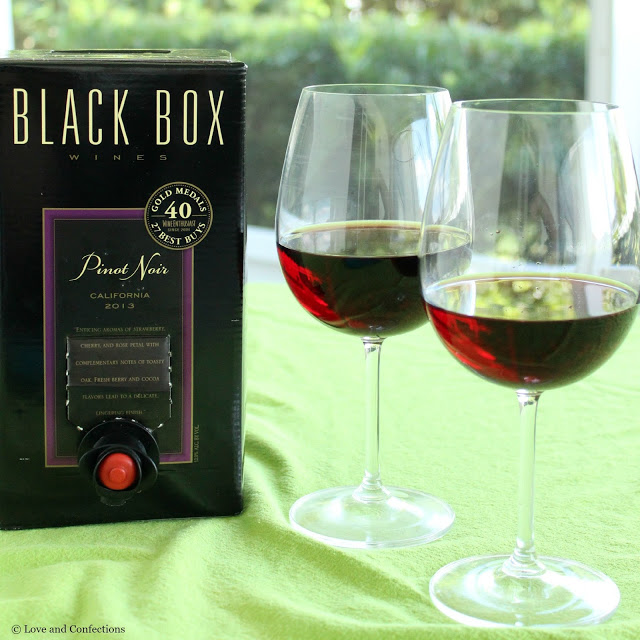 I love easy entertaining, even using paper plates and plastic forks, as long as the company is good, the food is plentiful and the wine is flowing. Black Box has won over 50 Gold Medals for its quality, it's available for 40% less than comparable bottled wines, and it stays fresh for up to 6 weeks! I can't wait to try all the varieties of
Black Box Wine
, and envisioning using them for a tapas or appetizer party soon too!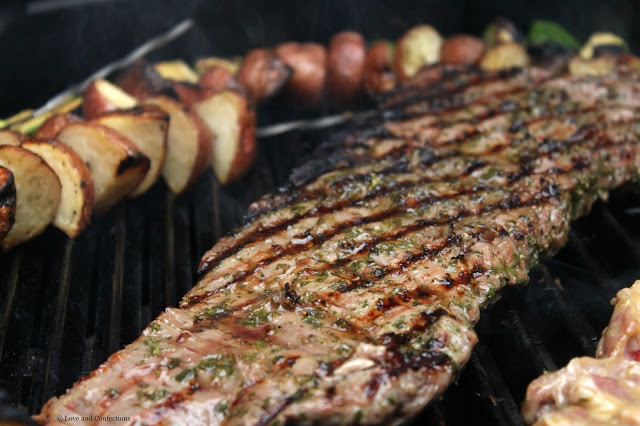 The individual parts of the Chimichurri Steak Crostinis can also be made ahead of time and assembled at your destination, if you are going to a party, just be sure the bread is one of the last items prepared so it doesn't get too hard to eat. Check out the
Simple Entertaining Social Hub
for more entertaining ideas, and don't forget to enter the
Black Box Wine Sweepstakes
to win a trip to the California wine region of your choice! What is your favorite Summer recipe to pair with wine?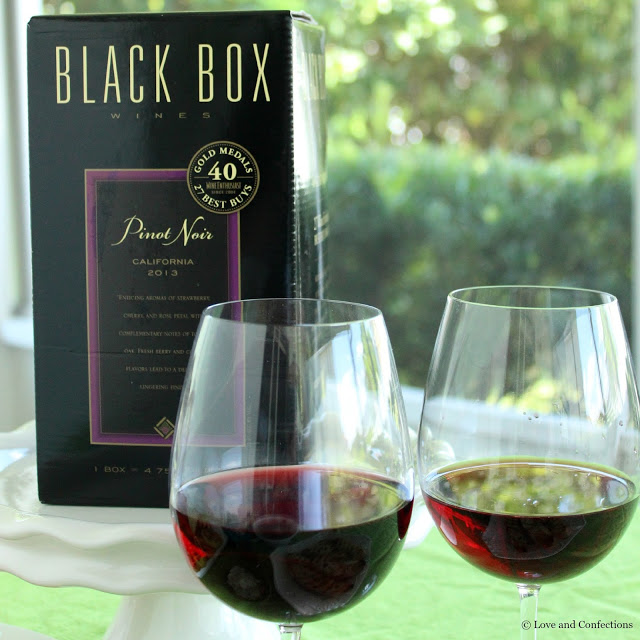 The Chimichurri Sauce, which is the marinade, in the spread, and the topping, starts with parsley, cilantro, garlic, lime juice and zest, oregano and red wine vinegar pulsed in a food processor.
The olive oil is drizzled in while it is on – don't worry if there are some larger pieces stuck to the side of the food processor – you want a chunky sauce that isn't all liquid and uniform.
Let the Chimichurri rest in a bowl in the refrigerator, so all the flavors meld together. It is great as a marinade for steaks, chicken and even fish, as well as a topping for grilled meats and vegetables.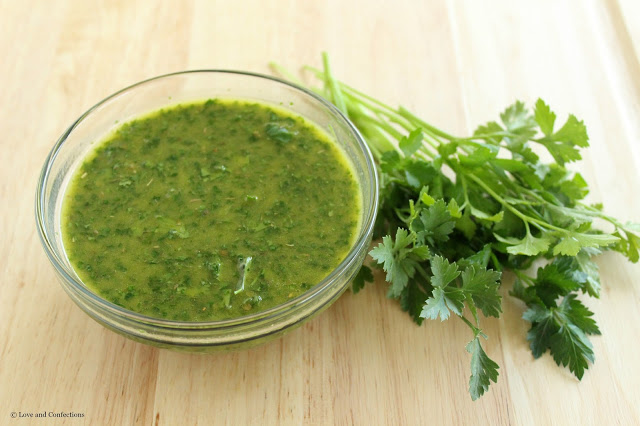 Chimichurri Steak Crostini
A Love and Confections original recipe
Chimichurri Steak Crostini Ingredients:
– 1 cup Cilantro
– 1 cup Parsley
– 5-7 Mint Leaves
– 1 teaspoon dried Oregano
– 2 teaspoons finely chopped Garlic
– Zest and Juice of 1 medium Lime
– 3 tablespoons Red Wine Vinegar
– 1/2 cup Extra Virgin Olive Oil
– Salt and Pepper to taste
– 1 Baguette
– 1-2 pound Skirt Steak
– 4 tablespoons Cream Cheese
Chimichurri Steak Crostini Directions:
1. Use only the leaves and small stems of the Cilantro and Parsley. Do not use the thick stems. If necessary, pick the leaves by hand.
2. Place the Cilantro, Parsley, Mint, Oregano, Garlic, Lime Juice, Lime Zest and Red Wine Vinegar into your food processor with blade. Pulse 5-8 times, until it is chopped and combined. Don't worry if there are some larger pieces stuck to the side of the food processor – you want a chunky sauce that isn't all liquid and uniform.
3. Drizzle in the Olive Oil while the processor is on. Them remove the blade and pour the sauce into a small bowl, making sure to scrape the sides of the food processor with a spatula, so you get all the herbs into the sauce.
4. Set aside 1/3 of the Chimichurri, and pour the rest over your Skirt Steak, in a plastic bag or container, to marinade a minimum of 3-4 hours in the refrigerator. Place the remaining Chimichurri in the refrigerator as well.
5. Once the steak has marinated, heat your grill according to manufacturer's directions. While it is heating, slice the Baguette on a diagonal to create small crostini pieces. Mix the Cream Cheese and 1 tablespoon of the reserved Chimichurri to create the spread. Take the steak out of the refrigerator and allow it to warm up a bit before grilling.
6. Grill the baguette for 1-2 minutes per side, or until nice grill marks appear. Grill the Skirt Steak for 3-6 minutes per side. Once grilled, let it rest 5 minutes, then slice thin pieces going against the grain of the steak.
7. Spread a small amount of prepared cream cheese on the grilled baguette, followed by steak and top with extra chimichurri sauce. Enjoy!
Until next time,
LOVE & CONFECTIONS!