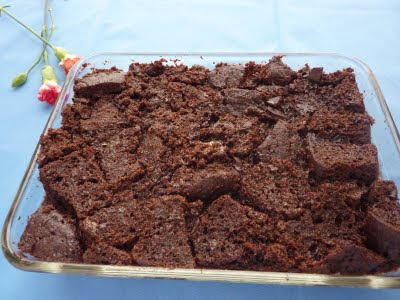 I have not posted in a while, because I have been recovering from my second surgery. The problem with getting surgery on your dominant hand is that it takes a little longer to heal, hence the lack of posts from a lack of baking.
Next week I start a new job at a small French bakery & cafe. I am hoping I will be able to post more with my new and different hours, but we'll see. The production amount will be less than my last baking job at the university cafeteria (1,500-3,000 people per day, which caused me to have the two surgeries in the first place). I think the experience I am going to gain with the new job will be invaluable. It is a new adventure and I am ready.
Sometimes you only want a few cupcakes and the recipe or box mix yields more than you need. This is a great way to use up those extra, unfrosted cupcakes.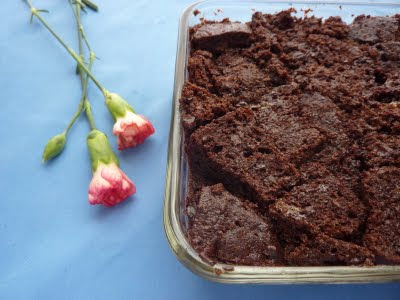 Chocolate Cupcake Bread Pudding
Love & Confections original recipe
Chocolate Cupcake Bread Pudding Ingredients:
– 8 Chocolate Cupcakes, unfrosted and quartered
– 2 large Eggs
– 1/4 cup granulated Sugar
– 1 cup Milk
– 1 teaspoon Vanilla Extract
– 2 ounces shaved Chocolate or 2 ounces Mini Chocolate Chips
Chocolate Cupcake Bread Pudding Directions:
1. Preheat oven to 350F and spray oven-safe baking dish with cooking spray
2. Quarter Chocolate Cupcakes and place baking dish
3. In the bowl of your stand mixer, or a bowl with electric beaters, combine the Eggs and granulated Sugar. Whip until the eggs thicken and have lightened in color – a lemon-y yellow.
4. Add Milk and Vanilla Extract to Egg mixture and combine carefully.
5. Sprinkle Chocolate pieces over the quartered cupcakes.
6. Pour wet mixture over the cut cupcakes, pressing down to ensure they are all covered with the liquid.
7. Let the cupcakes and liquid sit for 15 minutes, so the cupcakes absorb the mixture.
8. Open the oven, pull out the center rack and place the baking dish inside a larger oven-safe baking dish with sides. Fill the larger baking dish with enough water to go half-way up the sides of the smaller bread pudding dish (you are creating a bain-marie or water bath)
9. Carefully slide the oven rack back in the oven, and bake the bread pudding for 45-60 minutes (depending on your oven) or until you press slightly on the mixture and no liquid bubbles up.
10. When the cupcake bread pudding is done, CAREFULLY remove the larger baking dish and set it on the stove or counter and let it cool BEFORE removing the bread pudding baking dish.
* I used a 5 x 7 baking dish for the bread pudding.
* You can serve this warm or room temperature. To re-warm, place in a warm oven for 15 minutes. I recommend serving this with vanilla bean ice cream and whipped cream. Serves 4. This recipe can easily be doubled to serve more.
Until next time,
LOVE & CONFECTIONS!