Combine your favorite holiday treats, along with a delicious gingerbread cookie dip, to create a Christmas Sweet Snack Board for your family.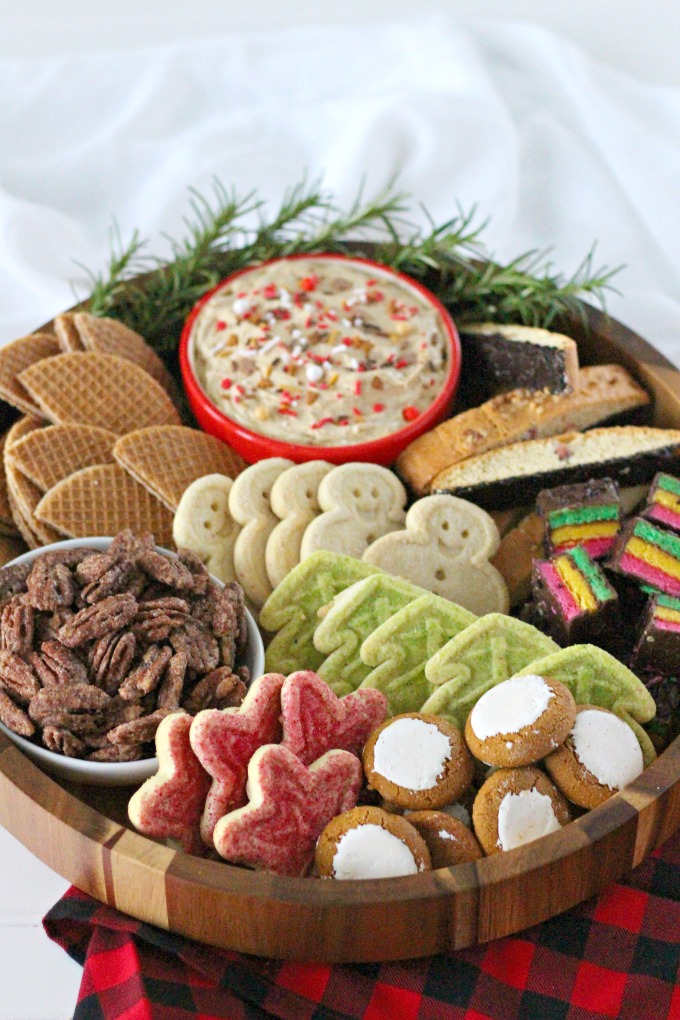 Christmas Sweet SNACK BOARD:
Boards and platters are some of our favorite sharable treats. Some of my recent favorites are the Southern Brunch Board and Antipasto Platter. While we aren't having any big gatherings this year for the holidays, my family and I are trying to still make it special, and snack boards are a great way to add that touch.
All of the ingredients on this board is readily available at most grocery stores. The only one that is specialty is the Italian rainbow cakes, and those are from Costco. My family loves a variety of cookies and treats, including Italian rainbow cookies, biscotti, molasses cookies, and my personal favorite, a Dutch cookie called stroopwafel. There is a little bit of something for everyone to enjoy.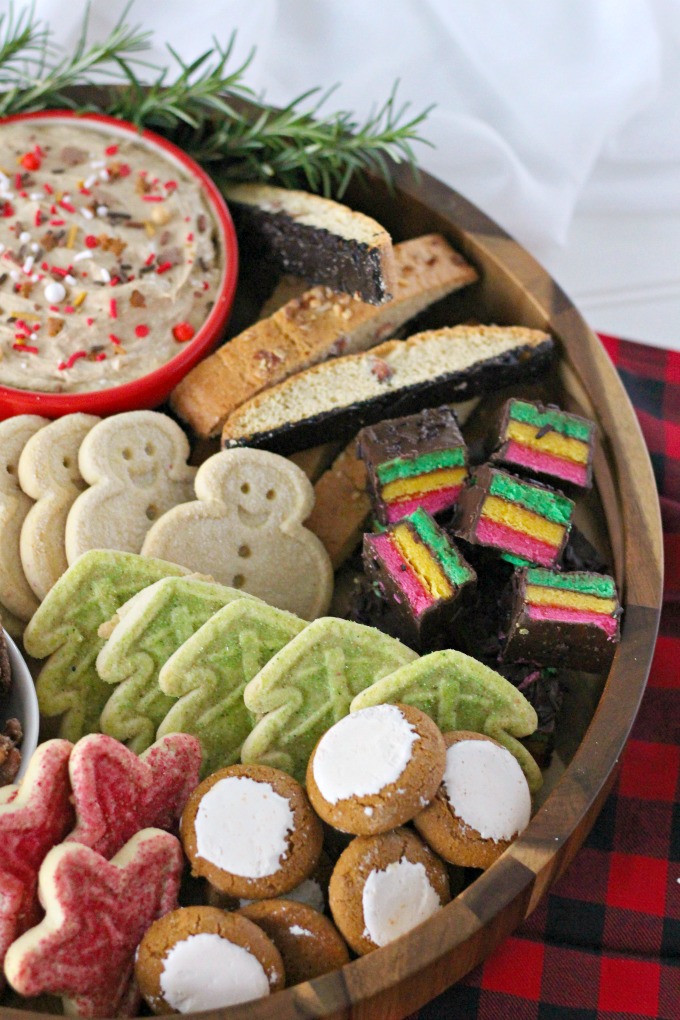 HOW TO BUILD A FOOD BOARD:
This board has both store-bought and homemade elements, which makes it easy to prepare. The homemade Gingerbread Dip is placed in a bowl and topped with one of my favorite sprinkle mixes "Reindeer Food" from Sweets & Treats Boutique!
We eat with our eyes first, so you have to keep in mind colors, textures, flavors, and movement when building a board or platter. It wouldn't be as enticing if there wasn't a variety. With the gingerbread theme, there tends to be a lot of brown, so I broke it up by using red and white bowls, and had a variety of colorful cookies. I also wanted some greenery, and garnished the board with rosemary sprigs from the garden. It gave a nice amount of color, without me worrying if I had non-edible items on the board.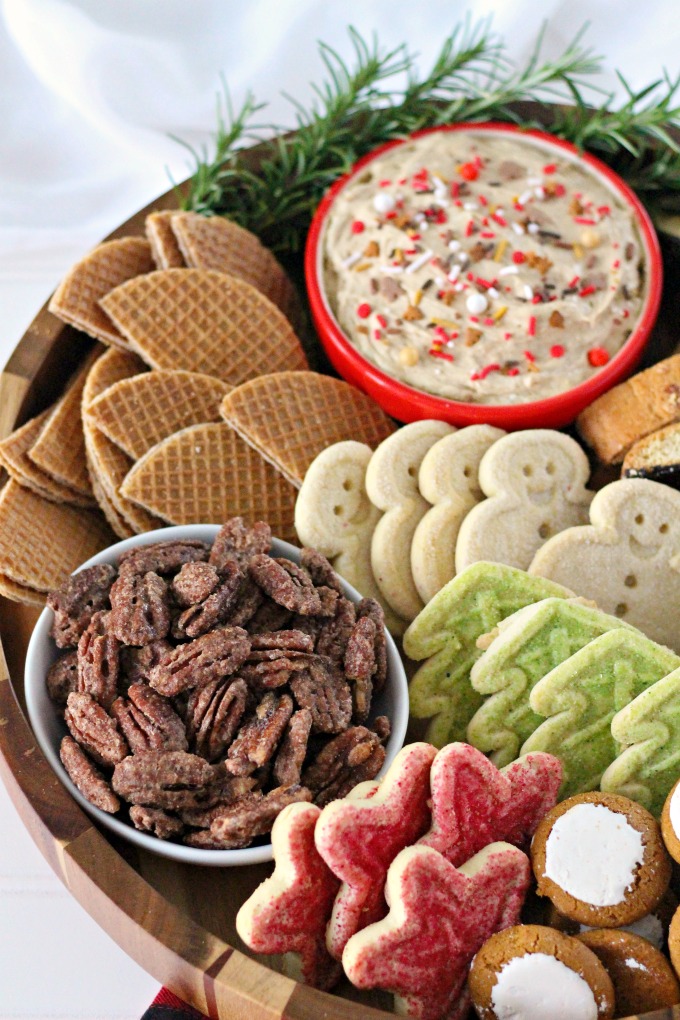 TIPS, TRICKS, AND TOOLS:
Here are a few of my favorite entertaining products, like including wood boards, bowls and accessories.
This board focuses on my family's favorite holiday treats. Feel free to customize for your taste
Start by placing larger items and bowls first, then work your way down to the smaller items.
I like to keep everything on your board edible, or food-safe.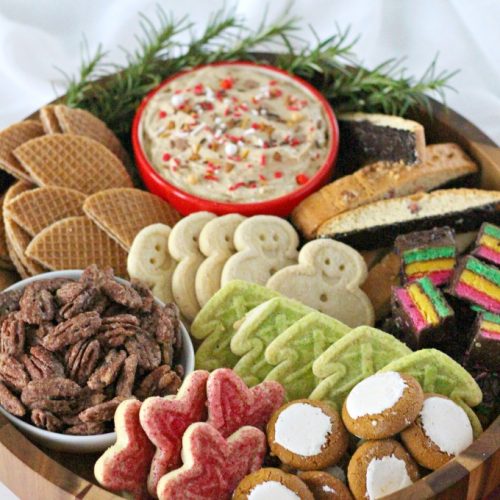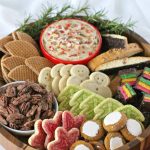 Print Recipe
Christmas Sweet Snack Board
Ingredients
prepared Gingerbread Dip

Italian rainbow cookies

biscotti

stroopwafels

molasses cookies

festive shortbread cookies

Spiced Sugared Pecans
Instructions
Starting with largest snacks and bowls, place on platter or board. Arrange the remaining cookies and sweet treats.
Welcome to #ChristmasSweetsWeek 2020! Co-hosted by Terri from Love and Confections and Christie from A Kitchen Hoor's Adventures! What better way to celebrate the holidays than with food and fun? 21 bloggers from around the country have come together to share some of their favorite sweet Christmas recipes!! Deck the halls and get ready for very merry sweet treats, like fudge, cookies, Christmas morning breakfasts, layer cakes, cocoa, and more! Follow along on social media with our #ChristmasSweetsWeek hashtag. Happy Holidays!
Enjoy these #ChristmasSweetsWeek recipes from our bloggers:
Breakfast and Baked Goods Recipes
Cranberry Orange Quick Bread by Simply Inspired Meals
Gingerbread Baked Oatmeal by Making Miracles
Candy and Fudge Recipes
Christmas Snack Board by Love & Confections
Chocolate Cherry Brownie Bites by A Day in the Life on the Farm
Dark Chocolate Graham Crackers by A Kitchen Hoor's Adventures
Hard Cinnamon Candy by Blogghetti
Papaya Halwa by Palatable Pastime
White Chocolate Peppermint Fudge by An Affair from the Heart
Pastry and Dessert Recipes
Christmas Tree Krispie Treats by Sweet Beginnings
Hot Chocolate cookies by Christmas Tree Lane
Lemon Olive Oil Sugar Cookies by The Spiffy Cookie
Lemon Rosemary Shortbread Cookies [Vegan & Allergy-Friendly] by Bear & Bug Eats
Candy Cane Ice Cream Pie by A Little Fish in the Kitchen Lemon
Gingerbread House by House of Nash Eats
Gingerbread Layer Cake by The Redhead Baker
Chewy Ginger Molasses Cookies by Kathryn's Kitchen Blog
Christmas Sprinkle Cookies by The Mandatory Mooch
Chocolate Saltine Toffee by For the Love of Food