This shop has been compensated by Collective Bias, Inc. and its advertiser. All opinions are mine alone.
#FueledByGranola #CollectiveBias
French Vanilla yogurt, skillet cinnamon apples, homemade caramel sauce and Bear Naked's Sea Salt Caramel Apple Granola are layered to create a breakfast or snack parfait that is full of flavor.
While the rest of the country is starting to feel some cooler weather, here in Florida, we still have days in the 90s. I am longing for the Fall season, and already starting to prep by creating this Cinnamon Apple and Sea Salt Caramel Granola Parfait. Since it is still so warm outside, I cooled things off by adding yogurt to my granola. This granola would also be a nice crunchy texture on oatmeal in cooler months – which I plan to do once we get cool weather.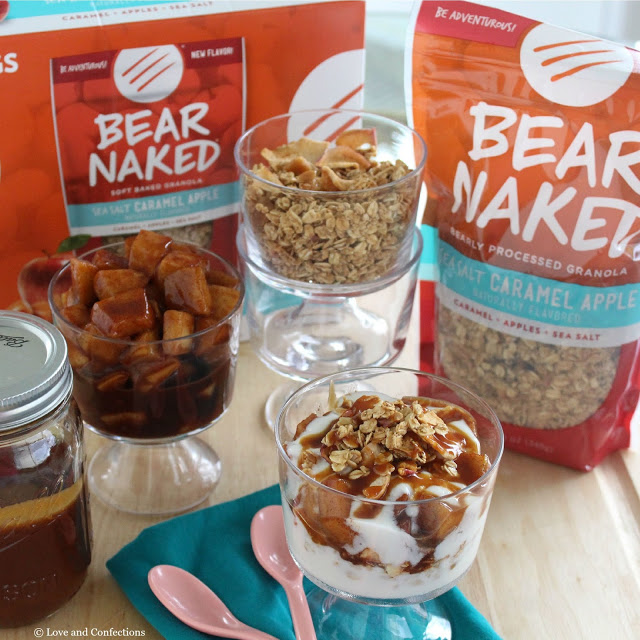 Sea Salt Caramel Apple Granola is a new flavor option from Bear Naked – perfect for the Fall season. It is a unique combination of both sweet and savory flavors from the tangy apples, sweet caramel, and sea salt. This Florida girl loves Autumn, especially all the wonderful flavors and smells. Pairing this granola with skillet cinnamon apples makes me yearn for cooler weather, colorful changing leaves and pumpkin everything.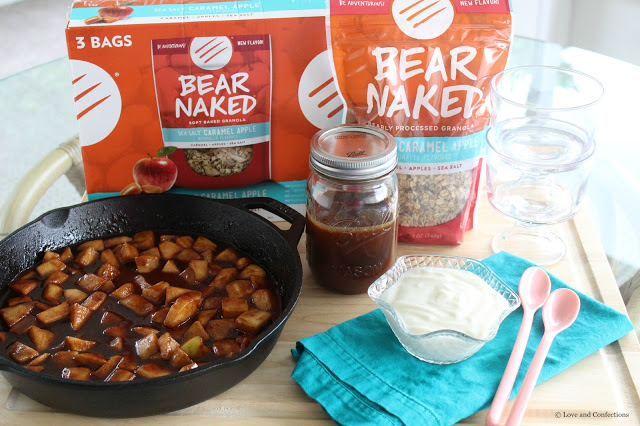 My family and I regularly shop at wholesale stores, BJ's is one of my favorites. They have great products and accept both manufacturer and store coupons. While in BJ's I started using the Ibotta app. I am fairly new to the Ibotta app, but am liking it so far. Ibotta gives you three ways to earn – by either shopping online, submitting your receipts, or linking your loyalty accounts. The Ibotta app has most major grocery retailers and you can go to their specific pages to view deals. I noticed an Ibotta coupon for $2-off Bear Naked Sea Salt Caramel Apple granola. There is also a BJ's club coupon (located at the front of the store) for $2 off and it can be combined with the Ibotta coupon too.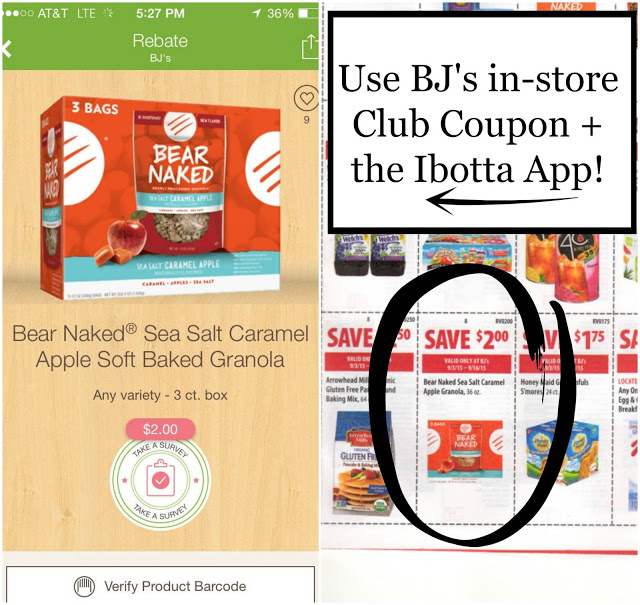 One of the ingredients that most people might be uncomfortable making is the caramel sauce, but it is really easy. Measure your sugar and place it in a medium pan. make sure you have all your other caramel ingredients measured and near you, because you don't want to burn the sugar while getting everything else ready. I prefer to use a stainless steel pot when making caramel sauce, because I switch from a heat-proof spatula to a metal whisk – I find it easier to work with.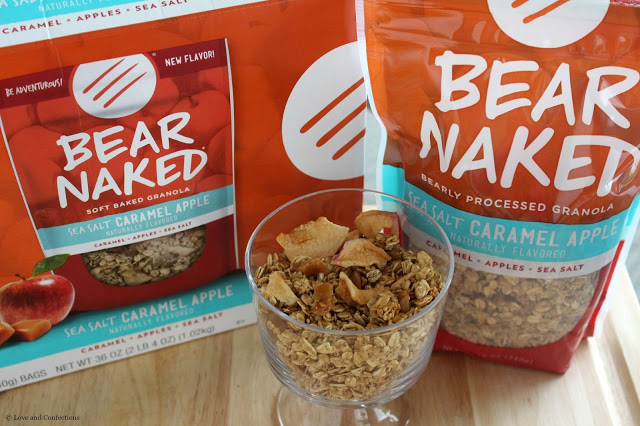 I love creating different parfaits for breakfast because they are easy and delicious. I usually use fresh berries or lemon curd, like these Berry Parfaits or Lemon Blueberry Parfaits, and was very excited to make a Fall parfait recipe with Sea Salt Caramel Apple Granola.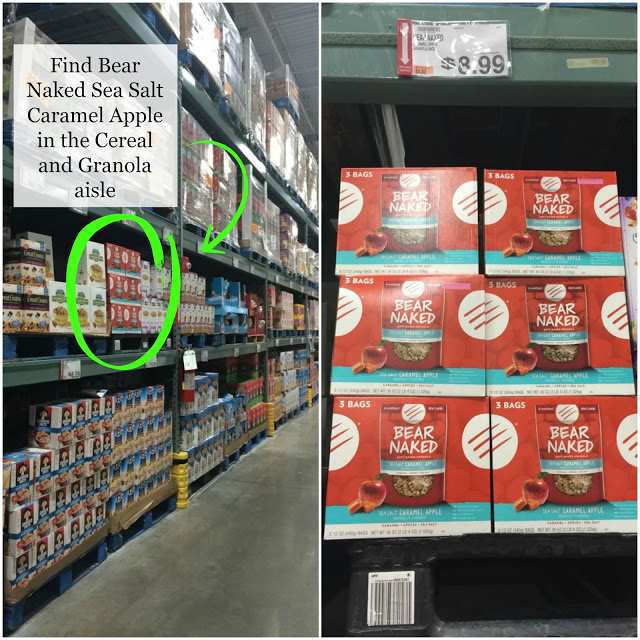 Cinnamon Apple and Sea Salt Caramel Granola Parfait
Skillet Cinnamon Apples from Allrecipes
Salted Caramel Sauce from Sally's Baking Addiction
Yield – 1 parfait
Cinnamon Apple and Sea Salt Caramel Granola Parfait Ingredients:
– 1/2 cup Organic French Vanilla Yogurt
– 1/3 cup Skillet Cinnamon Apples
– 1/4 cup Bear Naked Sea Salt Caramel Apple Granola
– 2-3 teaspoons Salted Caramel Sauce (recipe below)
Cinnamon Apple and Sea Salt Caramel Granola Parfait Directions:
1. Place half of the Yogurt in the bottom of your parfait glass. Top with half of the Cinnamon Apples. Pour half of the Granola on top of that, then drizzle with some Caramel Sauce. Repeat layers once more. Best is eaten immediately, but can be stored in the refrigerator for up to 2 hours. Refrigeration might make the granola not as crunchy.
Salted Caramel Sauce Ingredients:
– 200 grams Granulated Sugar
– 90 grams (6 tablespoons) Salted Butter, cut into pats
– 1/2 cup Heavy Cream
– 1 teaspoon Sea Salt
Salted Caramel Sauce Directions:
– Place Sugar in a medium saucepan on medium heat, stirring constantly with a heat-resistant spatula. The Sugar will eventually clump and start to melt.
– Once the Sugar melts, it will start to brown and darken to an amber color. Do not let it darken or burn, as it can turn quickly. Switch to a whisk.
– Quickly but carefully, stir in the Butter. The mixture will bubble rapidly, so be careful.
– Once the Butter is melted, slowly drizzle in the Heavy Cream. The Sugar mixture will bubble, rise and possibly splatter. Boil for 1 minute, then remove from the heat and stir in the Salt.
– Let it cool for at least 10-15 minutes in the pan, then pour into a glass mason jar and let it come to room temperature before storing in the refrigerator. Caramel can be made ahead of time and stored for up to 2 weeks in the refrigerator. Warm before using.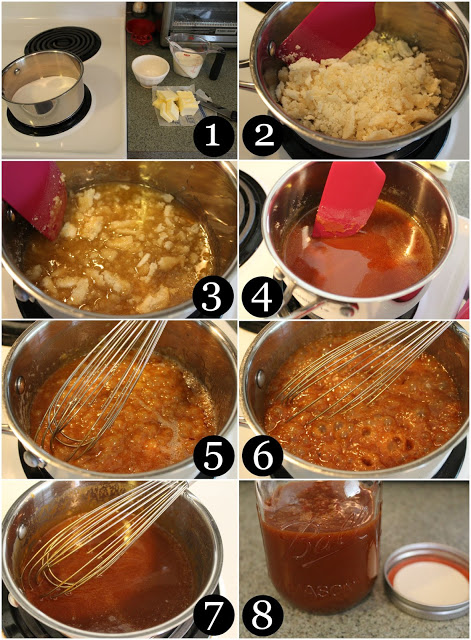 Until next time,
LOVE & CONFECTIONS!