Fried Eggplant, Mozzarella and Tomatoes sit atop lightly-dressed peppery Arugula and sprinkled with freshly-grated Parmesan Cheese – the perfect appetizer to share or a meal in itself.

I have been dreaming about this Eggplant Stack since I had it at a restaurant last year. I visited my grandparents in Southern Florida for their 50th wedding anniversary and Eggplant Stacks were one of the appetizers on the menu. I knew the minute I bit into it that I would need to create this recipe at home.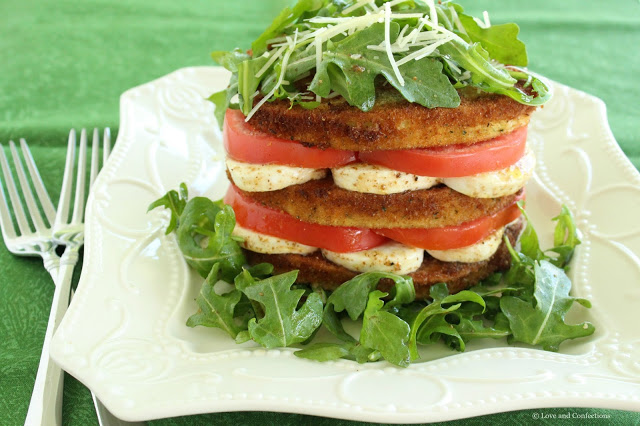 I'm not sure how that restaurant makes their stacks, what seasonings or dressing they use, but I made it my own and it was delicious! The restaurant had this as an appetizer to share, but it is so good, that I ate it at home as my meal.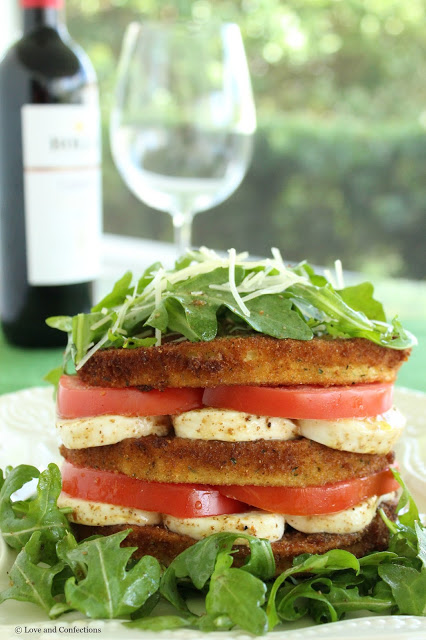 Some might think the eggplant is the star of the show, but my personal favorite part is the fresh Mozzarella. I love that you can even buy a pre-sliced package, which is perfect for pizza, layering in casseroles, making Caprese Salad, Antipasti, and especially drizzled with some Balsamic Vinaigrette in my Eggplant Stacks.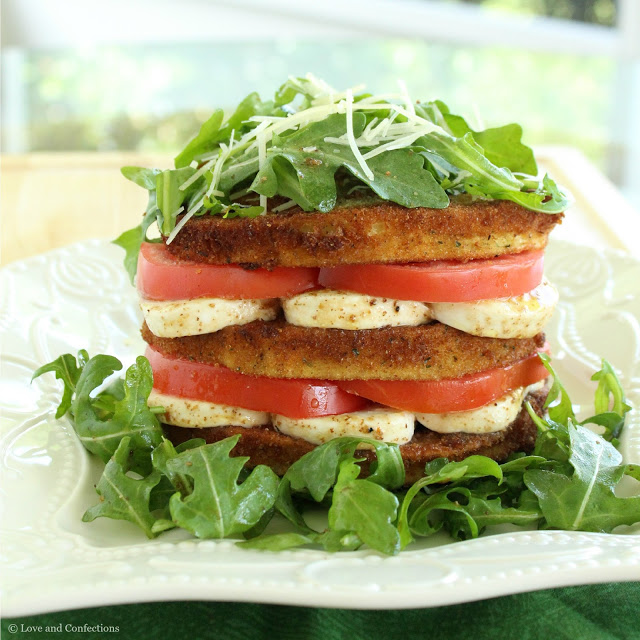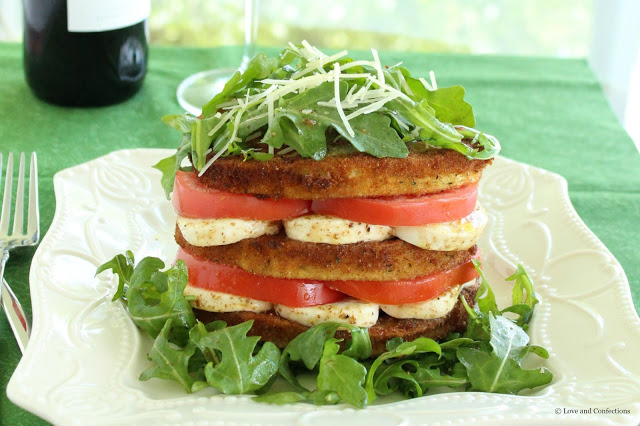 Eggplant, Tomato and Mozzarella Stack
A Love and Confections original recipe
Click here for a printable recipe
Eggplant, Tomato and Mozzarella Stack Ingredients:
– 1 large Eggplant, peeled and sliced in 1/4 inch slices (3 fried slices per stack)
– 1 cup All-Purpose Flour
– 2 tablespoons Corn Starch
– 1/2 teaspoon Salt
– 1/4 teaspoon Pepper
– 4 Extra Large Eggs
– 1-2 cups Italian Seasoned Breadcrumbs
– Vegetable Oil for frying
– 4-6 pieces BelGoioso Fresh Sliced Mozzarella (per stack)
– 2-4 slices of Tomato (per stack)
– 3 teaspoons Balsamic Vinaigrette Salad Dressing (per stack)
– 1/2-1 cup Arugula, (per stack)
– Freshly-grated or shaved BelGoioso Parmesan
Eggplant, Tomato and Mozzarella Stack Directions:
1. Line a plate or sheet pan with paper towels to drain the Eggplant once it is fried. Create a 3-step breading station. With a fork, mix the Flour, Corn Starch, Salt and Pepper together in one dish. Using a blender or immersion blender, blend the eggs and pour into another dish for dipping. Place Breadcrumbs in your last dish.
2. Prepare Eggplant slices in the breading station before starting to fry. Dredge each slice of Eggplant into the Flour, covering it completely, and shaking off any excess. Coat it with Egg, then dredge into the breadcrumb mixture, making sure it is completely covered and sticking to the Eggplant slice. Place it aside and repeat with remaining Eggplant slices.
3. In a medium-large heavy-duty skillet with sides, heat 1/2 inch of Vegetable Oil on medium until hot – around 350F-375F if you are using a thermometer. Depending on your size pan, without over-crowding, fry the Eggplant slices for 1-2 minutes on the first side, then flip and fry another 1-2 minutes, or until each side is a nice golden brown color. Remove the slices from the pan and place on prepared baking sheet. Continue with remaining Eggplant slices.
4. Lightly dress the Arugula with 1 teaspoon of the Balsamic Vinaigrette. Place half of the Arugula on the bottom of your presentation plate as a bed for the Eggplant Stack. Use the remaining 2 teaspoons of Balsamic Vinaigrette and coat the BelGoioso Fresh Sliced Mozzarella in it.
5. Begin layering your Eggplant Stack. Place one slice of fried Eggplant on top of the Arugula, followed by 2-3 pieces of Mozzarella and 1-2 slices of Tomato. Repeat the next layer the same way. Place the third piece of fried Eggplant followed by the rest of the Arugula and BelGoioso Parmesan on top. Enjoy!
Until next time,
LOVE & CONFECTIONS!
Disclaimer: I am an ambassador and on the planning committee for the Food & Wine Conference and will receive a commission if you use my discount code to purchase a ticket. This recipe was created as an entry for the Wisconsin Cheese Recipe Contest. Contest entries are equal opportunity for all Food and Wine Conference participants, and I receive no advantage for being an ambassador or committee member.