A Farro Breakfast Parfait with Pumpkin Flax Granola, Qi'a Cereal, Stonyfield Yogurt, and a touch of Maple Syrup is sure to make your morning delicious!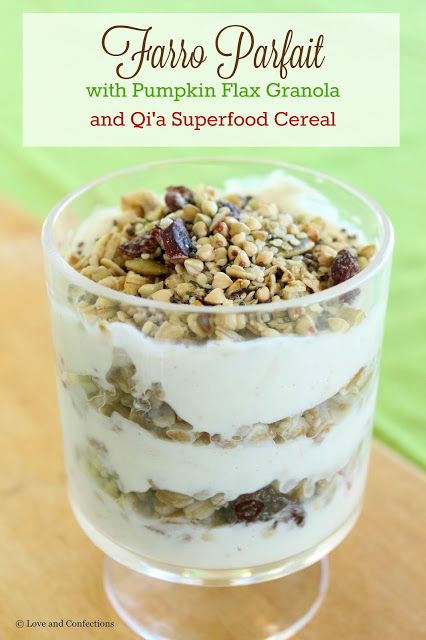 This post is sponsored by Stonyfield and Nature's Path Organic. All opinions are my own.
Sometimes breakfasts don't always go as planned. I oftentimes find my morning cup of coffee, untouched and cooled, next to my brewer, and needing ice for an afternoon pick-me-up. I am always looking easy, fast, and healthy breakfast ideas.Since I have been using a lot of different grains in our meals lately, like Farro, I decided to create a breakfast recipe with it.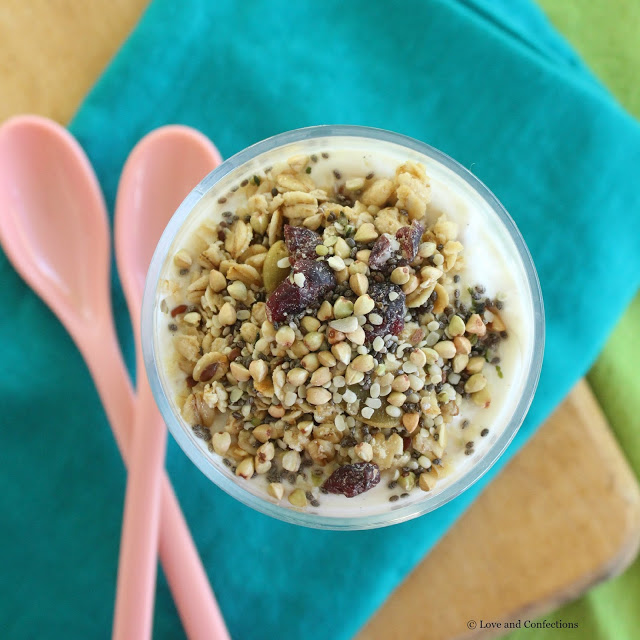 I love breakfast parfaits and eat them a lot during Spring and Summer. Some favorites are my Berry Parfait, Cinnamon Apple and Sea Salt Caramel Granola Parfait, and Meyer Lemon & Strawberry Parfait. I received some Nature's Path Organic Pumpkin Flax Granola and Qi'a Superfood Cereal to try. These two items are definitely great for topping oatmeal and mixing in parfaits, like what I am sharing today.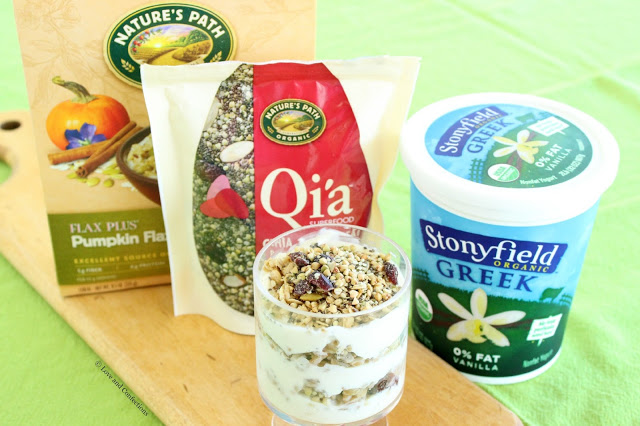 Farro Breakfast Parfait
A Love and Confection original recipe
Farro Breakfast Parfait Ingredients:
– 1/2 cup Farro
– 1 & 1/2 cup Water
– pinch of Salt
– 2 teaspoons Brown Sugar
– 2 teaspoons Maple Syrup
– 2 tablespoons Qi'a Superfood Cereal, plus more for garnish
– 1/4 cup Pumpkin Flax Granola, plus more for garnish
– Stonyfield Vanilla Green Yogurt
Farro Breakfast Parfait Directions:
1. Place Farro and Water in a medium saucepan. Bring it to a boil, cover and simmer for 20-30 minutes, until cooked through. Drain any extra water, then place in a medium mixing bowl to cool.
2. Into the mixing bowl with Farro, add in the Brown Sugar, Maple Syrup, Qi'a and Pumpkin Flax Granola. Combine, cover with plastic wrap and refrigerate overnight.
3. The next morning, assemble by alternating layers of the Yogurt and the Farro mixture. Top with a garnish of Granola and Qi'a. Enjoy.
* The Farro mixture is enough for a few days of parfaits. You can use it immediately, but I find it easier to make ahead and refrigerate.
Until next time,
LOVE & CONFECTIONS!


Disclaimer: I have an ongoing relationship with Stonyfield as a member of the Clean Plate Club. I receive product, coupons and/or compensation for posts featuring their products. As always, all opinions are my own. #stonyfieldblogger #sponsored.