Farmer's market fresh fruits combine with a crunchy almond and oat topping, to make an easy end of Summer dessert – Gluten-Free Blackberry, Blueberry and Cherry Crisp.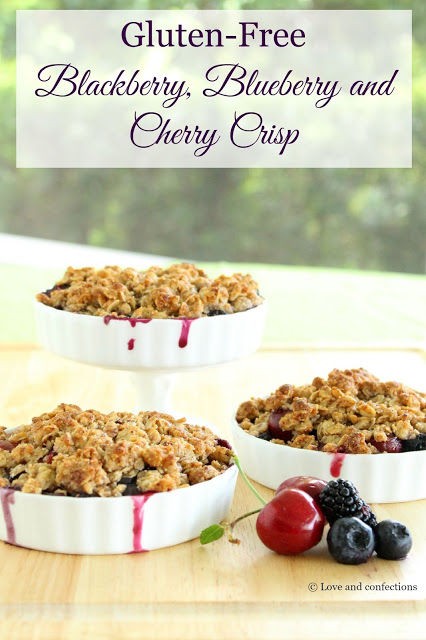 Hi friends. I have some exciting news. Starting today I am a contributor on Cupcakes & Kale Chips. Brianne is an awesome blogger and such an inspiration. I am excited to be contributing on her site about one of my favorite activities – going to Farmer's Markets!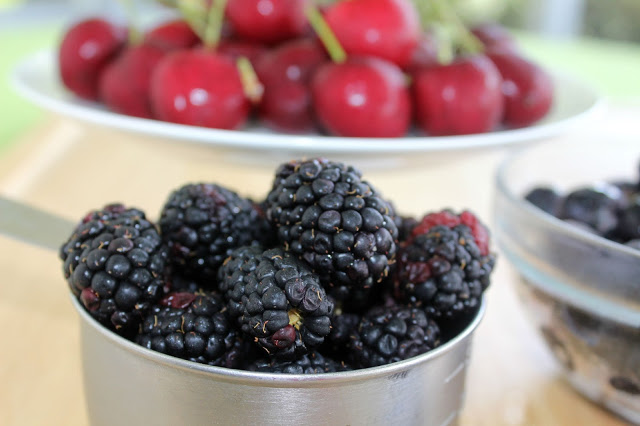 Summer is almost over and the school year will soon be starting for a lot of families. As August nears, I am longing for cooler weather. Florida has been extremely hot and humid this year. I try to run errands before the day gets too hot, and that includes my favorite activity – going to the Farmer's Market on the weekend. You can follow all my Farmer's Market fun with #LnCFarmersMarketFinds on Instagram. If you haven't noticed all the nice share buttons on the left of the screen, check them out. You can now easily share any Love and Confections recipe through Pinterest, Facebook, Google+, Twitter and one of my new favorites – Yummly!
I love local farmer's markets. The hustle and bustle of vendors setting up their stalls reminds me of my time at the bakery. As the pastry chef, I would be working with the Master baker well before the sun came up, to make sure we had enough baked goods for the bakery and the farmer's market around the corner. The little downtown came alive as the sun peeked out over the trees. Bikers stopped to get a coffee and pastry after exercising on the 22-mile trail. Parents with children headed toward the splash pad, and eagerly awaited for fun in the water to begin. Saturdays were our busiest day and it seemed like everyone visited the market.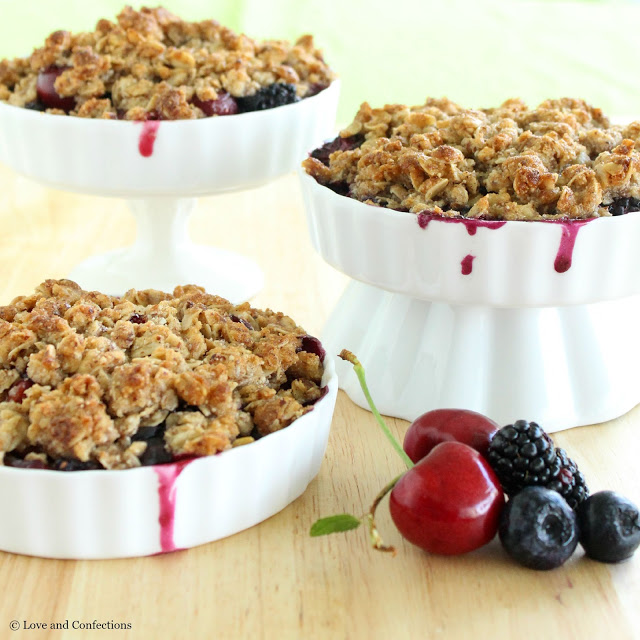 Nowadays, even though I am still up early with a toddler, it is nowhere near as hectic as the farmer's market days at the bakery. Instead of rushing to make sure we had enough pastries, croissants and bread, I can leisurely take my time to wander through the market. The sights and smells are incredible: fresh eggs, artisan cheeses, breads and pastries, and of course, the beautiful fruits and vegetables. #ToddlerLnC loves going to the splash pad and running around with the other children.
Over the Spring and Summer, I have gone to a few u-pick farms and had multiple trips to the Farmer's Market. Strawberry Freezer Jam and Blueberry Sangria were two of my favorite things to make with fresh fruit this year. I love being able to have fresh strawberry jam all year. I also made a batch of Strawberry-Blueberry Jam too!
These crisps are easy to prepare, and since we always have lots of fresh fruit at home – any combination is delicious. The juicy fruits meld together and the crispy oat topping gives just the right amount of crunch. Indulge even more and top your crisp with some homemade Vanilla Bean Ice Cream. You can definitely share these individual treats, but I won't tell if you decide to have one all to yourself. Enjoy!


Until next time,
LOVE & CONFECTIONS!