Honey Mustard Chipotle Chicken Bites are the perfect party food – a little spicy
and a whole lot of flavor!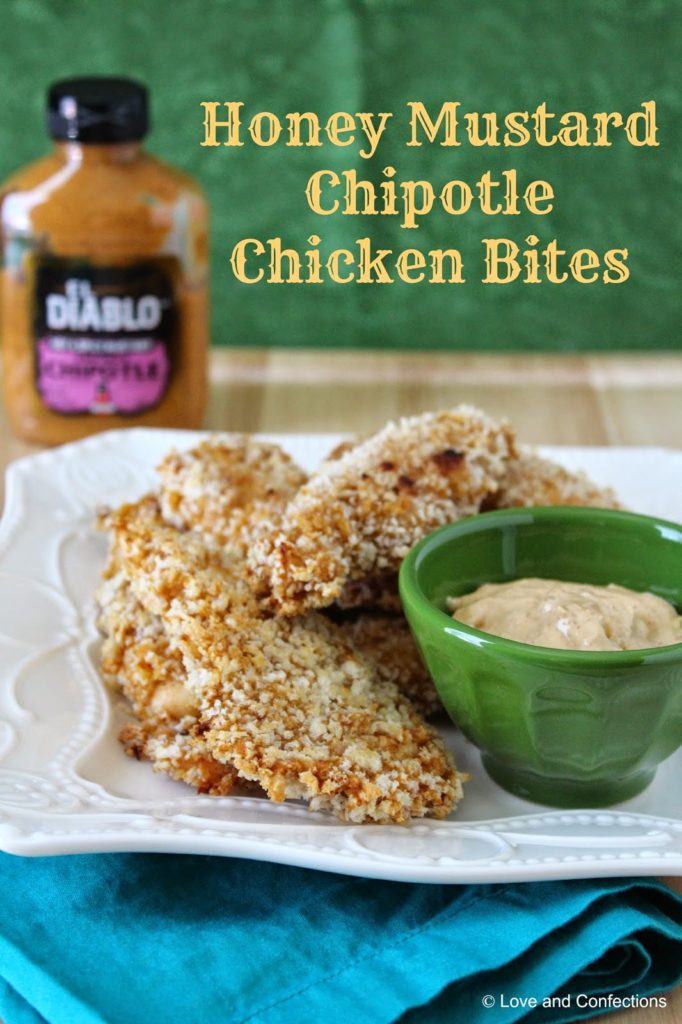 Welcome to #10DaysofTailgate hosted by Culinary Adventures with Camilla! There are nearly two dozen bloggers with over one hundred recipes to inspire you through an entire tailgating season. From Chili, Meatballs and Wings to Sangria, Pretzels and some sweet Desserts, we have all your tailgating recipe needs covered. #10daysofTailgate runs from September 20th through September 30th. A huge thank you goes to our event sponsors who have graciously donated prizes for our readers. There are fourteen different prize packages so make sure you enter the rafflecopter HERE and check back throughout the event for all the. Don't forget to follow the hashtag on Twitter too.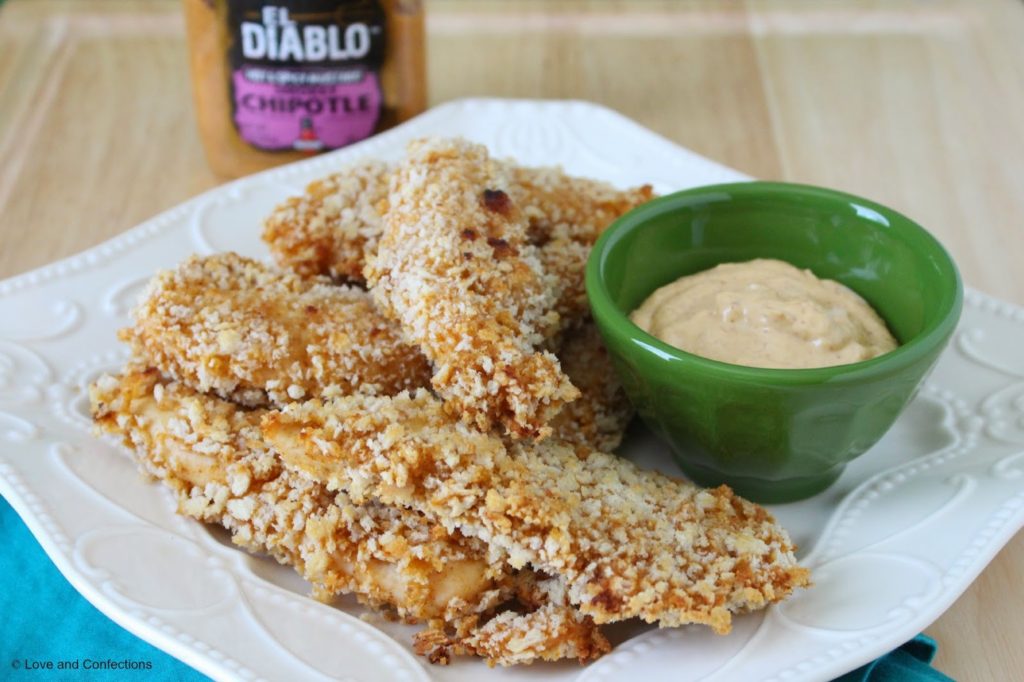 I love cooking for my family, but when it comes to cooking when there is a newly-crawling and standing, getting-into-everything almost 10-month old, making dinner can sometimes be difficult. These Honey Mustard Chicken Bites make dinner easy. I always have chicken in the freezer and Honey Mustard Chicken is one of my go-to recipes.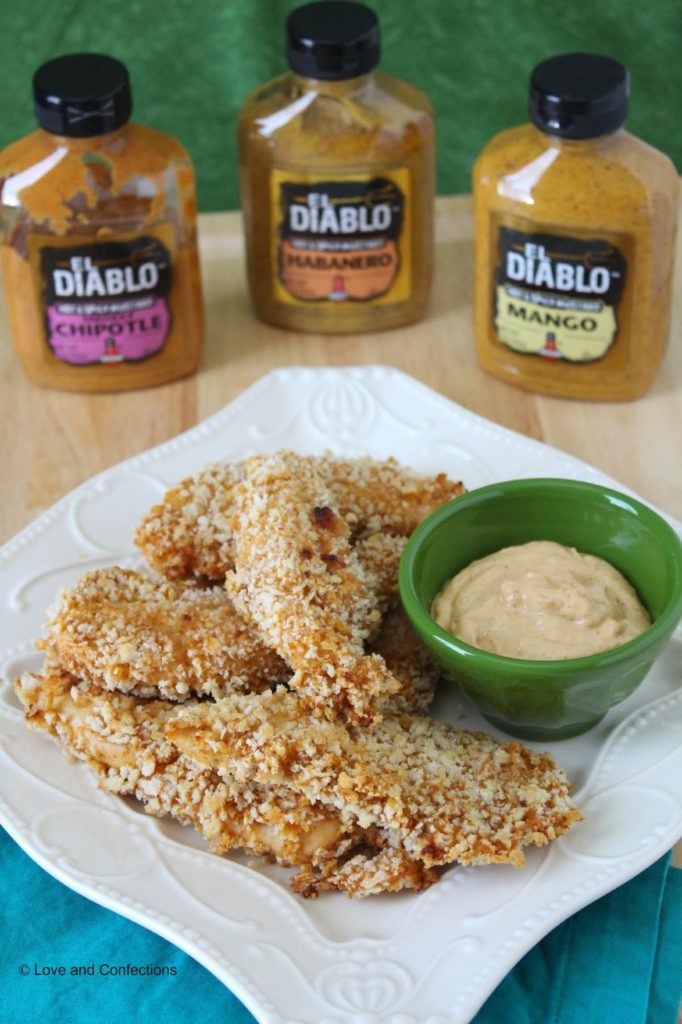 I wanted to spice things up a bit, and as soon as I saw the El Diablo Smoky Chipotle Mustard, I knew it would be the perfect addition to my Chicken Bites. I am not normally one to have spicy food, but when I mixed it with the honey, it was just the right amount of heat. El Diablo Hot & Spicy Mustard makes 6 spicy flavors ranging from sweet to major heat.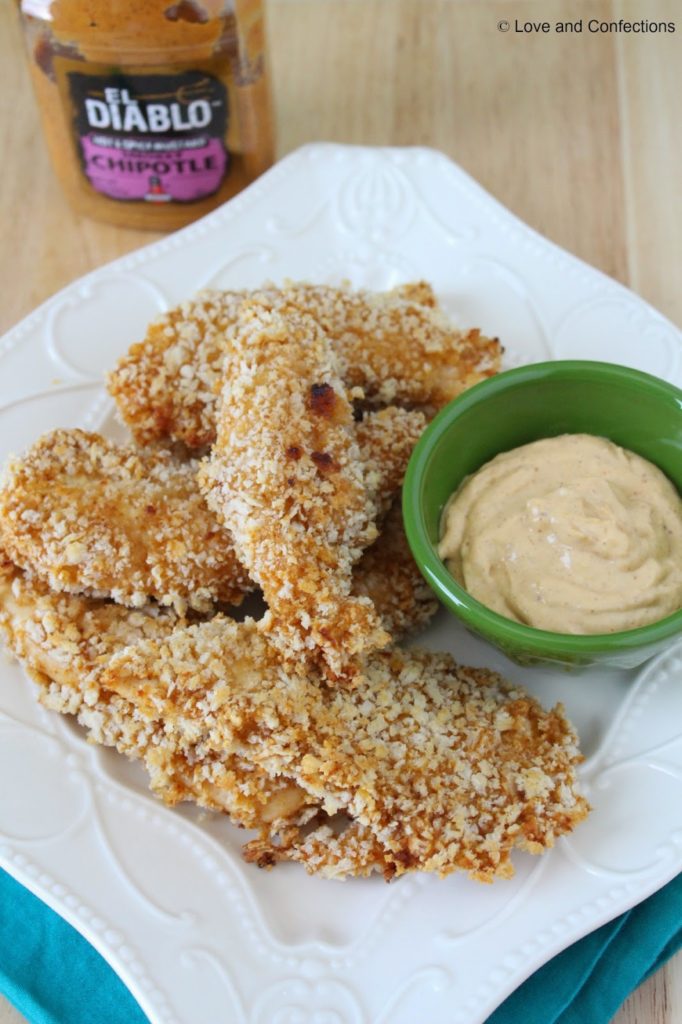 One major lesson I learned while in culinary school is to pay attention to temperature. Obviously with baking, the oven temp is important, but food temp is more-so. To ensure proper food safety, especially when cooking a protein, it is best to check with a food thermometer. The minimum temperature to cook chicken at is 165°F. Food safety temperatures for other meats can be found online.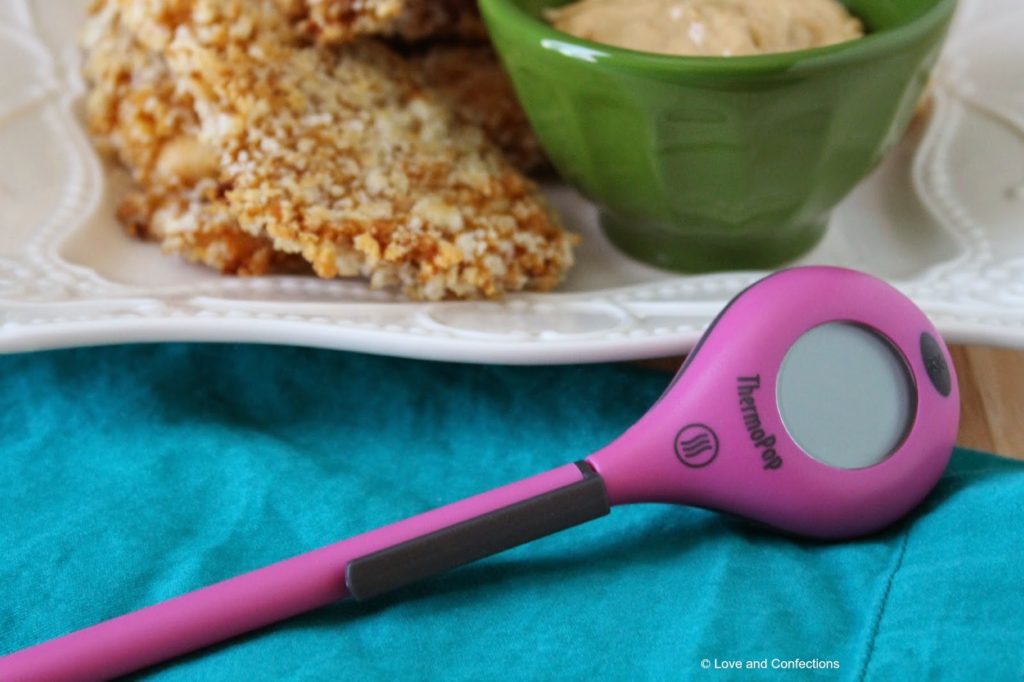 Thermoworks has a great little thermometer – the ThermoPop. My kitchen nerd side may have come out when I used the ThermoPop. Aside from having 9 different colors (I got pink, yay!) and doing both Celsius and Fahrenheit (a must for a pastry chef) it has a rotating display, splash-proof design, and big back-lit digits. Yep, kitchen tools are my thing. I hope you enjoy this recipe as much as I enjoyed making it. Happy tailgating!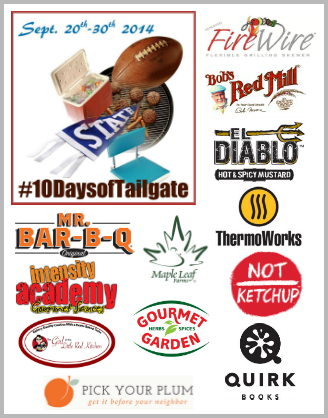 Homemade Honey Mustard Chipotle Chicken Bites
A Love and Confection original recipe
Click here for a printable recipe
Homemade Honey Mustard Chipotle Chicken Bites Ingredients:
– 8-10 Chicken Tenderloins
– 1/3 cup El Diablo Smokey Chipotle Mustard
– 1/4 cup Honey
– 1-2 cups Panko Bread Crumbs
– 2 tablespoons El Diablo Smokey Chipotle Mustard
– 2 tablespoons Sour Cream
– 2 tablespoons Mayonnaise
Homemade Honey Mustard Chipotle Chicken Bites Directions:
1. Heat oven to 350°F. Line a baking sheet with foil and lightly spray with cooking spray.
2. Create a breading station. In a small bowl, mix the first measure of Chipotle Mustard with the Honey. In a small dish next to that, place the Panko Bread Crumbs, followed by the baking sheet.
3. Dredge the chicken into the honey mustard, coat in Panko, then place on the baking sheet, leaving some space in between each piece of chicken.
4. Bake for 20-25 minutes, or until the chicken is thoroughly cooked (check with a thermometer) and golden brown, turning half way through cooking.
5. While the chicken is cooking, create the dipping sauce. In a bowl, mix together the second measure of Chipotle Mustard, Sour Cream and Mayonnaise. Keep in the refrigerator until serving. Recipe can be adjusted for multiple servings. Enjoy!
Until next time,
LOVE & CONFECTIONS!
Here's what the other team brought to the table…
Starters
Mains
Homemade Honey Mustard Chipotle Chicken Bites by Love and Confections
*Disclaimer: I was provided with a set of El Diablo Mustards and a ThermoPop thermometer as a #10daysoftailgate participant. All opinions are my own.