Beef Braciole, a hearty Southern Italian dish slowly-simmered in sauce, is the perfect meal for any special occasion.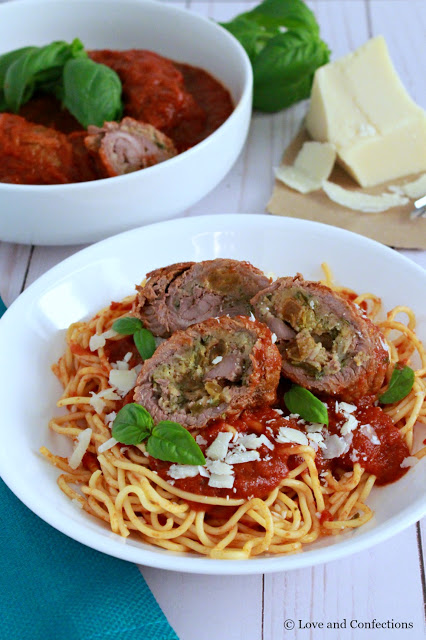 Growing up in my mom's family, Braciole (commonly pronounced /bra'zhul/) was served as a special treat or for holidays. When sliced, a beautiful pinwheel of tender meat and stuffing sits atop a bed of homemade sauce and spaghetti. Shaved or grated Parmesan cheese and a sprinkling of fresh basil or parsley finish the dish.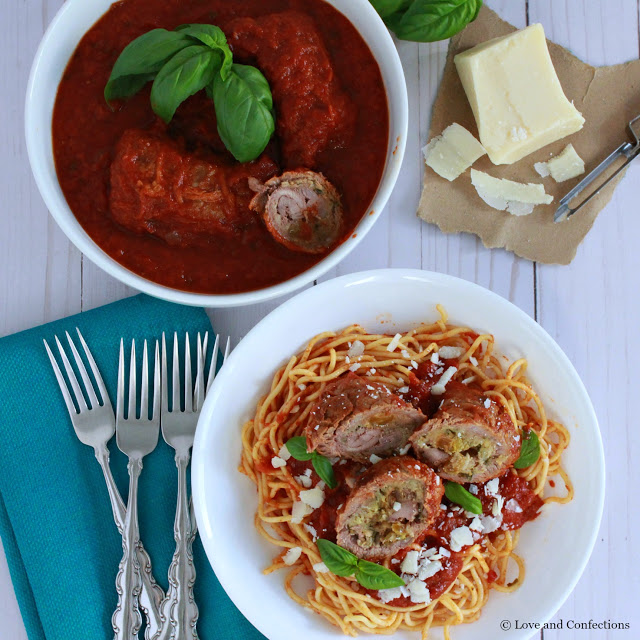 Braciole is a masterpiece, that when done right, turns into a delicious dish that any Italian American grandmother would be proud of. This recipe is my grandmother's, or as close as we can get to it. She unfortunately never wrote this one down before she passed away, but my mom, aunts and I have come up with a recipe that is close to hers.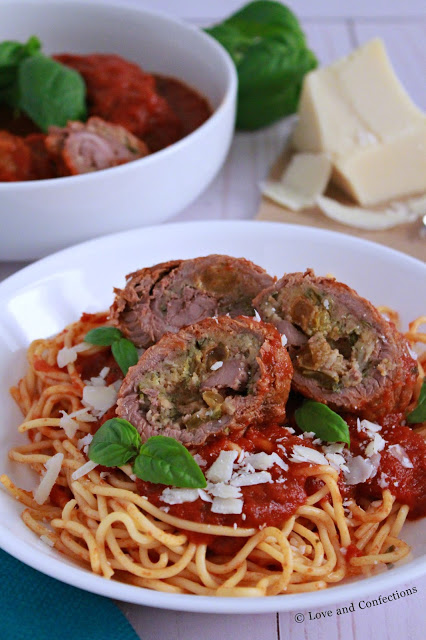 The cut of beef you choose is important. Most recipes you find online use flank steak, but my family and I prefer either thinly sliced top round or top sirloin. Today I am working with the Florida Beef Council to bring you my version of the perfect holiday meal – just in case you or a family member aren't fans of turkey.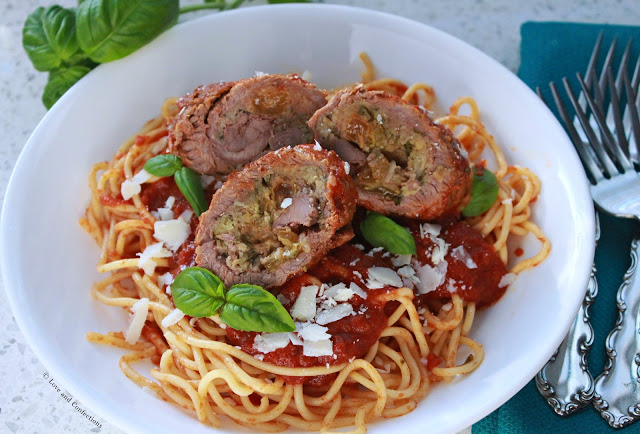 The stuffing can be made a few different ways. Some families use an egg to bind it, some use pine nuts, rosemary, prosciutto or sauteed onions. My grandmother made a slightly sweeter version with a handful of golden raisins sprinkled on just before rolling it up. My grandfather loved it that way, so that's how we still cook it. I think it helps keep the inside moist and delicious. If you're not a fan of raisins, you can just leave that part out.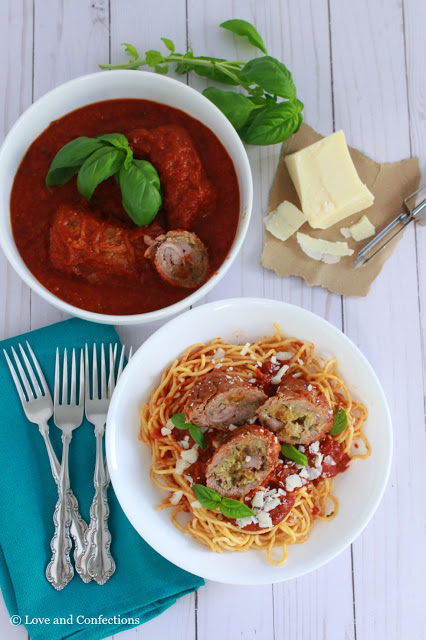 In Italy, these are usually referred to as Involtini – thin slices of meat, rolled with a filling, either tied or skewered with wooden toothpicks, and served in some sort of sauce. A larger version, a roulade, can be made and roasted in the oven, but it doesn't have quite the same flavor as the smaller packages that are simmered all day in homemade sauce.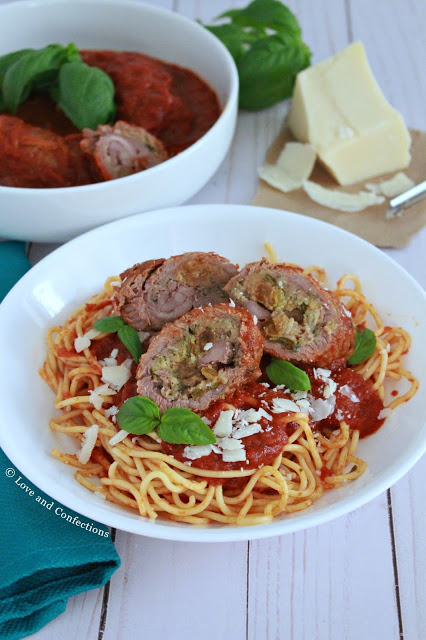 The Braciole are slightly browned in a hot pan with olive oil before taking their glorious tomato bath. Since the pieces of meat are so thin, you just want a bit of color on them, not cook them all the way. Also, before serving, be sure to remove the toothpicks or string. You don't want any unexpected mishaps when eating your Braciole. I usually serve mine alongside spaghetti with freshly grated Parmesan.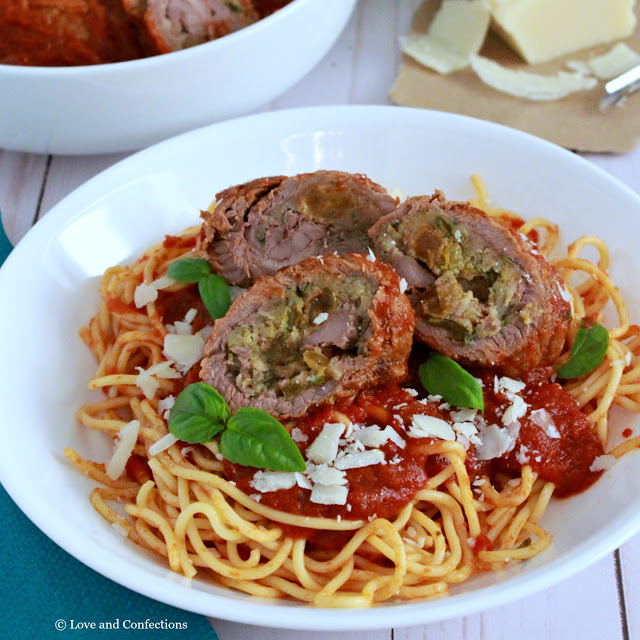 I hope you enjoy my family's version of Italian Beef Braciole! My friends and I are sharing our #Beefsgiving menu with you – with links below – and hope you enjoy a delicious holiday with those you hold dear. For more great beef recipes and inspiration, head on over to the Florida Beef Council and follow on Twitter, Facebook, Instagram and Pinterest.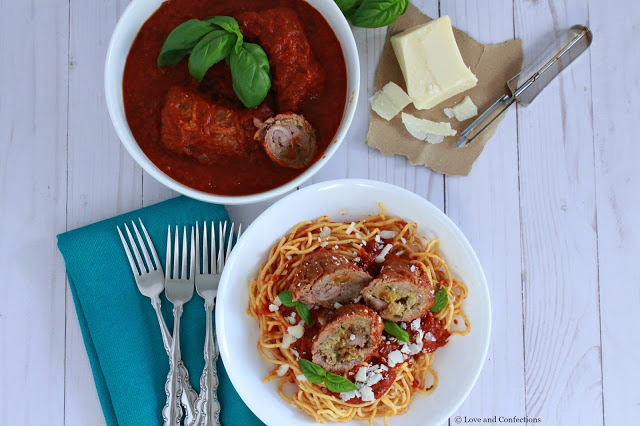 Italian Beef Braciole
By Love and Confections
Published 11/17/2017
Ingredients
2.5 – 3 pounds thinly sliced top round or top sirloin
4 cloves garlic, minced
4 tablespoons fresh parsley, chopped fine
4 tablespoons fresh basil, chopped fine
2 teaspoon fresh oregano, chopped fine
1/4 cup onion, finely diced, optional
1/2 cup Italian bread crumbs
3/4 cup grated Parmesan cheese
salt and pepper, to taste
1/4 cup golden raisins, optional
butcher's twine or wooden toothpicks
2 tablespoons olive oil for searing
large stockpot with homemade or store-bought sauce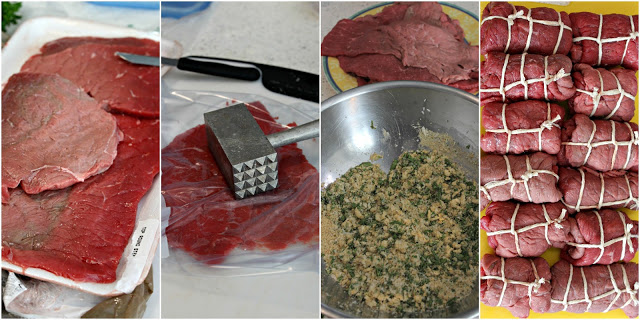 Instructions
If meat is in large strips, cut to 3-4 inch rectangles. Pound meat to 1/8-inch thick, with flat side of meat hammer, being careful to not create holes. Leave them on a plate or tray while preparing the filling
Combine all the ingredients for the filling, except raisins, in a medium mixing bowl. Measure roughly 2 tablespoons of filling per Braciole. Spread the filling onto the meat, leaving a small edge bare all around, to ensure the filling stays in. Sprinkle a small amount of raisins over the filling
Roll each one as tight as you can so the filling won't fall out, then either tie with Butcher's string or secure with wooden toothpicks.
Heat a large skillet. Add olive oil, and once it is hot, start browning the meat. If you don't have a large enough skillet, you can sear meat in batches. Once the packages are slightly browned on all sides, immediately place into the sauce.
Simmer in sauce, on low, for minimum 4 hours, stirring occasionally. Check the meat's tenderness around 4 hours and determine if more cooking time is needed. You can also cook Braciole in a slow cooker on low.
Before serving, remove any string or toothpicks. Serve over spaghetti. Enjoy!
Yield: 12-16 Braciole
Prep Time: 0 hrs. 30 mins.
Cook time: 4 hrs. 10 mins.
Total time: 4 hrs. 40 mins.

Until next time,
LOVE & CONFECTIONS!
Beefsgiving Recipes:
Cranberry Orange-Braised Instant Pot Beef Brisket from The Crumby Kitchen
Epic Beef Wellington from Go Epicurista
Instant Pot Beef Roast from April Go Lightly
Italian Beef Braciole from Love and Confections
Roast Beef from Katie's Cucina
Slow Cooker Beef Bourguignon from Girl Abroad

I have an ongoing relationship with Florida Beef Council as a recipe developer. Thank you for supporting the brands that make Love and Confections possible. As always, all opinions are my own.