Create a kid-friendly snack board with food already in your kitchen! Kids love to pick their own snacks from these delicious choices.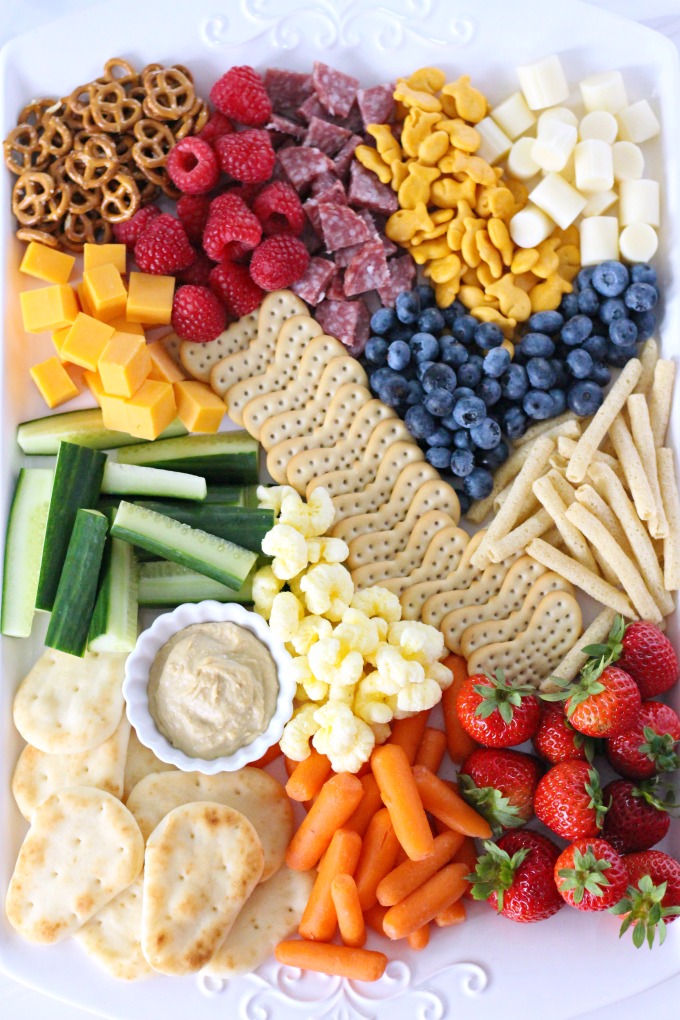 Platters and Boards:
Boards are a great way to enjoy many different snacks or appetizers at one time. Most of my boards are built around a theme, like my Southern Brunch Board or Antipasto Platter. When planning a platter or board, I always brainstorm beforehand, so I know what to purchase at the grocery store.
For a kid-friendly snack board, I picked items that we regularly have in our refrigerator or pantry. It's easy to put a board together like this, because there are no special ingredients, and the whole family can enjoy it. Our whole family made this board an afternoon snack, and I even got to introduce a few kid favorites to them.
Presentation is key, and we often eat with our eyes first. Have food items of different sizes, shapes, colors and flavors. When plating, start with the biggest items first. I chose a large white platter for this board, but you can arrange it on a wooden board, plates, or whatever you have on hand. Make it extra fun by allowing the kids to choose their own items and arranging the food on their personal plates.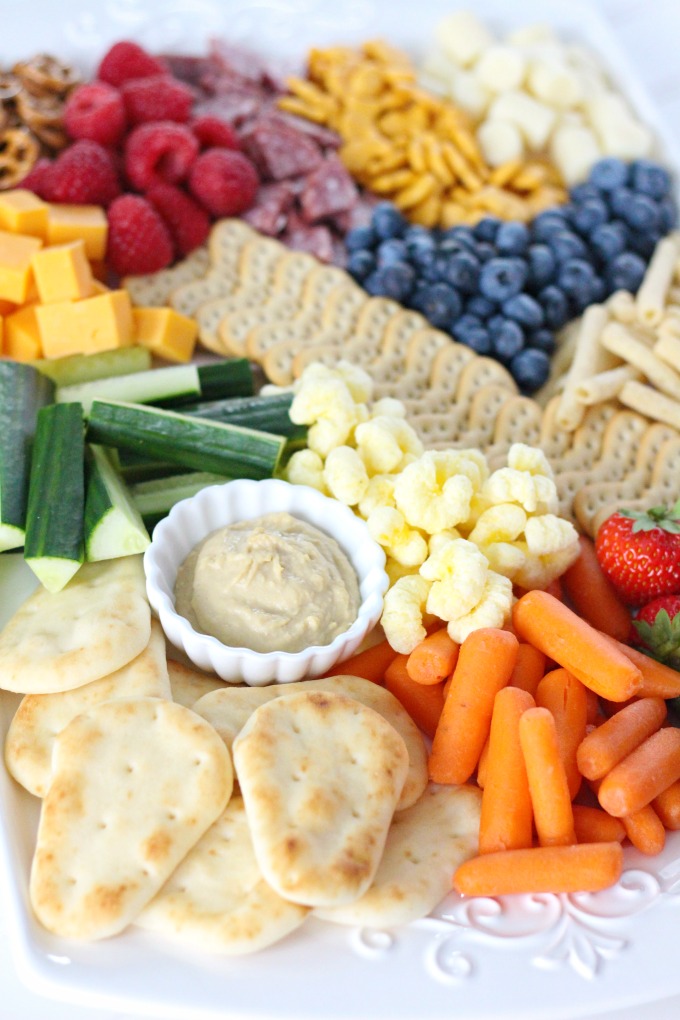 How to create a kid-friendly snack board:
I am a fan of both sweet and salty, and tend to have both on my snack boards. My daughter loves veggies, so they made an appearance on the board in the form of carrots and cucumber. Feel free to add whatever veggies your kids like, or add some new ones for them to try. If kids see adults or older children eating something, they might try it too. Broccoli, peppers, cauliflower, snap peas, and cherry tomatoes are other good veggie options. I also added hummus and had ranch on the side.
Cubed cheeses and sliced, then quartered salami are good choices for protein. Crackers, naan dippers, and pretzels were also placed on the board. I chose strawberries, raspberries and blueberries. Other fruit like pineapple, oranges and watermelon are great, but are juicy, so you might want to place them in bowls. Apples, unless tossed in a citrus juice, will brown, so I don't usually add them to snack boards.
Fruit was added last, because it is usually the smallest and fills in spots. Same with the Goldfish and Pirate's Booty. Nuts are a great filler item, but be mindful of food allergies if you are making this board for children other than your own. I left nuts off completely and we didn't even miss them.
TIPS, TRICKS, AND TOOLS:
Here are a few of my favorite entertaining products, like including wood boards, bowls and accessories.
Move store-bought items, like hummus and ranch, from their original packaging into dishes or bowls for a beautiful presentation.
Seasonal fruits add color, and smaller items, like Goldfish should be placed last as a filler.
Be careful of allergies, including nuts, if making this board for other children.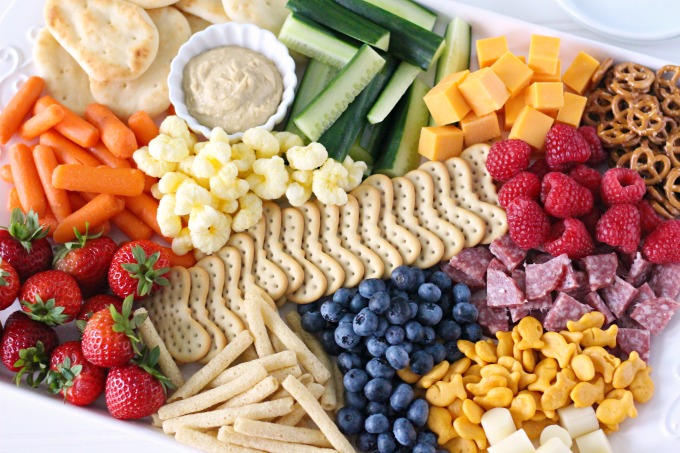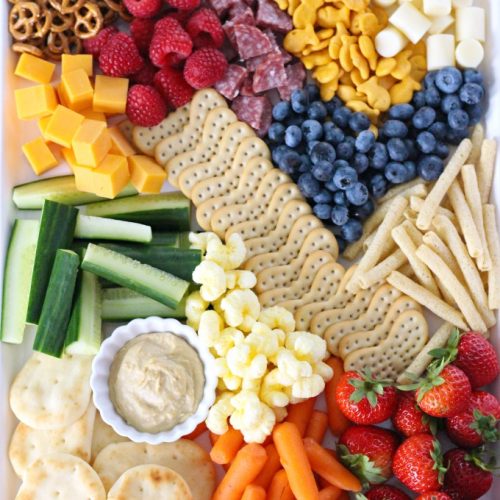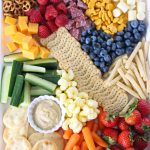 Print Recipe
Kid-Friendly Snack Board
Ingredients
Naan dippers

Baby carrots

Sliced cucumbers

Hummus

Pirate's Booty

Crackers

Mini pretzels

Cubed sharp cheddar cheese

Mozzarella sticks, sliced

Salami, sliced then quartered

Strawberries

Raspberries

Blueberries

Apple Cinnamon Straws

Goldfish
Instructions
Starting with largest snacks and bowls, place on platter or board. Arrange medium snacks in piles, then fill in with smallest snacks.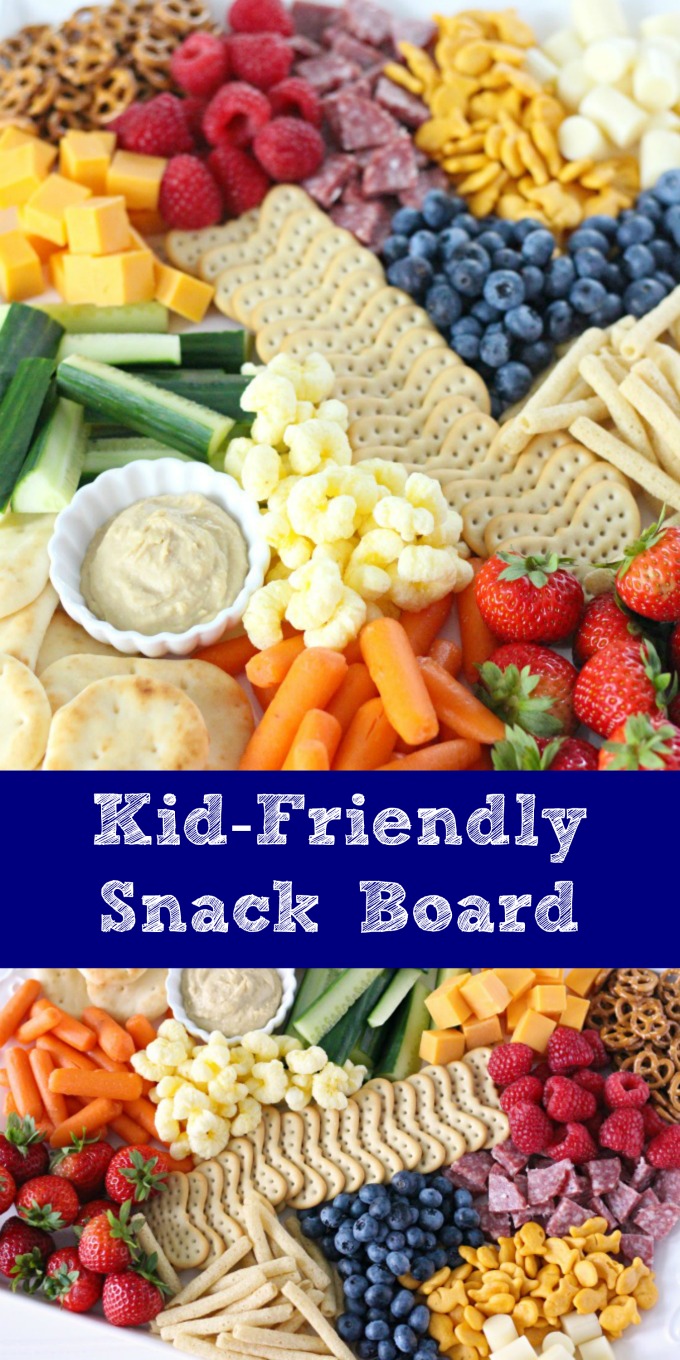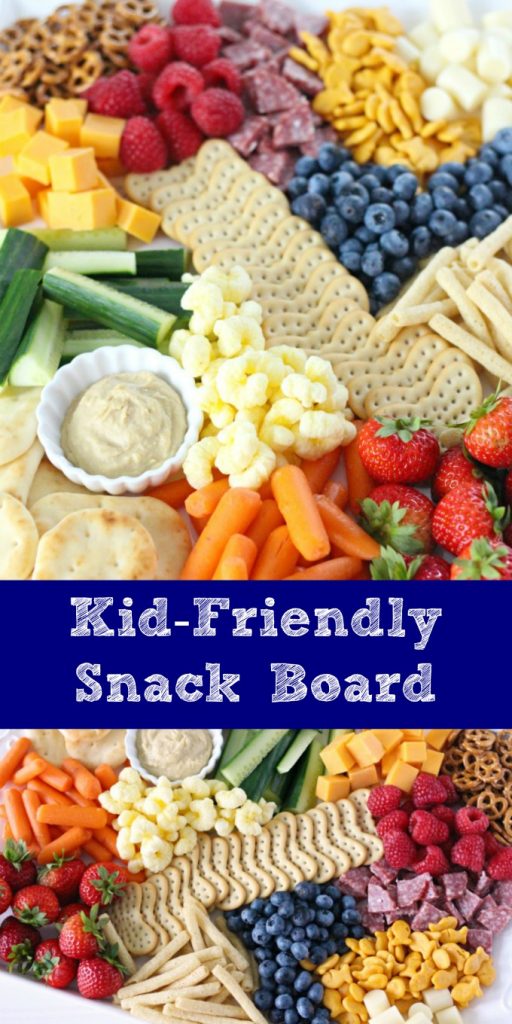 Summer is winding down, and we are celebrating with #BacktoSchoolTreats hosted by Terri from Love and Confections and Christie from A Kitchen Hoor's Adventures. All week-long 11 bloggers will be sharing 30+ fantastic recipes for both parents and kids, with breakfasts, snacks, desserts, and drinks to get you back in the school routine.
Breakfast Recipes
Baked Glazed Chocolate Donuts by The Redhead Baker
Chai Muffins by Our Good Life
Lemon Streusel Blueberry Muffins by Jolene's Recipe Journal
Sugar Free Banana Muffins by Blogghetti
Snack Recipes
Air Fryer Hot Dog Taquitos by A Kitchen Hoor's Adventures
Kid-Friendly Snack Board by Love & Confections
Dessert Recipes
Chocolate Chip Cookies by Family Around the Table
Frosted Fudgy Homemade Brownies by Making Miracles
M&M Cookie Bars by Kate's Recipe Box
Monkey Tail Crescent Rolls by Palatable Pastime
Peanut Butter and Jelly Caramel Corn by Sweet Recipeas