Lemon Blueberry Crepes are creamy, sweet, tart and perfect for breakfast, brunch, snack or dessert!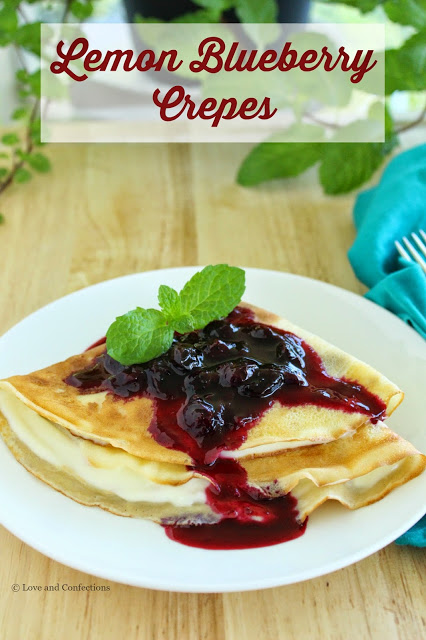 Welcome to day 5 of #BrunchWeek that I am hosting with Shaina from Take A Bite Out Of Boca. So many delicious recipes have been shared this week and these last two days have some great ones as well. There is less than 48 hours left to enter the #BrunchWeek giveaway, so be sure you do before time is up!
I love the bright and creamy lemon flavor and with blueberries in season here, I am using them in as many recipes as possible. If you are a regular reader, you know I love all things lemon, especially lemon curd. Making curd is so easy and homemade lemon curd tastes phenomenal. Trust me, if you haven't made it yet, you really need to!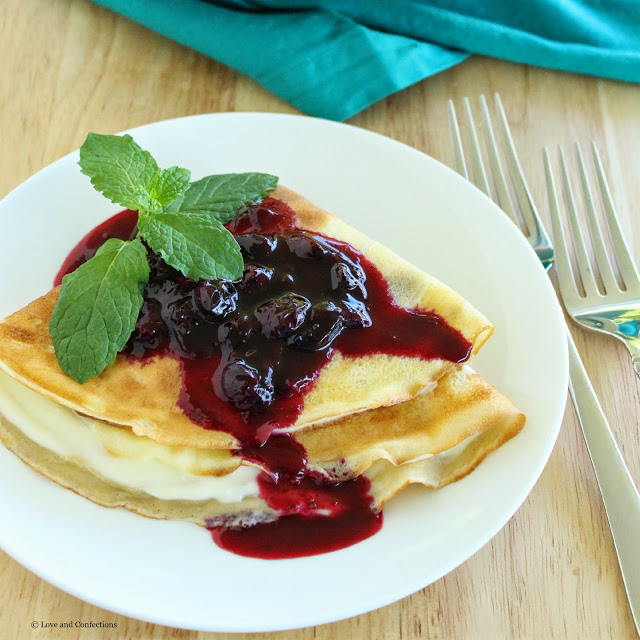 I haven't made crepes in a while and thought #BrunchWeek would be the perfect time. While I worked as a pastry chef in a restaurant, we would make huge batches of crepes at a time on a large, gas crepe griddle. The crepes would be used for both sweet and savory dishes. I love creating all different kinds of combinations for crepes. Lemon and blueberry is a classic that I knew would be perfect just in time for Mother's Day.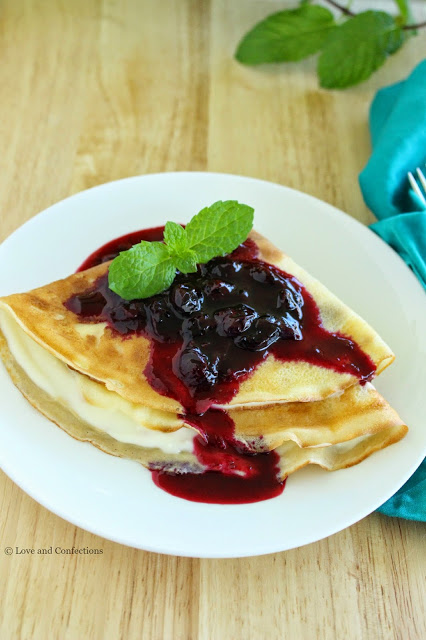 I lightened the lemon curd with some yogurt. I love Stonyfield Organic Yogurt. My refrigerator is stocked full of it at the moment, because there was a huge sale at my local supermarket recently. I love their Petite Cremes flavors! Toddler L&C has been eating Stonyfield Yogurt for almost a year now, and loves it! I usually buy whole milk plain yogurt, because I can use it in both sweet and savory dishes, as well as for breakfast or snacks during the day. I love using it for parfaits with some granola and fresh, seasonal fruit. I sometimes add Nielsen-Massey Vanilla Bean Paste into our yogurt for a delicious vanilla-flecked treat.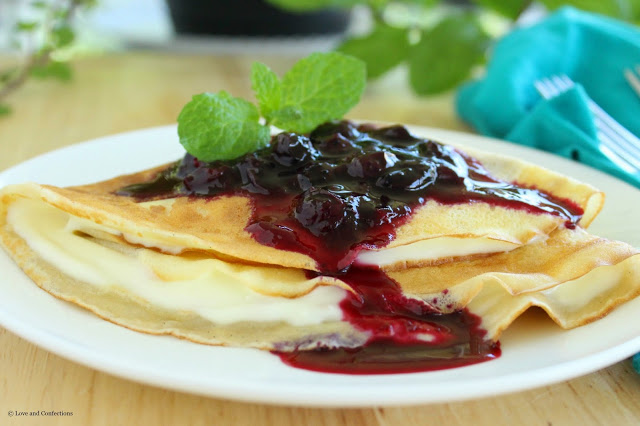 Lemon Blueberry Crepes
A Love and Confections original recipe
Click here for a printable recipe
Lemon Curd Ingredients:
– 100 grams Lemon Juice
– 62 grams Unsalted Butter, room temperature
– 62 grams Dixie Crystals Granulated Sugar (first measurement)
– 62 grams Dixie Crystals Granulated Sugar (second measurement)
– 12 grams Corn Starch
– 150 grams large Eggs, roughly 3
– Stonyfield Plain Yogurt, for assembly
– Nielsen Massey Vanilla Bean Paste, for assembly
Lemon Curd Directions:
1. In a medium saucepan, combine the Lemon Juice, Unsalted Butter and first measurement of Sugar. Whisk to combine and cook on medium to medium-high until sugar has dissolved and mixture is just simmering.
2. Right before the liquids boil, whisk together the second measurement of Sugar, Corn Starch and Eggs in a bowl big enough to hold the liquid and egg mixtures.
3. Temper the eggs: slowly pour the hot liquid, in a small stream, into the bowl while constantly whisking the eggs. Pour the mixture back into the pan and heat on the stove until it is thick and almost boiling.
4. With a sieve, strain the curd into a clean bowl to insure no overcooked eggs get into the curd. Place plastic wrap directly onto the surface of the curd and let it cool for 30 minutes on the counter, then refrigerate it until it is thoroughly chilled. Can be made a day before use. Can be stored for up to 3 days in the refrigerator. Makes 2-3 cups.
Crepe Ingredients:
– 500 grams Whole Milk
– 200 grams Unbleached All-Purpose Flour
– 50 grams Dixie Crystals Extra Fine Granulated Sugar
– 25 grams Vegetable Oil
– 3 large Eggs
– Pinch of Salt
– Clarified Butter
Crepe Directions:
1. Either in a blender, or in a container with an immersion blender, combine all the ingredients and blend until thoroughly mixed and there are no lumps. Chill in the refrigerator a minimum of 1 hour, preferably 2-3.
2. With either a crepe pan or large flat frying pan, spread on a small amount of Clarified Butter with a pastry brush. Using a measuring cup, pour enough batter to create a thin layer that covers the bottom of the pan. Be sure to swirl the pan, so all the batter is evenly dispersed.
3. Cook the crepe until the bottom is lightly brown, gently flip over and cook for another minute or two (less amount of time than the first side). The first crepe usually comes out bad, so don't worry if it rips or doesn't cook properly.
4. Once the crepe is cooked, slide it out of the pan onto some parchment paper. Continue making crepes, buttering the pan every few times, and stacking the crepes one on top of the other. If not using immediately, let them cool to room temperature, place in a zip top bag and refrigerate or freeze. Makes 12 crepes.
Blueberry Sauce Ingredients:
– 300 grams fresh Blueberries
– 75 grams freshly squeezed Lemon Juice
– 100 grams Honey
Blueberry Sauce Directions:
1. In a medium saucepan, bring the Blueberries, Lemon Juice and Honey to a boil on medium-high heat. Turn the heat down to medium and continue cooking, stirring occasionally for 3-5 minutes. Remove from heat and let it cool slightly before serving.
Assembly:
1. Mix 1/2 cup Lemon Curd with 1/2 cup Stonyfield Plain Yogurt and 1 teaspoon Nielsen-Massey Vanilla Bean Paste. Spread evenly between three Crepes. Fold the Crepes, layer on a plate and spoon the Blueberry Sauce on top. Enjoy!
I hope you enjoy what the #BrunchWeek Bloggers cooked up today!
BrunchWeek Beverages:
Mango Swirled Coconut Margarita from The Little Ferraro Kitchen.
Bruleed Grapefruit Mojito from Healthy Delicious.
Strawberry Orange Blossom Sparkler from Baking a Moment.
BrunchWeek Egg Dishes:
Bacon and Egg Sandwiches on Cheddar Biscuits from Sew You Think You Can Cook.
BrunchWeek Breads, Grains and Pastries:
Lemon Blueberry Crepes from Love and Confections.
Java Jolt Overnight Oats from Take A Bite Out Of Boca.
Hagelslag-Covered Bread from Culinary Adventures with Camilla.
Nutella Stuffed Aebleskiver from greens & chocolate.
Baked French Toast Boats from The Spiffy Cookie.
Skinny Banana Oat Flaxseed Cookies from Hip Foodie Mom.
Cinnamon Sugar French Toast Sticks from Making Miracles.
Cheddar Pear Proscuitto Pull-Apart Bread from It Bakes Me Happy.
Alpine Cheese Grisini from Jane's Adventures in Dinner.
BrunchWeek Main Dishes:
Bacon Cheddar Hashbrown Pancake from Pink Cake Plate.
Huevos Rancheros Burgers from The Redhead Baker.
BrunchWeek Fruits, Vegetables and Sides:
Fresh Mint and Orange Blossom Fruit Salad from Sarcastic Cooking.
Citrus and Cilantro Carrot Slaw from A Day in the Life on the Farm
BrunchWeek Desserts:
Mini Apple Pear Pies from Quarter Life (Crisis) Cuisine.
Strawberry Cake from Chelsea's Messy Apron.
Chocolate Chip Walnut Coffee Cake from girlichef.
Raspberry Oatmeal Bars from My Catholic Kitchen.
These are two great options for crepe-making.
Until next time,
LOVE & CONFECTIONS!
Disclaimer: Thank you to #BrunchWeek Sponsors: Bob's Red Mill, Cabot Creamery Cooperative, California Walnuts, Dixie Crystals, Grimmway Farms/Cal-Organic/True Juice, KitchenAid, Le Creuset, Nielsen-Massey Vanillas, Pacari Chocolate, Stonyfield Organic, Vidalia Onions, and Woot Froot for providing the prizes free of charge. These companies also provided the bloggers with samples and product to use for #BrunchWeek. All opinions are my own. This post may contain affiliate links.