Pumpkin Doughnuts with Maple Glaze combine two favorite Fall flavors, perfect for an Autumn breakfast, sweet afternoon snack, or scrumptious dessert.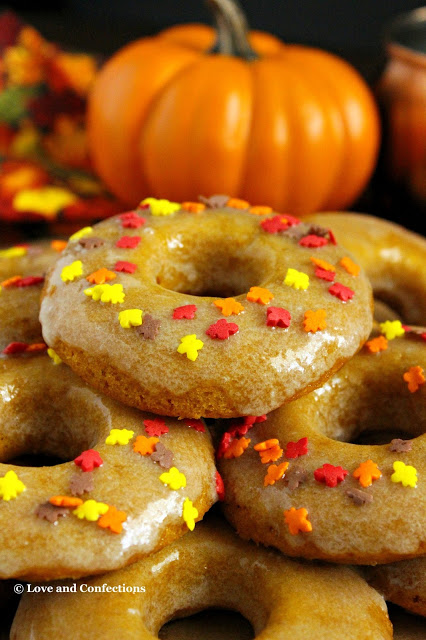 Are you that person that spells it "doughnuts" or "donuts"? I am the former, that's just how I have always spelled it, except when referring to that famous donut chain. There is nothing like freshly made doughnuts on a weekend morning with a good cup of coffee. Pumpkin doughnuts with maple glaze have me longing for the weekend and wanting to curl up with a blanket, good book, and cup of coffee!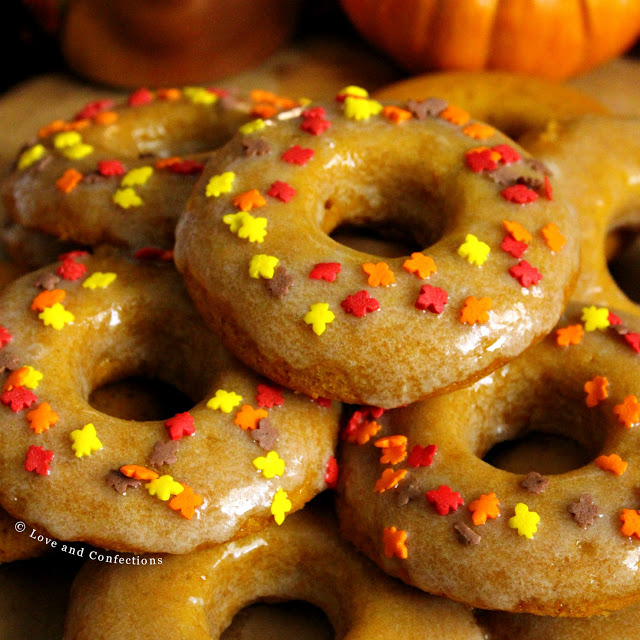 My favorite are yeast doughnuts – usually Boston cream and chocolate frosted. I have a love-hate relationship with cake doughnuts, though. Most of it comes from having dry doughnuts that don't have taste. These pumpkin doughnuts are definitely not dry and are packed full of flavor. My only qualm is that sometimes cake doughnuts bake up a little flat. I am still tweaking recipes to try and get fluffy, delicious baked doughnuts.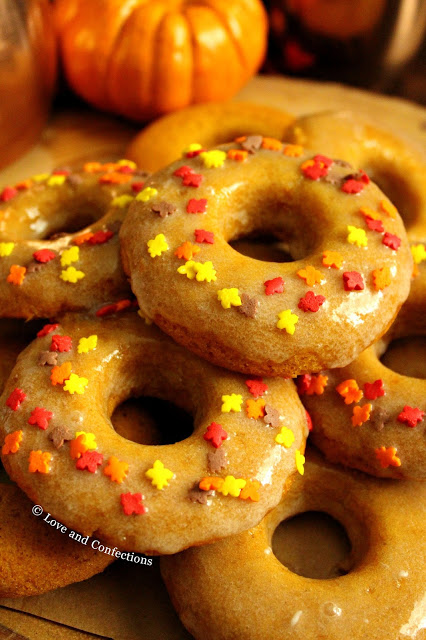 I didn't want the glaze to be too think, and thinned it out a bit. It's a personal preference how you like your doughnut frosted. I will probably try a little thicker glaze next time. You could even try a chocolate ganache. Pumpkin and chocolate are a great combination.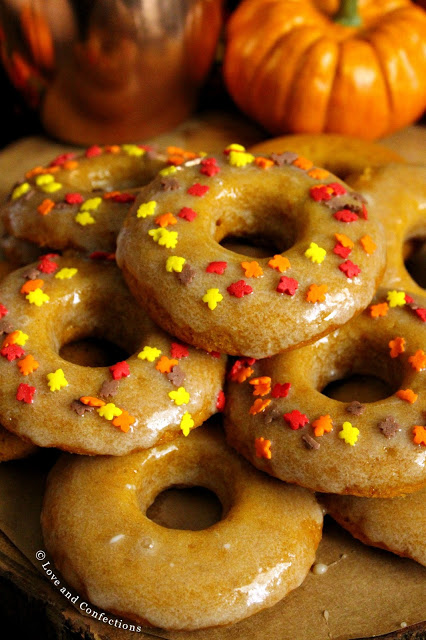 Maple Glazed Pumpkin Spice Doughnuts
Doughnuts adapted from King Arthur Flour,
Glaze adapted from Crunchy Creamy Sweet
Published 10/03/2017
Ingredients
1/2 cup vegetable oil
3 large eggs
1 1/2 cups granulated sugar
1 1/2 cups pumpkin puree
1 1/2 teaspoons pumpkin pie spice
1 1/2 teaspoons salt
1 1/2 teaspoons baking powder
1 3/4 cups + 2 tablespoons all purpose flour
1 cup powdered sugar
2 tablespoons butter, melted
3 tablespoons maple syrup
1-2 tablespoons milk
Instructions
Heat oven to 350F. Grease doughnut pans.
Beat oil, eggs, sugar, pumpkin, spices, salt and baking powder until combined. Add flour and stir until combined
Fill doughnuts 3/4 full, approximately 1/4 cup batter. Bake for 15-18 minutes or until cake tester comes out clean. Let cool in pan for 5 minutes, then transfer to rack to cool completely. While cooling, make glaze
Sift powdered sugar into medium mixing bowl. Add butter, maple syrup, and milk (1 teaspoon at a time) and whisk until desired consistency. Dip doughnuts and place on cooling rack for excess glaze to drip off.
Yield: 18 doughnuts
Until next time,
LOVE & CONFECTIONS!
Here are today's #PumpkinWeek recipes:
Savory Pumpkin Recipes:
Bourbon Caramel Pumpkin Roll from The Crumby Kitchen.
Maple Glazed Pumpkin Spice Doughnuts from Love and Confections.
Old-Fashioned Pumpkin Bread from Palatable Pastime.
Pumpkin Casserole with Roasted Marshmallows from Daily Dish Recipes.
Pumpkin Cookies from Making Miracles.