These are the perfect crisps for fresh fruit from the farmer's market.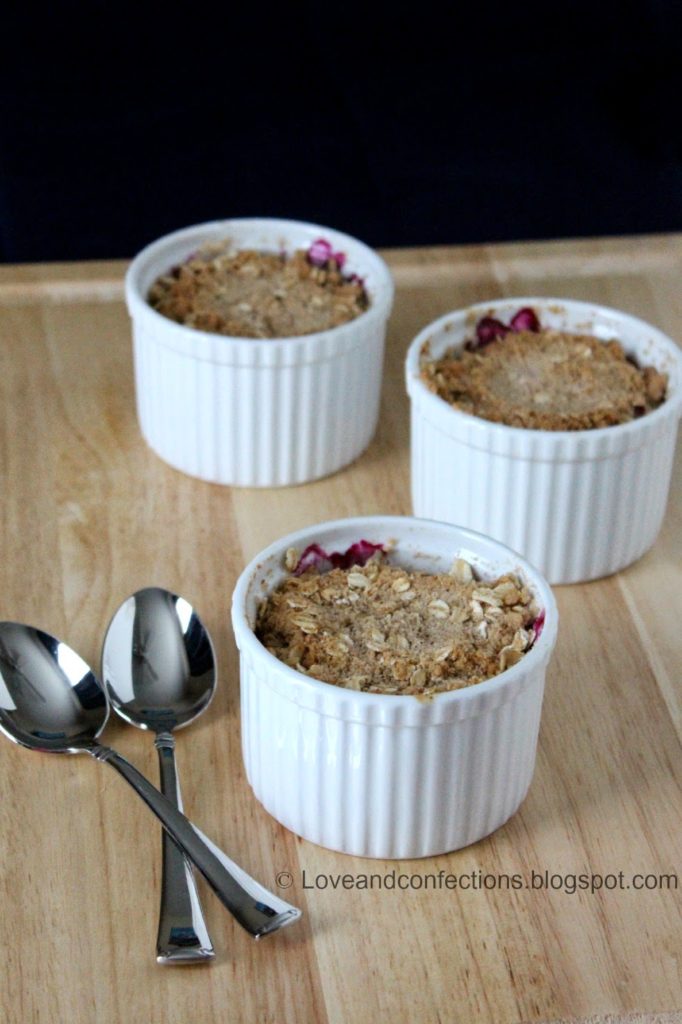 I love going to the farmer's market on the weekend. It has locally-grown produce, baked goods, fresh kettle corn and other vendors selling jewelry, homemade soaps, and even plants and flowers.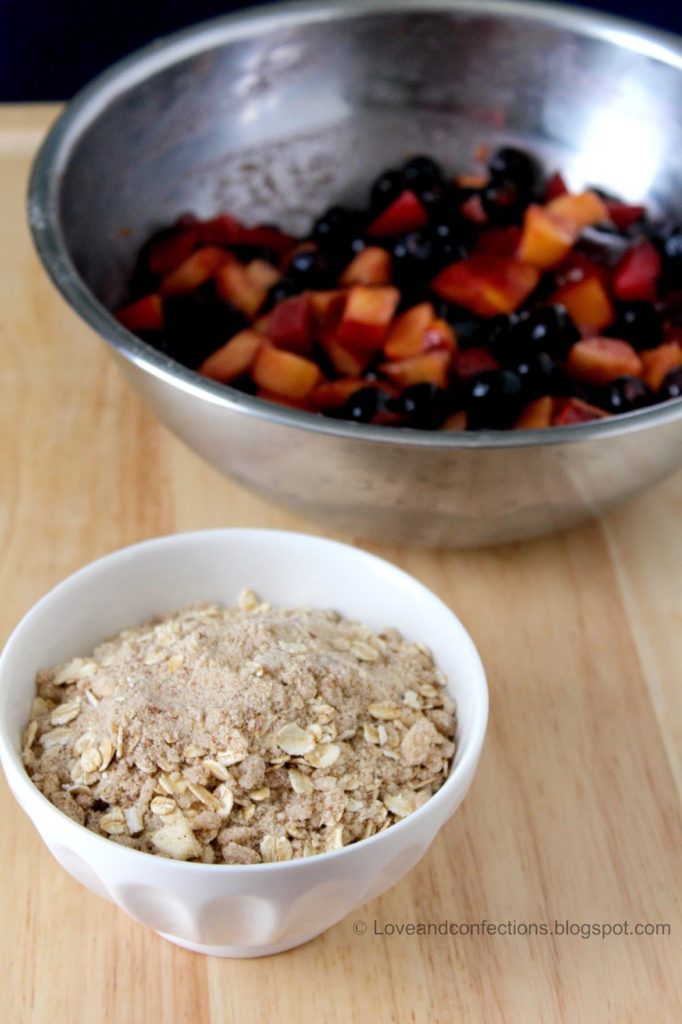 It is located right next to a water park that is a great spot for kids and toddlers to run around and play on hot Summer days. There is a little old couple that sells freshly squeezed lemonade and it is amazing. They squeeze the lemons right in front of you, pour it over ice, add in simple syrup and a cherry on top – perfection!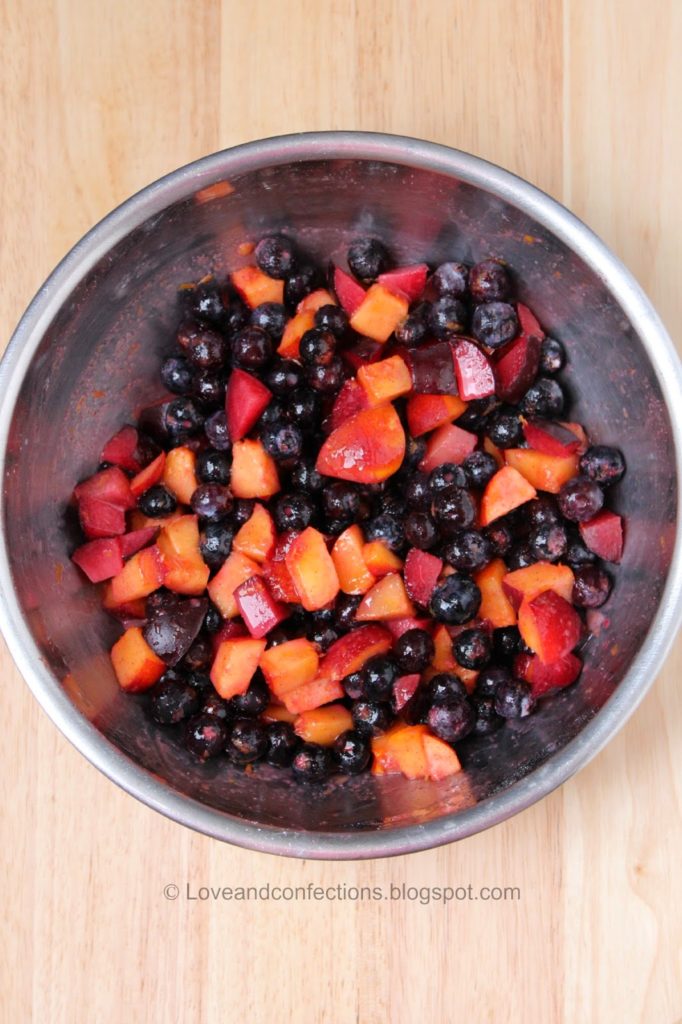 This crisp is great to throw together with whatever fruit you may have on hand. I love stone fruit, and it is also great with apples and spices. I used some fresh nectarines and plums, and had my frozen blueberries ready and waiting.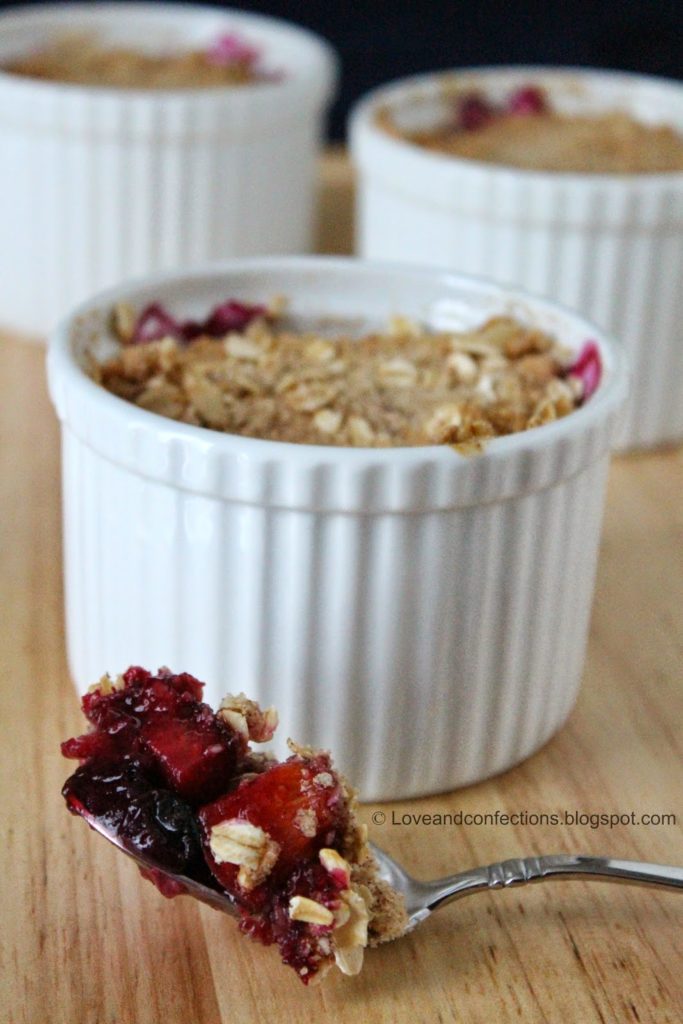 Nectarine, Plum and Blueberry Crisp
a Love and Confections original
Click here for printable recipe
Nectarine, Plum and Blueberry Crisp Filling Ingredients:
– 2 cups Nectarines, diced
– 3 cups Blueberries
– 1 cup Plums, diced
– 2 tablespoons Granulated Sugar
– 2 tablespoons Brown Sugar
– 2 tablespoons Corn Starch
– 1/2 teaspoon Cinnamon
– 2 teaspoons Lemon Zest
– 1-2 tablespoons Lemon Juice
Nectarine, Plum and Blueberry Crisp Filling Directions:
1. Heat oven to 375°F. Coat the inside of 4 small souffle ramekins with non-stick spray.
2. Add Nectarines, Blueberries and Plums to a medium bowl.
3. Top with Granulated Sugar, Brown Sugar, Corn Starch, Cinnamon, Lemon Zest and Lemon Juice. Stir to combine.
4. Evenly distribute between the four ramekins and bake for 15 minutes. While it is baking, make the topping.
Nectarine, Plum and Blueberry Crisp Topping Ingredients:
– 1/4 cup All-Purpose Flour
– 1/4 cup Brown Sugar
– 1/4 cup Almond meal
– Pinch of Salt
– 4 tablespoons Unsalted Butter, cold and cubed
– 1/2 cup Oats
Nectarine, Plum and Blueberry Crisp Topping Directions:
1. Place Flour, Brown Sugar, Almond Meal and Salt in a medium bowl.
2. Using a pastry blender, or knives, cut Butter into the flour mixture until it resembles coarse crumbs. With a spoon, stir in the Oats.
3. Put topping on fruit – be careful because the ramekins are hot – and bake an additional 15-20 minutes, or until the fruit mixture starts to bubble and the topping gets golden brown.
4. Let it cool slightly before eating. Best when warm and served with whipped cream or ice cream. Can be stored in the refrigerator for up to 2 days.
Until next time,
LOVE & CONFECTIONS!
You might also like: