#spon: I'm required to disclose a relationship between our site and Hillshire. This could include Hillshire providing us w/content, product, access or other forms of payment.

One-Pot Sausage, Spinach, Chard and Kale Pasta is easy to prepare, delicious and quick to clean up – perfect for a weeknight meal!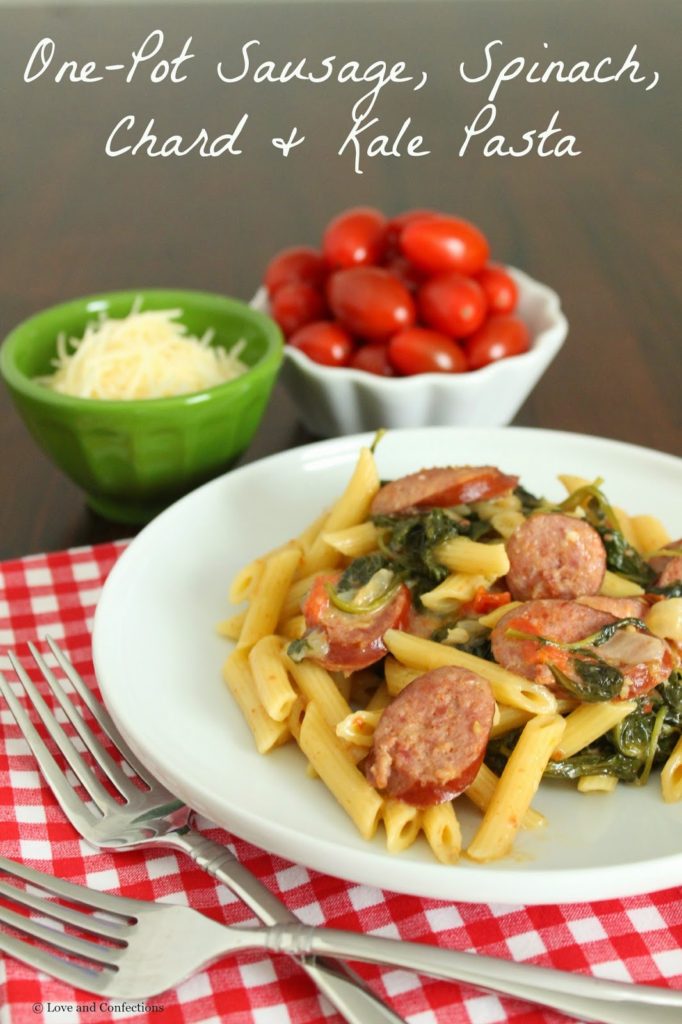 One-Pot meals are great for a busy weeknight, especially if you have a family to feed. Lately, Toddler L&C has been getting into everything and always wants to be right underfoot. It gets a bit difficult to make dinner when there is a 16-month old sitting on your feet in front of the stove. This one-pot meal is made in under 30 minutes, tastes delicious, and gives me more time to play with the Toddler.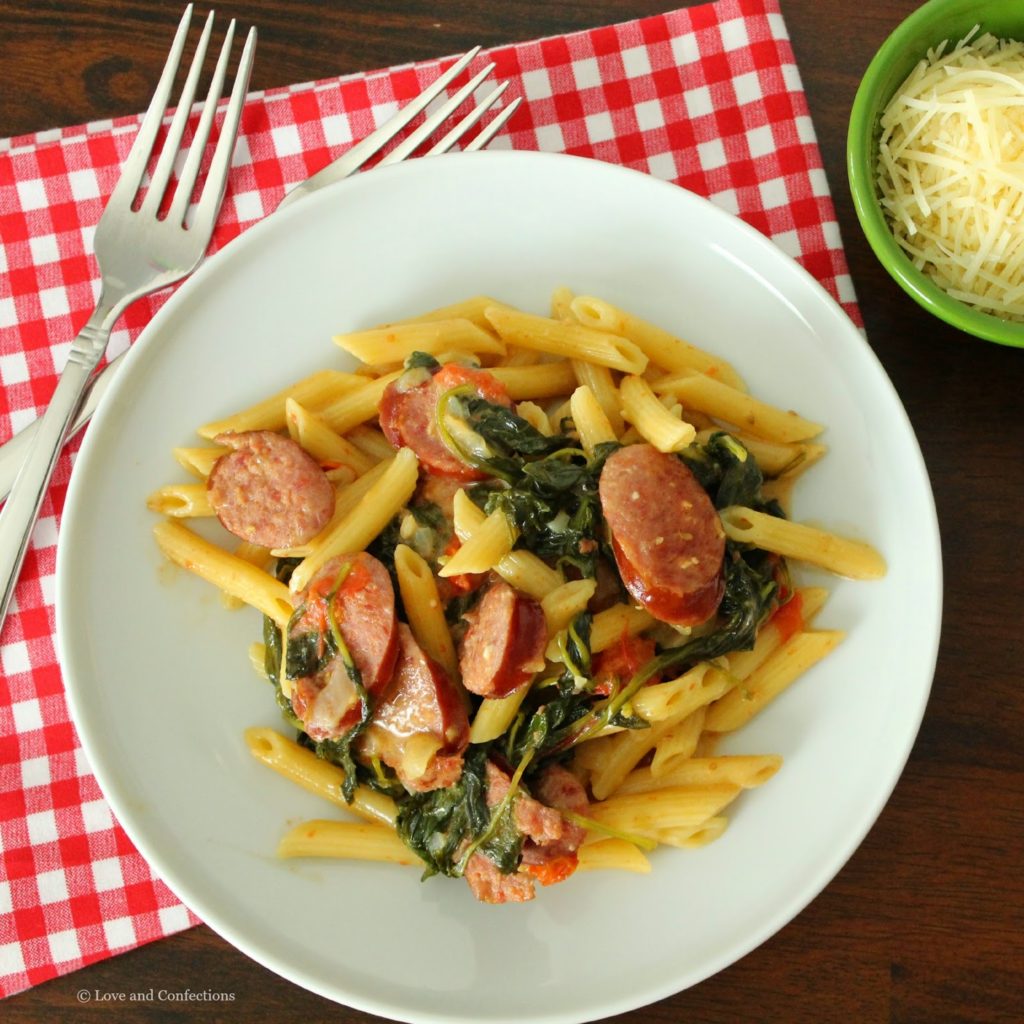 I like to vary our weeknight meals. We usually have some form of Mexican or Hispanic dishes every 7-10 days. Tacos, Enchiladas, Black Beans & Rice, an a bunch of different meals are always on our menu. I also keep chicken breasts, cutlets and tenderloins in the freezer to have on hand. Sometimes, though, I forget to thaw them and get in a rut when it's close to dinner-making time. I like having Hillshire Farms Smoked Sausage on hand in the refrigerator, because it helps me make a quick meal without worrying about thawing some protein.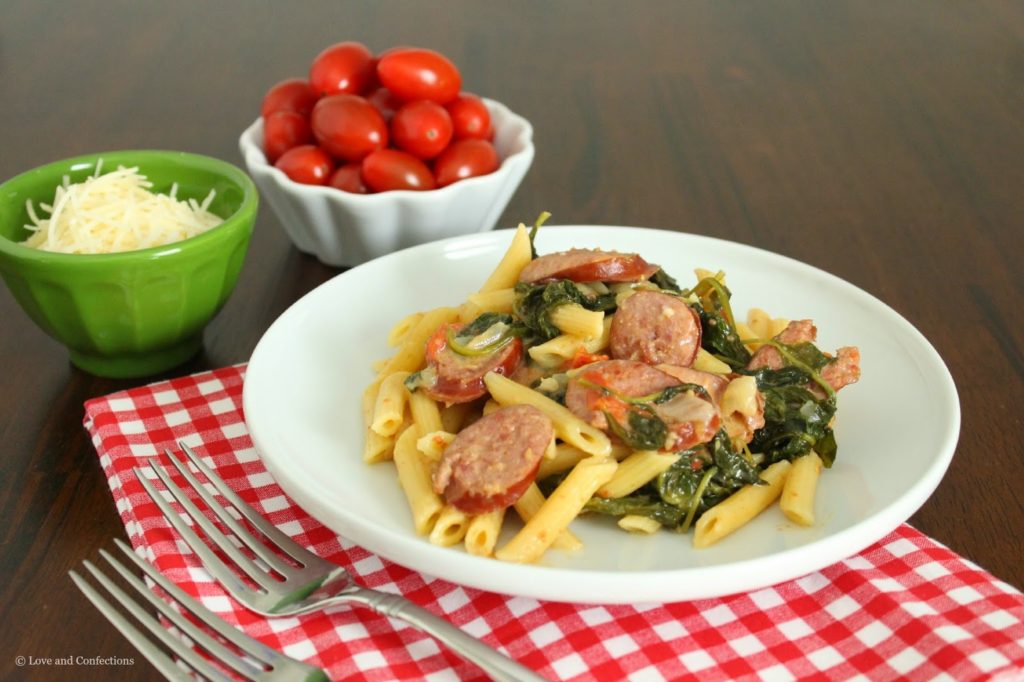 Mr. L&C loved this dish! He loves almost any kind of sausage: Italian, Kielbasa, Smoked, Breakfast. You name it, he'll eat it. The Hillshire Farm Smoked Sausage has a great flavor and complemented the greens perfectly. I gave it a little twist by adding some Grape Tomatoes to the pasta. The dish was so flavorful and when topped with some freshly grated Parmesan Cheese makes it out-of-this-world. Don't forget to check out Sausage So Simple for more recipe inspiration.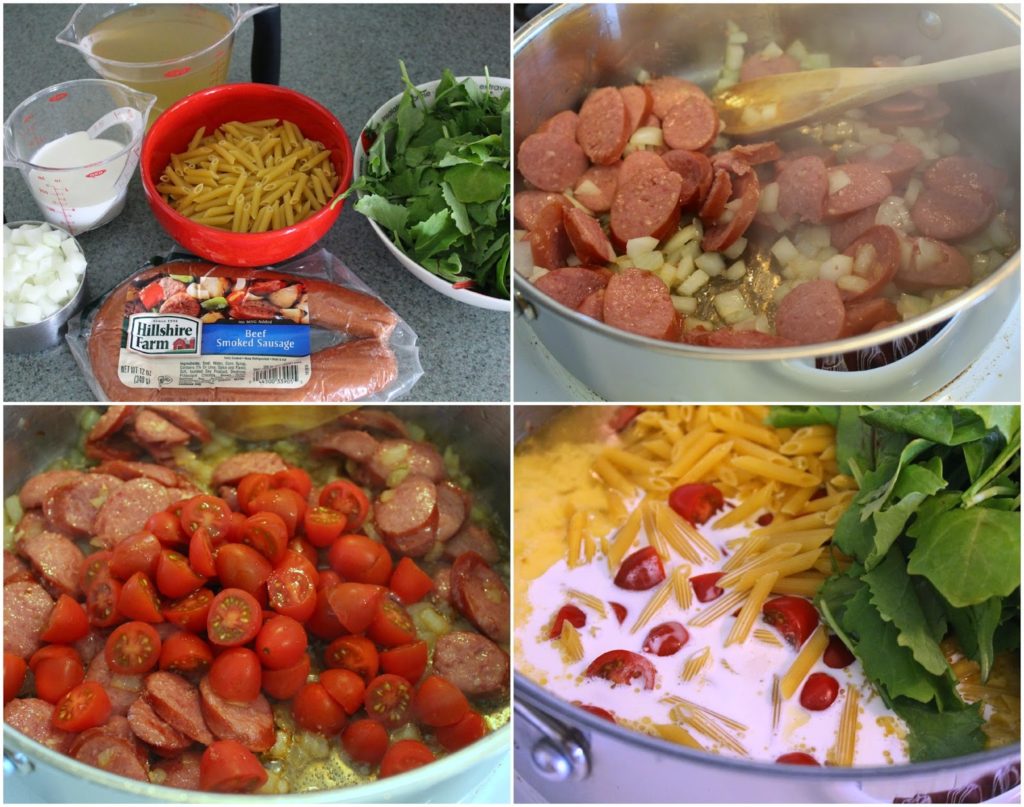 One-Pot Sausage, Spinach, Chard and Kale Pasta
Adapted from Kevin & Amanda
Click here for a printable recipe
Yield: 4 servings
One-Pot Sausage, Spinach, Chard and Kale Pasta Ingredients:
– 1-2 tablespoons Olive Oil
– 1 & 1/4 cup diced Sweet Onion
– 1-14 ounce Hillshire Farm Smoked Sausage
– 1 teaspoon minced Garlic
– 2 cups Chicken Broth, low-sodium
– 1/2 cup Heavy Cream
– 8 ounces Mezze Penne Pasta
– 1/2 teaspoon ground Black Pepper
– 30 Grape Tomatoes, halved
– 1-5 ounce bag of Baby Spinach, Chard and Kale Salad Mix
– Parmesan Cheese, optional topping
One-Pot Sausage, Spinach, Chard and Kale Pasta Directions:
1. Place Olive Oil in a medium-large skillet with high sides and heat on medium-high. Place Onions and Sausage in skillet and cook until the onions are light brown. Add in the Garlic and cook, while stirring, for half a minute.
2. Add in Chicken Broth, Heavy Cream, Pasta, Pepper, Tomatoes and Spinach-Chard-Kale Mix. Stir to combine, making sure the pasta is submerged in the liquid. Bring it to a boil, then cook, covered, on low for 15 minutes or until the pasta is tender. Remove from heat, remove lid, and let it sit for a minute before serving. Top with Parmesan Cheese. Enjoy!
Until next time,
LOVE & CONFECTIONS!