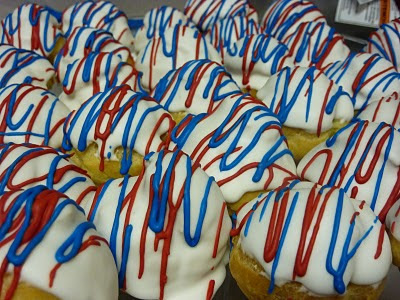 Some of life's greatest pleasures are desserts and pastries. Whether you're a fan of cookies, cakes, pies, tarts, petit fours, pavlovas, etc., they are all delicious and appeal to everyone in their own way. My personal favorite are French Macaroons – but that's for another day.
Whenever I meet a new Pastry Chef, I try and ask them what their favorite dessert or pastry is. I think it is a great way of getting to know more about the chef and a little insight into their personality. Executive Pastry Chef Stephane Cheramy, at the JW Marriott/Ritz-Carlton Grande Lakes likes Apple Almond Tarts. Executive Pastry Chef Steven Rujak, at the Hyatt Grand Cypress, likes Shortbread Cookies. Chef Erik Perez, from Boiron frozen Fruit Puree, likes tarts the best. These pastry chefs have been in the industry for years, create confectionary masterpieces daily, and still love these simple yet delicious pastries.
Cream Puffs are said to have originated in Renaissance France and Italy. Choux paste is different from other types of pastry because when baking, it uses the high moisture content to create steam to puff the pastry. When it rises, it produces a hollow center, which can have sweet or savory fillings. Pâte à Choux is a thick batter made from flour, milk, butter, and eggs. Choux paste is typically known for making profiteroles (cream puffs), croquembouches, eclairs, French crullers, beignets, and Gateau St. Honore. The shape resembles a cabbage, choux in French, hence the name Pâte à Choux.
I decided to make Cream Puffs today. They are relatively simple to make and extremely delicious! I filled my Cream Puffs alternating Pastry Cream and Chocolate Mousse. Both are suitable for Profiterole filling and easy to make. A Pastry Cream blog post will be coming soon, but for now, you can get the Chocolate Mousse recipe here. Enjoy!
Pâte à Choux Recipe:
from the Daring Baker's Challenge, May 2010
– 175 milliliters Water
– 85 grams Unsalted Butter
– ¼ teaspoon salt
– 1 tablespoon Sugar
– 125 grams All-Purpose Flour
– 4 large Eggs
For Egg Wash:
– 1 Egg and a pinch of Salt
Pâte à Choux Directions: – Pre-heat oven to 425◦F/220◦C degrees. Line two baking sheets with parchment paper.
1. Combine water, butter, salt and sugar in a saucepan over medium heat. Bring to a boil and stir occasionally. At boil, remove from heat and sift in the flour, stirring to combine completely.
2. Return to heat and cook, stirring constantly until the batter dries slightly and begins to pull away from the sides of the pan.
3. Transfer to a bowl and stir with a wooden spoon 1 minute to cool slightly.
4. Add 1 egg. The batter will appear loose and shiny.
5. As you stir, the batter will become dry-looking like lightly buttered mashed potatoes.
6. It is at this point that you will add in the next egg. Repeat until you have incorporated all the eggs.
Piping the Pâte à Choux Batter:1. Transfer batter to a pastry bag fitted with a large open tip (I piped directly from the bag opening without a tip). Pipe choux about 1 inch-part in the baking sheets. Choux should be about 1 inch high about 1 inch wide.
2. Using a clean finger dipped in hot water, gently press down on any tips that have formed on the top of choux when piping. You want them to retain their ball shape, but be smoothly curved on top.
3. Brush tops with egg wash (1 egg lightly beaten with pinch of salt).
Baking the Pâte à Choux:1. Bake the choux at 425◦F/220◦C degrees until well-puffed and turning lightly golden in color, about 10 minutes.
2. Lower the temperature to 350◦F/180◦C degrees and continue baking until well-colored and dry, about 20 minutes more. Remove to a rack and cool. Can be stored in an airtight box overnight.