Poutine Pad Thai is an Asian twist on the classic French-Canadian dish, with Idaho Potato Noodles, Vegetables, Chicken, and Cheese Curds. Peanuts, Cilantro and Lime Wedges complete the dish for a colorful and unique presentation!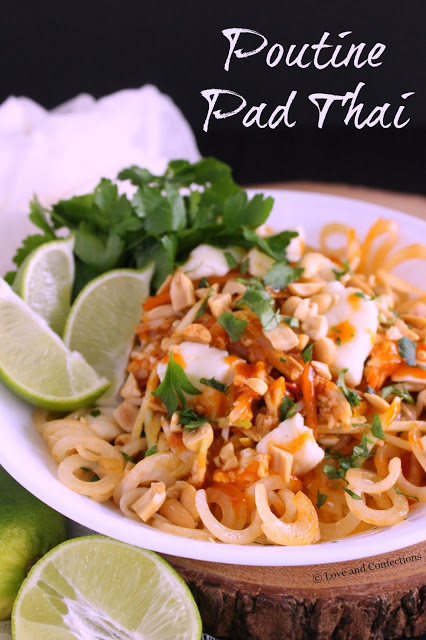 I put an Asian twist on the classic, by substituting Idaho Potatoes for regular noodles in one of my favorite dishes – Pad Thai! Poutine, a French-Canadian classic, is traditionally French fries, brown gravy, and cheese curds. I am entering this dish into the Idaho Potato Commission Recipe Contest for National Sunday Supper Month. We were tasked with creating an original dish, inspired by the classic. There are so many different and delicious recipe interpretations from fellow food blogging friends.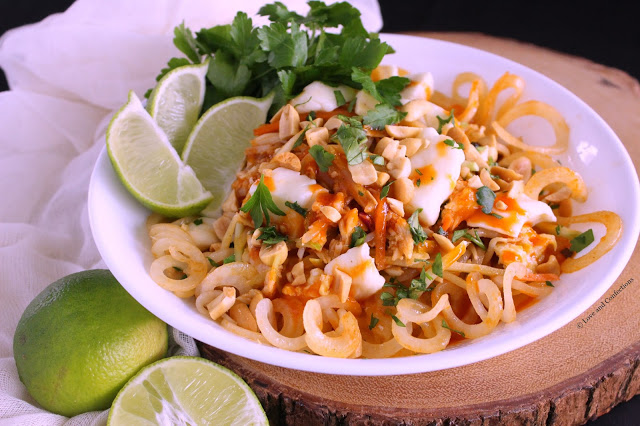 Spiraled vegetables are so popular now, that I knew potatoes would be perfect for my dish. I used the medium/large spiral setting, because I didn't want the noodles to be too thin. Zucchini noodles are shortened to "zoodles", so does that mean that my potato noodles can be called "poodles"? Nah, we'll just stick to calling them potato noodles, because we really don't want people to think I am sauteing a furry dog in an Asian sauce…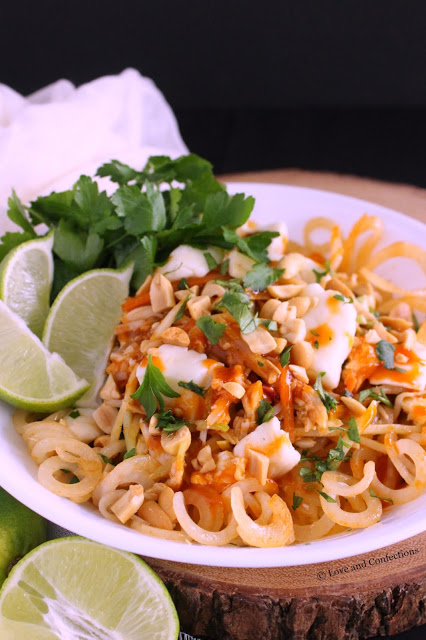 One of my shortcuts is to use jarred Pad Thai sauce, because I can never really get the same flavor when I make it from scratch. Broccoli Slaw and Bean Sprouts are a must in my Pad Thai, as well as scrambled eggs. I cooked extra chicken earlier in the week and shredded it for this recipe. Sometimes I use pork or shrimp too. The cheese curds are an unexpected twist, but they actually go really well with the Pad Thai Sauce. I love sprinkling chopped peanuts and cilantro on top and using freshly squeezed lime juice.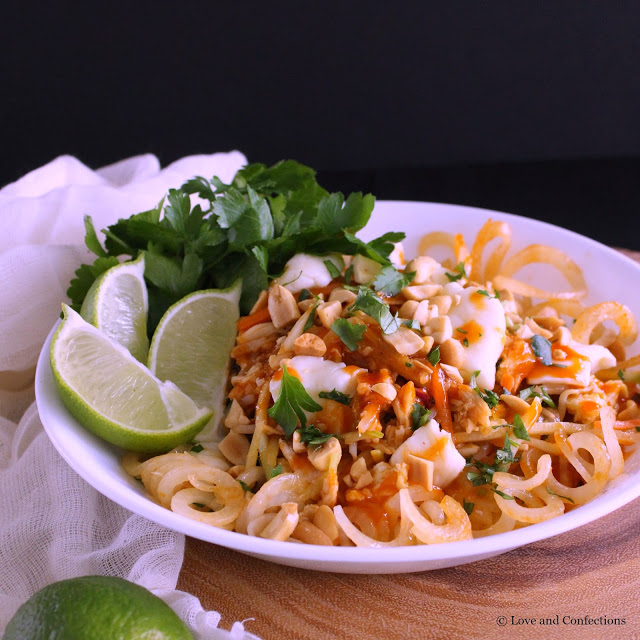 I love entering the food contest for the Food and Wine Conference. This year will be my third year attending, and I cannot wait! I love participating in Sunday Supper events, and the conference is the highlight of the year. The Food and Wine Conference is May 13-15, 2016 at the beautiful Rosen Shingle Creek Resort and Spa. You can register here, and keep up to date on all conference updates by following on Facebook, Instagram, and the #FWCon on Twitter,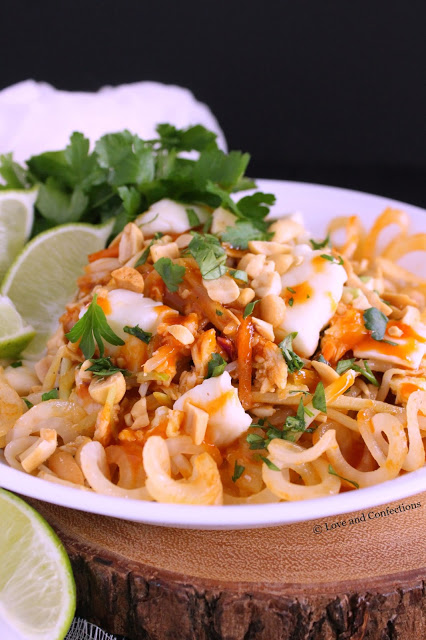 Poutine Pad Thai
A Love and Confections original recipe
Serves 6
Poutine Pad Thai Ingredients:
– Vegetable Oil
– 4 large Eggs, whisked with salt and pepper
– 1 cup cooked and shredded Chicken
– 8 ounces Broccoli Slaw
– 8 ounces Bean Sprouts
– 4 Idaho Russet Potatoes
– 1 jar Pad Thai Sauce
– White Cheese Curds
– Peanuts, chopped
– Cilantro, chopped
– Lime Wedges
Poutine Pad Thai Directions:
1. In a large saute pan, heat Oil in the pan, then scramble the Eggs, remove and set aside. Add a bit more Oil, then the Chicken and 2 tablespoons of Pad Thai Sauce and cook until heated through. Remove and set aside.
2. Add a bit more oil into the pan and add in the Broccoli Slaw. cook for 2 minutes then add in 2 tablespoons of Pad Thai Sauce. Cook another 2 minutes before adding in the Bean Sprouts. Add an additional tablespoon of Pad Thai Sauce and cook for 4-6 minutes. Remove and set aside.
3. Peel Potatoes, spiral into medium-sized noodles, cutting the long strands in 2-3 pieces. Heat Oil in the pan, and cook potato noodles for 10 minutes, stirring often. Add in 1 tablespoon Pad Thai Sauce and stir to heat through.
4. Add all the cooked ingredients back into the pan and toss to combine with potato noodles and make sure everything is hot. Serve immediately. Top with Cheese Curds, chopped Peanuts, Cilantro and Lime Wedges. Enjoy!
Until next time,
LOVE & CONFECTIONS!
Disclaimer: This recipe was created as an entry for the Idaho Potato Commission Recipe Contest for National Sunday Supper Month. Contest entries are equal opportunity for all Food and Wine Conference participants.