Pumpkin Cobbler is a fantastic dessert for the changing of the seasons. Serve it warm with vanilla ice cream for a creamy, delicious touch.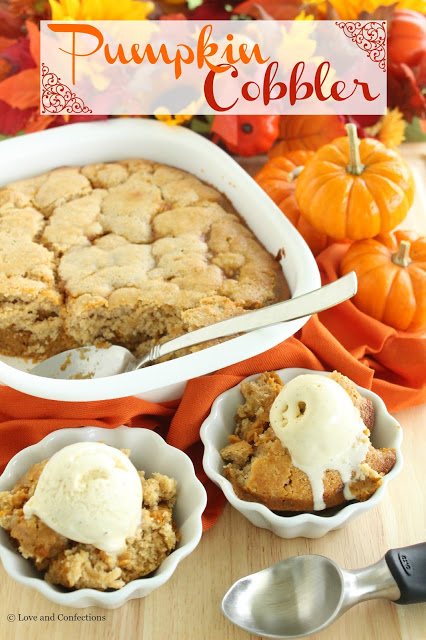 Welcome to #PumpkinWeek day 3! 19 Bloggers will be sharing 65 pumpkin-filled recipes over the course of the week. Be sure to come back every day to see all the delicious creations – from muffins to cakes, cocktails, breakfast baked goods, savory pastas and stews, and gluten-free recipes too. You can also find these great recipes and more on Love and Confections' #PumpkinWeek Pinterest Board!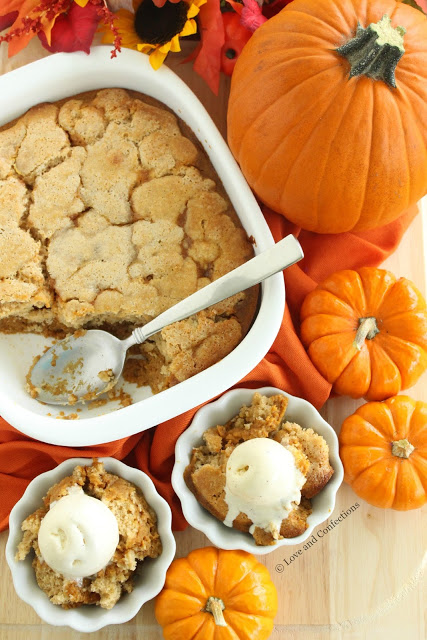 If you aren't pumpkin-ed out yet, I know you will enjoy today's recipe. I love #PumpkinWeek and inventing new or recreating recipes that embody my favorite season. I posted Semi-Homemade Pumpkin Butter and Pumpkin Pancakes with Bourbon Maple Syrup so far, and wanted to do a warm, baked dish for day 3.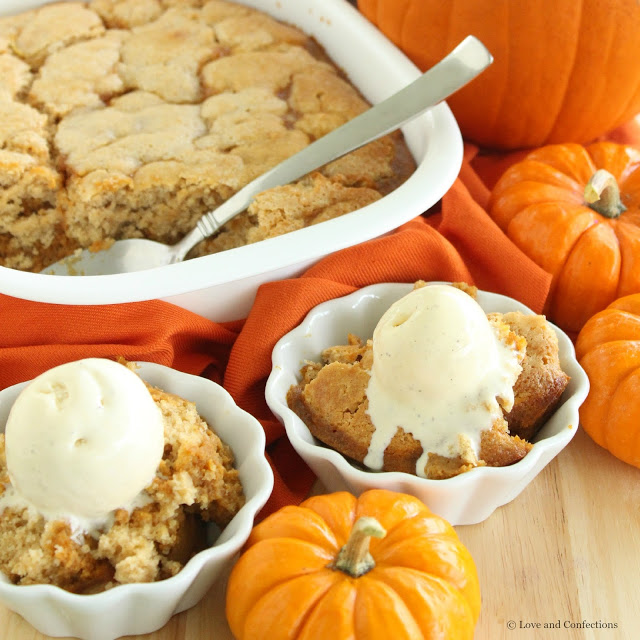 I love all kinds of cobblers, crisps, crumbles, buckles, grunts – you name it, I love them all. I even have a Pinterest board dedicate to it – Cobblers-Crisps-Crumbles-Buckles-etc. It was a no-brainer that I would be making some Autumn inspired cobblers and crisps.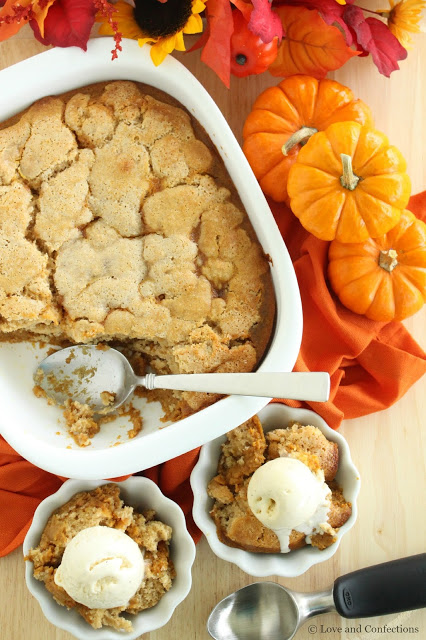 Pumpkin Cobbler starts as a creamy, custard-like base, and then you top it with a dough. It bakes in the oven for a bit and comes out almost like a cake. The cobbler just screamed to be topped with some French vanilla ice cream I had in the freezer. It was perfection. While I do like this recipe, and it's a good starting point as I have never had a pumpkin cobbler before, I will probably try and create my own hopefully soon.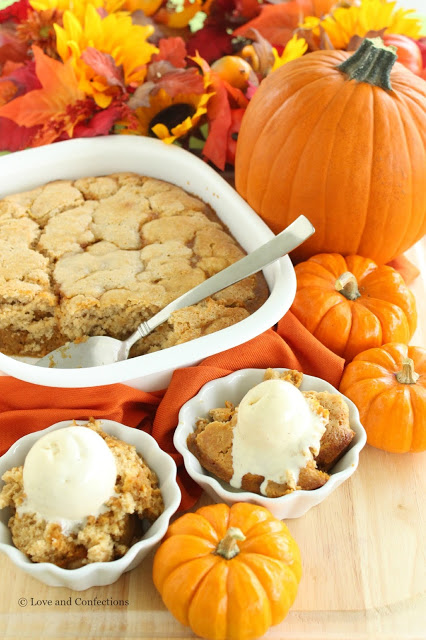 Pumpkin Cobbler
Adapted from Taste and Tell
Click here for a printable recipe
Serves 12
Pumpkin Cobbler Ingredients:
Pumpkin Custard
– 15 ounces Pumpkin Puree, not pumpkin pie filling
– 1/2 cup Whole Milk
– 1/2 cup Heavy Cream
– 2 large Eggs, lightly beaten
– 1/2 cup granulated Sugar
– 1/2 cup Light Brown Sugar
– 1/4 cup White Whole Wheat Flour
– 2 teaspoons Homemade Pumpkin Pie Spice
– 1/2 teaspoon Salt
– 1 teaspoon Vanilla Bean Paste
Pumpkin Topping
– 1 & 1/4 cups White Whole Wheat Flour
– 5 tablespoons granulated Sugar, divided
– 1 & 1/2 teaspoon Baking Powder
– 1/4 teaspoon Salt
– 5 tablespoons unsalted Butter, cold and cut into pieces
– 3/4 cup Whole Milk
Pumpkin Cobbler Directions:
1. Heat oven to 350F. Coat a 2-3 quart baking dish with nonstick cooking spray or butter
2. In a medium bowl for the custard, combine the Pumpkin, Milk, Cream, Eggs, Sugar, Brown Sugar, Flour, Pumpkin Spice, Salt and Vanilla Bean Paste. Whisk to combine and pour into baking dish.
3. In a separate bowl for the topping, combine the Flour, Sugar, Baking Powder and Salt. Using a pastry blender, cut in the cold Butter, until the mixture resembles crumbs.
4. Add in the milk and with a spatula, combine.
5. Dollop on top of the custard mixture and bake in the oven for 40-45 minutes, or until the topping is golden brown and cooked through. Let it cool for a few minutes and serve warm with ice cream. Enjoy!
Until next time,
LOVE & CONFECTIONS!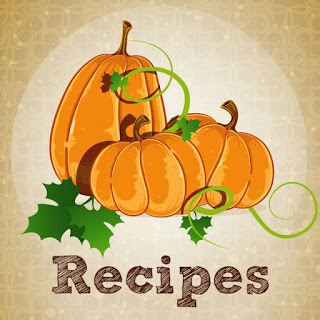 #PumpkinWeek day 3 recipes: