Pumpkin Pie Bread Pudding is an easy and delicious dessert to make – perfect for any holiday table!
I absolutely love bread pudding. It is such an easy dessert and you can do nearly any flavor combination. You could even make a savory bread pudding and have it for breakfast, lunch or dinner. The options are only limited by your imagination. I have made
Apple Pie Bread Pudding
and
Banana Bread Pudding
before, but this is my first time making Pumpkin Pie Bread Pudding and it definitely won't be my last. Delicious!!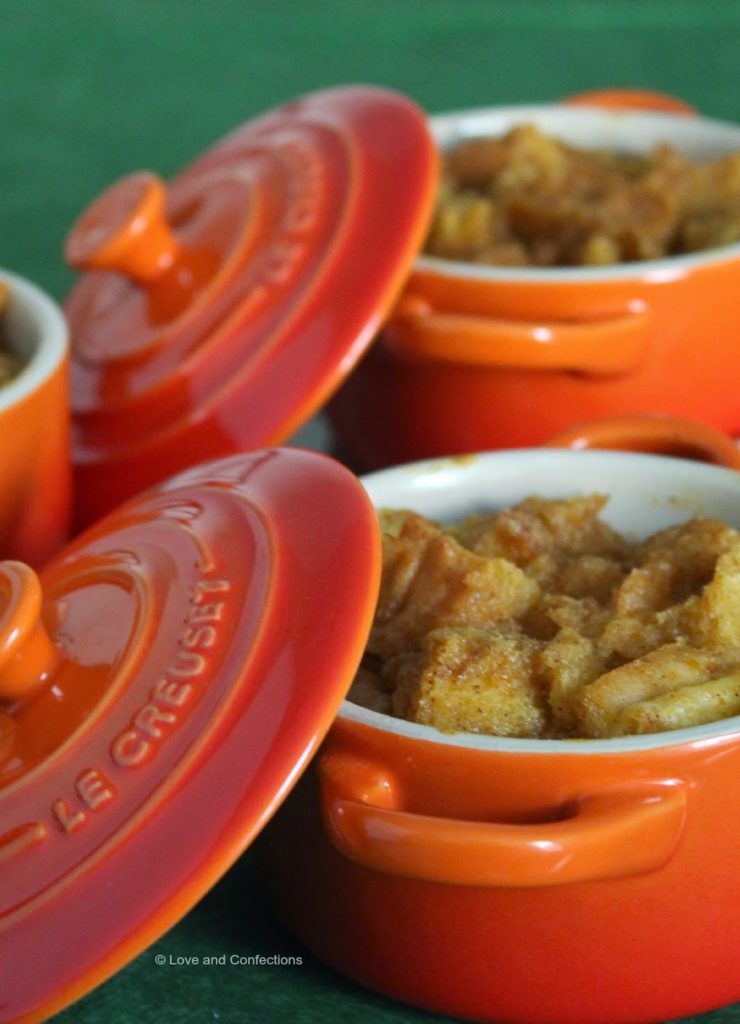 Individual servings are great for portion control and are pretty darn cute too. I love when everyone has their own ramekin or dish to eat from; it makes it feel a bit more special. These gorgeous Le Creuset Cocottes were the perfect choice, and color, for my Pumpkin Pie Bread Pudding. This mini cocotte set is great for entertaining and making a special dish. You can also use them for Individual soups or stews. They fit snugly on the serving tray, and even though I am repeating myself, are so cute!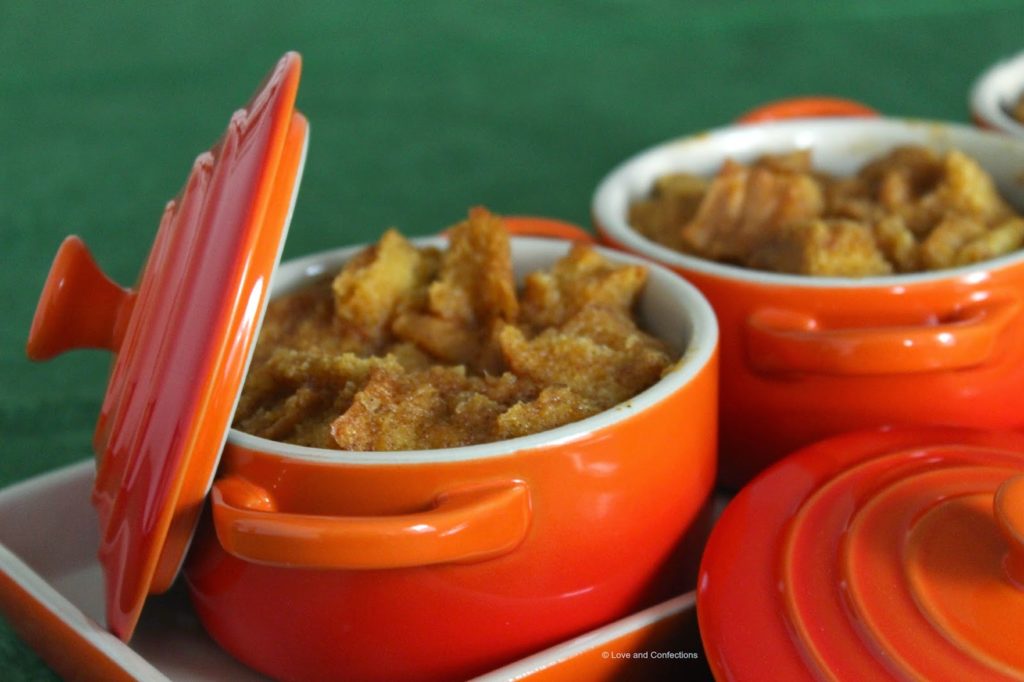 I have always wanted some Le Creuset pieces. I have a teapot and these cocottes and can't wait to continue and expand my Le Creuset collection. A Le Creuset Dutch Oven is still on my wish list, among many of their other gorgeous pieces. They also have so many beautiful colors for their cookware to choose from. Fun fact: the signature "Flame" color is the original color from Le Creuset and modeled after the bright orange color when creating the molten cast iron in a cauldron. I think my favorite colors are Palm, Caribbean, Lapis and Marseilles. They also have a Mini Cocotte Cookbook that I want to add to my ever-growing cookbook collection. You can read about the
Le Creuset story here
, and also browse their website to see the variety of products.
Pumpkin Pie Bread Pudding
A Love and Confection original Recipe
Yield: 6 small cocottes or ramekins
Pumpkin Pie Bread Pudding Ingredients:
– 250 grams Bread, preferably day-old or a bit dry
– 200 grams Granulated Sugar
– 215 grams Eggs, roughly 4 large
– 1 teaspoon Cinnamon
– 1/4 teaspoon Nutmeg
– 1/4 teaspoon Allspice
– 200 grams Pumpkin Puree, not pumpkin pie mix
– 250 grams Whole Milk
– 250 grams Heavy Cream
Pumpkin Pie Bread Pudding Directions:
1. Cut Bread into 1/2 inch cubes and set aside. Whisk together the Sugar and Eggs in a large bowl. Add in the Cinnamon, Nutmeg, Allspice and Pumpkin Puree and whisk to combine. Add in the Milk and whisk together.
2. Add in the Heavy Cream, whisking just to combine it. You do not want to incorporate air into the cream.
3. Pour the bread cubes into the bowl and with the back of a spoon, make sure they are all submerged in the custard and leave to soak for about 30 minutes. Halfway through the soak, toss the cubes gently to make sure they are absorbing all the egg mixture.
4. While the bread soaks, heat oven to 300F. Prepare 6 cocottes by buttering the inside or lightly spraying with cooking spray.
5. Evenly distribute the soaked bread into the cocottes and bake for 35-45 minutes, or until the center is cooked completely when a skewer is inserted. Cool slightly before serving. Best served warm.


Until next time,
LOVE & CONFECTIONS!
Disclaimer: I was provided the Le Creuset 3 Mini Cocottes with Tray for review. Le Creuset is providing a second set to give away to Love and Confections reader. All opinions are my own.