Caramelized Pineapple adds delicious flavor to the no-churn ice cream. Top it with salted caramel for a perfect salty-sweet combination everyone will love.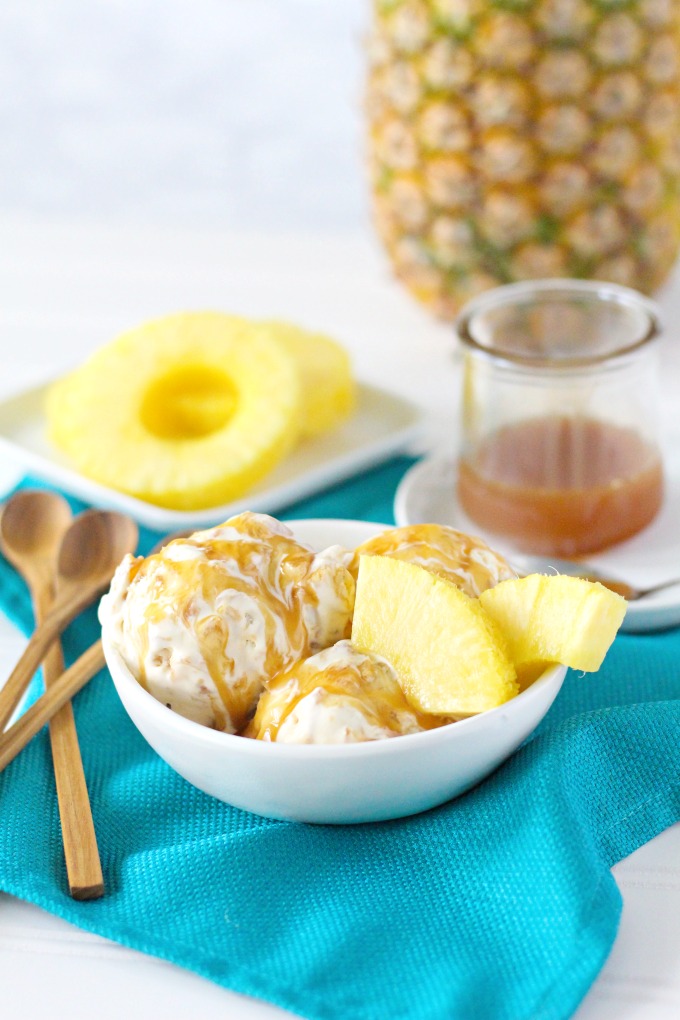 No-churn ice cream base:
No-churn ice cream is a dream to work with. The base is sweetened condensed milk and heavy whipping cream – the rest is up to you. With ice cream, flavor combinations are limited only by your imagination. My all-time favorite flavor is No-Churn Cheesecake Ice Cream, although I also make a delicious No-Churn Blueberry Cobbler Ice Cream.
Caramelized pineapple:
I opted to caramelize the pineapple for my pineapple no-churn ice cream. It creates such a great flavor. I normally use light brown sugar in my baking, but dark brown sugar gives it a little bit more caramel-molasses flavor. If you only have light brown sugar, use that instead.
You can use the same method of cooking pineapple and brown sugar with pineapple chunks or rings. Caramelized pineapple chunks is a perfect ice cream topping. Grilling pineapple is also a good way to caramelize it. Simply dip the pineapple in brown sugar and grill. The sugar caramelizes and makes beautiful grill marks. Caramelized pineapple can also be used for savory dishes – like chicken or shrimp.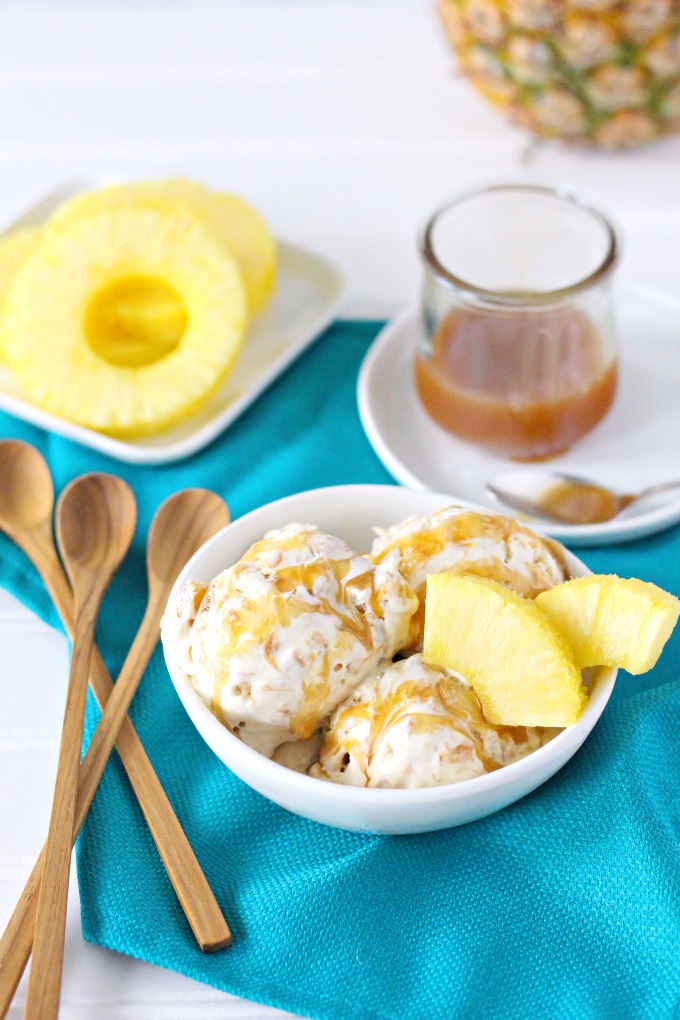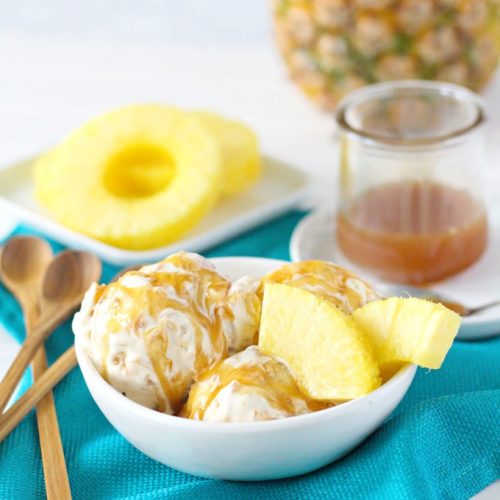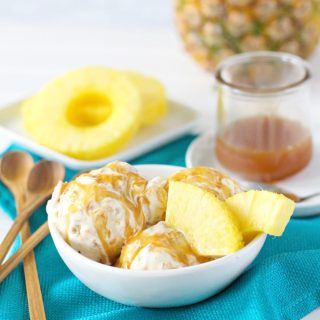 Caramelized Pineapple No-Churn Ice Cream
Ingredients
Caramelized Pineapple
crushed pineapple, drained, reserving 2 teaspoons

½

cup

dark brown sugar
No-Churn Ice Cream
14

ounces

sweetened condensed milk

2

cups

heavy whipping cream

caramelized pineapple

salted caramel, optional
Instructions
Caramelized Pineapple
In medium skillet, combine crushed pineapple, 2 teaspoons juice, and brown sugar. Cook on medium for 5-7 minutes, stirring frequently, until liquid reduces and pineapple is caramelized.

Cool to room temperature, preferably chill for 10 minutes.
No-Churn Ice Cream
Prior to making ice cream, place loaf pan and medium metal mixing bowl, or bowl of your stand mixer and whip attachment, into refrigerator to chill.

In large bowl, combine sweetened condensed milk and caramelized pineapple. Set aside.

In chilled medium bowl, or bowl of stand mixer, whip heavy cream to stiff peaks. Fold into pineapple mixture.

Place half into loaf pan. Drizzle with salted caramel and swirl together. Repeat with remaining ice cream mixture. Drizzle with salted caramel and swirl again.

Cover with plastic wrap and freeze 10-12 hours. Serve with warm salted caramel.
Welcome to the 4th Annual #SummerDessertWeek event hosted by Angie from Big Bear's Wife. We're celebrating all things summer with a week-long event that is absolutely filled with some of the best summer dessert recipes! Follow the hashtag #SummerDessertWeek on social media to find recipes and make sure to check out the bottom of this post for even more summer desserts!
Check out the amazing #SummerDessertWeek recipes from our bloggers today!
Ice Cream & Chilled Desserts:
Summertime Pies:
Sweet Summertime Cakes and Cupcakes:
No Bake Treats:
Baked Desserts:
Summer Treats: