Bourbon Peach Sweet Tea marries the favorite flavors of the South. This easy cocktail is perfect for a lazy Summer afternoon. Grab a cold drink and meet me on the porch!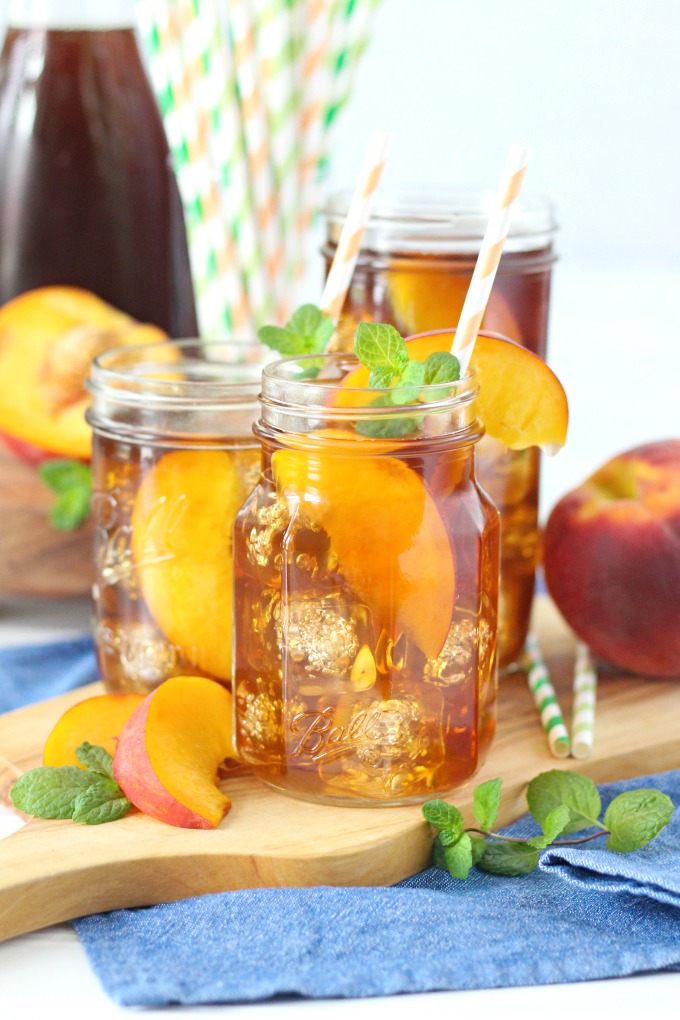 Bourbon Peach Sweet Tea is a match made in Southern Heaven. I love sweet tea – not just for the flavor, but for the memories associated with it. Sweet tea is about community; inviting someone in and offering them a glass, grandmothers bringing a pitcher of sweet tea to the family barbecue, and so on. Day 4 of #BrunchWeek blends my love of sweet tea, peaches and bourbon – what could be better?
Brew the Tea:
Choosing tea is a personal preference, but I recommend Luzianne family size iced tea bags (not the cold brew). Luzianne has a less bitter, smoother taste compared to other tea brands. My Simple Southern Sweet Tea is the base for this recipe, and how I make all my sweet teas.
Do not squeeze tea bags when you remove them. The loose leaves in tea bags contain tannins. Instead, of squeezing, let the bag drip then discard it. Tannins are the most concentrated in the dregs, and squeezing the bag makes for a bitter tea. Making tea also takes a small amount of patience. Let it steep for the time allotted, without moving or bouncing it in the liquid.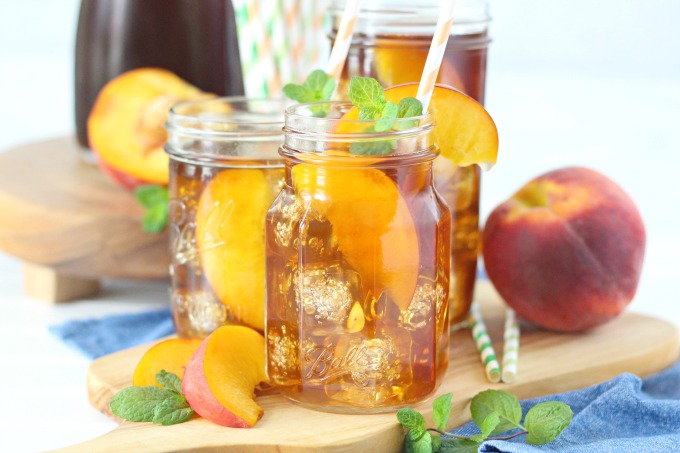 Bourbon and Peach:
Both bourbon and peach are quintessential Southern flavors and pair well together. Whether it's in a cocktail, breakfast, or dessert, bourbon and peach are delicious. I love using bourbon in savory recipes, drinks and baking – like Pumpkin Pie Bourbon Cocktail and Vanilla Bean Bourbon Whipped Cream. Peaches are not only for drinks, breakfast and dessert. Grilled peaches are a seasonal favorite and Peach, Prosciutto and Mozzarella Skewers are an easy and delicious appetizer.
Tips, Tricks, and Tools:
Here are a few of my favorite entertaining products, like drinkware, bar carts and accessories.
Always have a non-alcoholic option available for parties where guests may not be drinking. Please drink responsibly.
Baking soda helps with bitterness, cooling on counter prevents cloudiness, Luzianne recommended for best tea.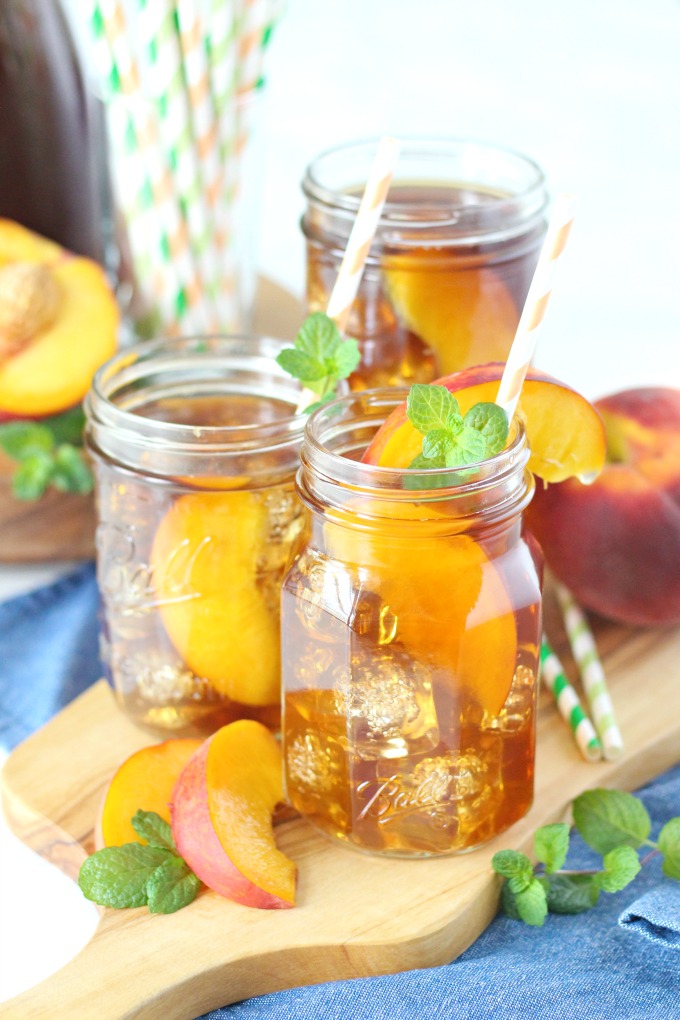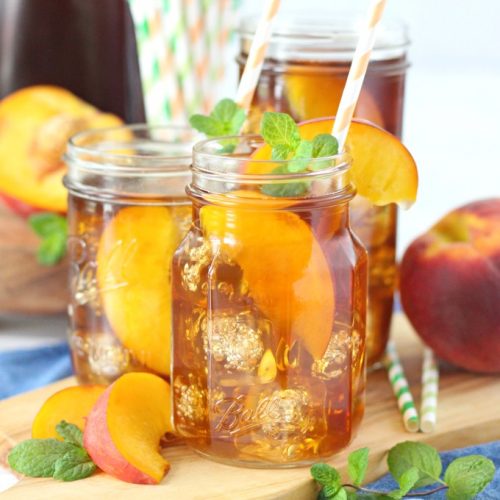 Bourbon Peach Sweet Tea
Ingredients
8

cups

filtered or spring water, divided

2

Luzianne family size iced tea bags, not cold brew

1/8

teaspoon

baking soda

1 1/2

cups

Dixie Crystals Extra Fine Granulated Sugar

8

ounces

Peach Bourbon*

Ice

garnish with fresh peaches, lemon slices, or mint
Instructions
In medium saucepan, bring 2 cups water just to a boil. Place tea bags and baking soda in a large glass measuring cup that is heat-safe.Pour water over tea bags and let steep for 5-8 minutes. Remove tea bags, letting them drip, but do not squeeze bags to get liquid out.

Pour into large pitcher and stir in sugar. Pour remaining water into pitcher and let cool to room temperature. Add Peach bourbon and stir.

Store in refrigerator up to 3 days. Serve over ice with fresh peaches, lemon slices or mint for garnish.
Notes
*If you do not have peach bourbon available, mix 5 ounces bourbon with 3 ounces peach schnapps.
Beverages Recipes
Bread, Grains, and Cereal Recipes
Egg Recipes
Meat, Poultry, and Fish Recipes
Dessert Recipes