Bourbon Pecan French Toast Casserole is going to be your new favorite brunch item! Buttery, rich brioche bread is layered with a cinnamon pecan filling, and flavored with bourbon and maple syrup.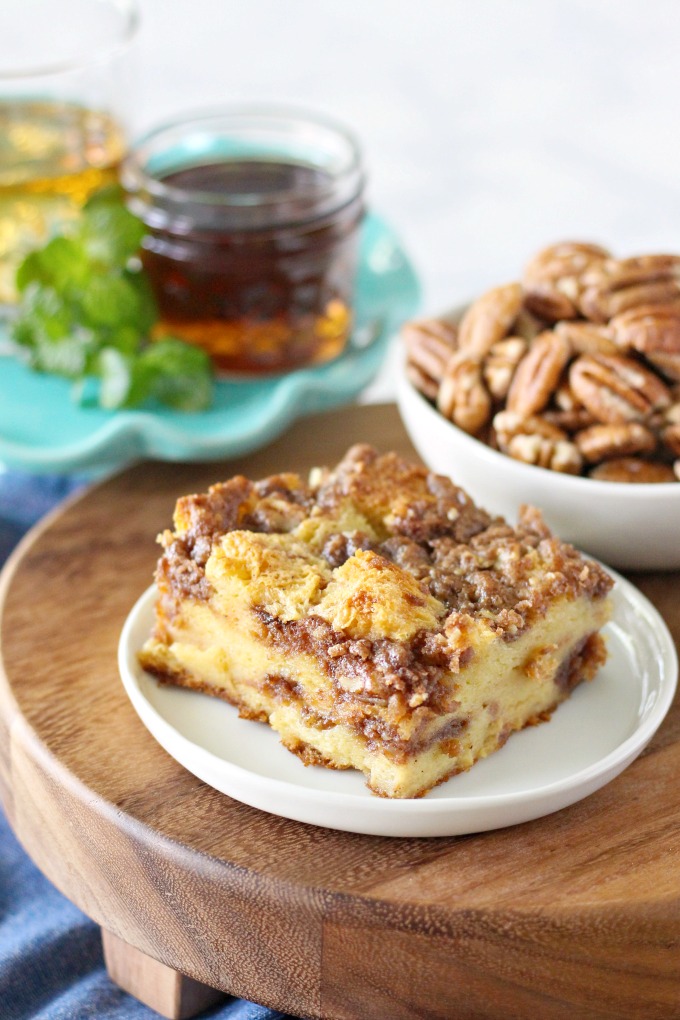 It's the last day for #BrunchWeek 2020 hosted by myself and A Kitchen Hoor's Adventures! We hope you enjoyed all our Brunch recipes!
French Toast Casserole or Bread Pudding?
Some people argue that French toast casserole and bread pudding are the same thing, only eaten at different times. I both agree and disagree with that statement. For the most part, I treat bread pudding like a dessert item, especially when it comes with sweet mix-ins, or toppings like Vanilla Bean Bourbon Whipped Cream or Salted Caramel Sauce.
Most of my bread puddings have both milk and heavy whipping cream. In contrast, a majority of my French Toast Casseroles use only milk, sometimes half-and-half. Regardless of how you prepare it, quality items are necessary, so don't skimp on the ingredients.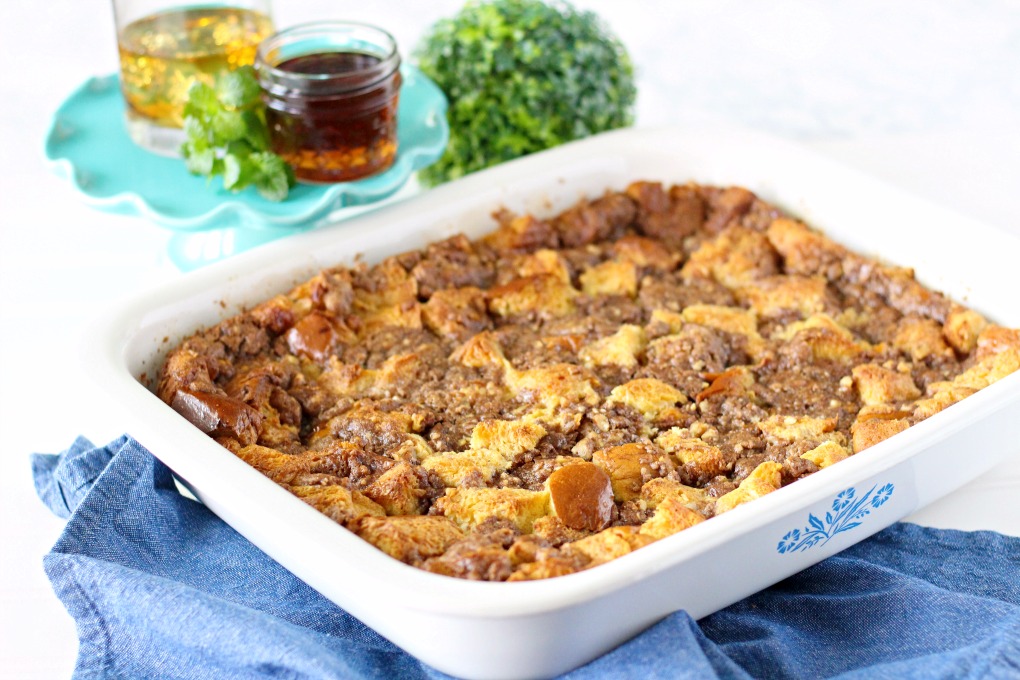 I recommend these types of bread for Bourbon Pecan French Toast Casserole:
Brioche – a buttery, rich bread, similar to a sandwich loaf but made with butter and eggs. This is my top choice for French toast and bread puddings. Brioche soaks up the liquid and the custard and still get crispy on top.
Challah – a braided enriched dough made with eggs and oil, instead of butter. Its crumb is slightly sturdier that brioche, but is equally perfect for French toast and bread pudding.
Pullman loaf/Pain de mie – also called a sandwich loaf, this is not your normal sliced sandwich bread from the grocery aisle. It is similar in shape and size, but I recommend a pullman loaf as opposed to grocery store sandwich bread, because it is not sliced and you can cut it to your liking. When making French toast casserole or bread pudding, I generally do 1/2 inch to 1 inch cubes.
Here are a few of my favorite casserole dishes. This Bourbon Pecan French Toast Casserole makes a large recipe, or you can split it into two different dishes.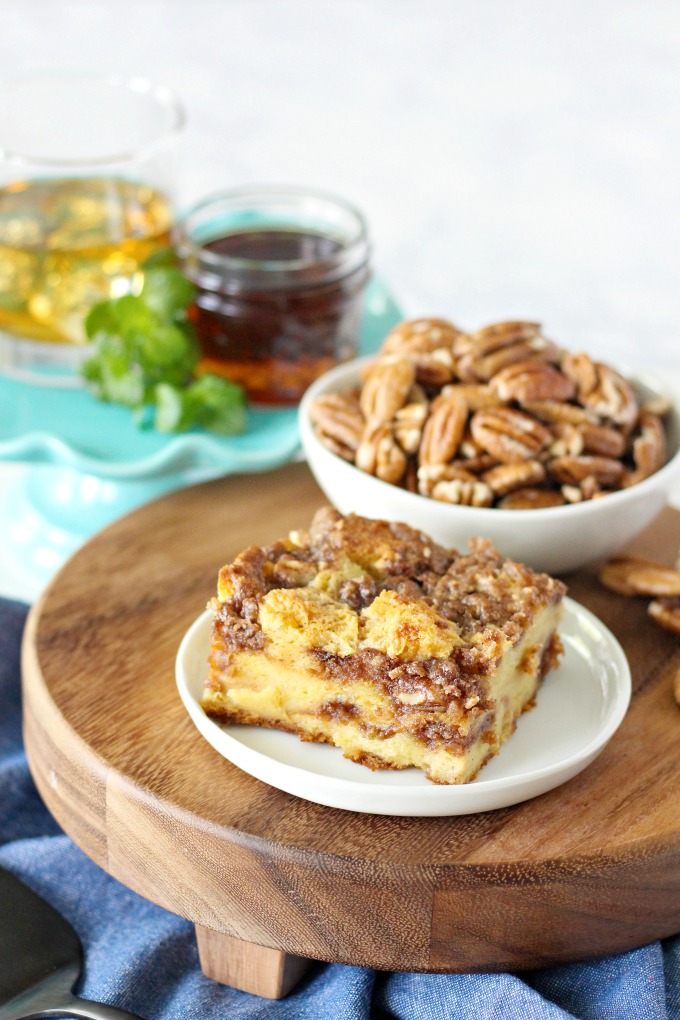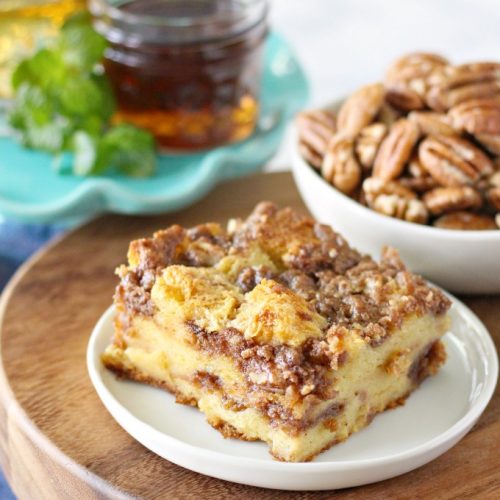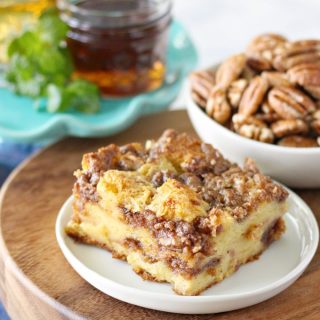 Bourbon Pecan French Toast Casserole
Ingredients
Bourbon Pecan French Toast Casserole
16

ounces

brioche bread

3

cups

milk

¼

cup

Dixie Crystals Extra Fine Granulated Sugar

8

large eggs

2

teaspoons

ground cinnamon

½

cup

bourbon

½

cup

maple syrup
Cinnamon Pecan Crumble Topping
¾

cup

all-purpose flour

¾

cup

Dixie Crystals Light Brown Sugar

½

cup

pecans

½

cup

cold butter, cubed

1

tablespoon

ground cinnamon
Instructions
Butter or spray large casserole baking dish and set aside. Cube brioche into 1/2 inch cubes.

In large food processor, combine ingredients for Cinnamon Pecan Crumble Topping. Pulse until combined and butter is cut into small pieces. Do not over-pulse, or else the butter will start melting and it will become dough-like.

Place half of the bread cubes into the casserole dish. Sprinkle half of the Cinnamon Pecan Crumble Topping. Repeat with remaining brioche cubes and crumble topping.

In a medium saucepan, heat the milk and granulated sugar until the milk is warm and sugar has dissolved. In a medium bowl, whisk together eggs, cinnamon, bourbon and maple syrup. Slowly pour in the warm milk mixture while constantly whisking.

Slowly pour liquid over bread cubes. If necessary, press down slightly so every piece of bread is coated. Cover with plastic wrap and refrigerate minimum 1 hour, up to 8 hours.

Heat oven to 350°F. Bake casserole 45-60 minutes, until the center is no longer soggy and the top is lightly brown. Serve warm with Bourbon Maple Syrup
Beverages Recipes
Bread, Grains, and Cereal Recipes
Egg Recipes
Fruit and Veggie Recipes
Meat, Poultry, and Fish Recipes
Dessert Recipes