Double Chocolate Biscotti is perfect with your morning cup of coffee, afternoon cup of tea, or nighttime glass of milk.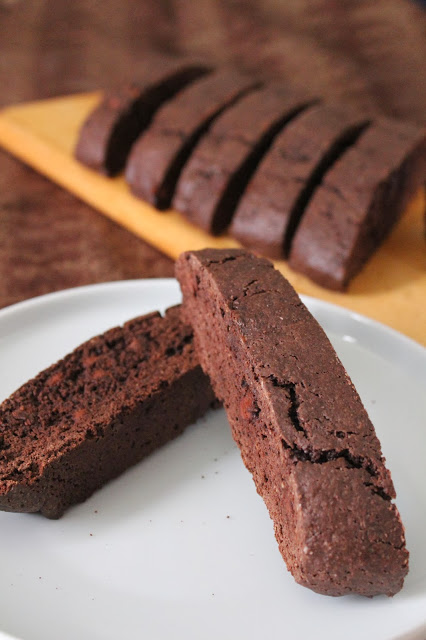 Welcome to #cookieweek! Susan of The Girl In The Little Red Kitchen and Kim of Cravings of a Lunatic have joined together this week with 23 of their blog friends to present to you a week of cookie treats! We have every type of cookie you can think of listed this week, including something for our furry friends! Now is the time to bookmark these recipes for the upcoming holidays and cookie swaps or simply visit our Pinterest board! Make sure you enter the giveaway with some fabulous prizes fromKitchenAid, King Arthur Flour, OXO, Silpat and Zulka Pure Cane Sugar to help with your cookie making needs!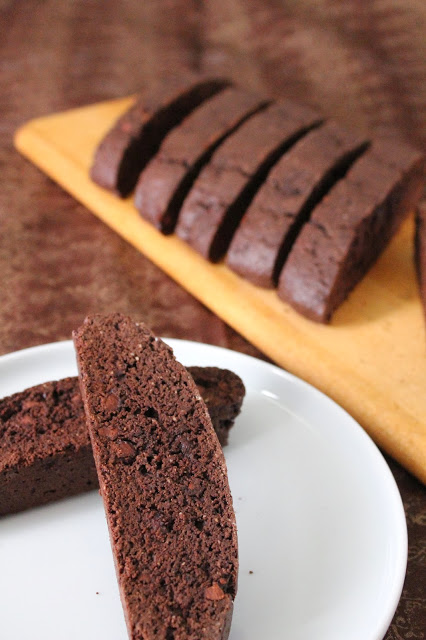 Growing up in an Italian household not only meant lots of pasta and sauce and all sorts of delicious savory foods, but it also meant great desserts and snacks as well. My love of Biscotti stems from my Mom. She loves all things crunchy. When she toasts bread, it has to be extra dark and crispy – almost to the point of being burnt. Back to the crunchy… Biscotti is an anytime snack cookie for me. Most people like it with coffee or tea, and I'll eat it like that too, but I also welcome it anytime of the day.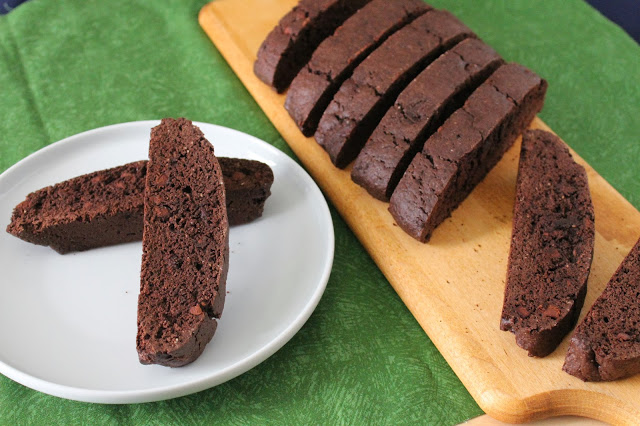 Biscotti, plural of Biscotto, is a twice baked cookie, which is how it becomes dry and crunchy. There are so many flavor options with Biscotti. The most traditional Italian biscotti is with almonds and anise. I'm not particularly a fan of anise so I went a more modern route with these Double Chocolate Biscotti. It's a very rich cookie and perfect with a cold glass of milk.
adapted from Advanced Bread and Pastry
yield 12 large or 24 small
Double Chocolate Biscotti Ingredients:
– 2 oz unsalted Butter, room temperature
– 7 & 1/8 oz granulated Sugar
– 3 large Eggs
– 1 teaspoon Vanilla Extract
– 9 & 7/8 oz All Purpose Flour
– 2 oz Almond Meal/Flour
– 1 & 1/2 oz Cocoa Powder
– 1 & 1/2 teaspoon Baking Powder
– 1/2 teaspoon Salt
– 3 & 1/2 oz Milk Chocolate Chips
Double Chocolate Biscotti Directions:
– Heat oven to 325F
– Cream Butter and Sugar in the bowl of a stand mixer or with a hand mixer
– Add in Eggs and Vanilla Extract
– Combine All Purpose Flour, Almond Flour, Cocoa Powder, Baking Powder and Salt in a small bowl. If necessary, sift to prevent clumps.
– Add the dry ingredients to the wet ingredients slowly. Once all the dry ingredients are in, scrape down the sides of the bowl and add in the Chocolate Chips. Mix just to combine, making sure all the dry ingredients is incorporated.
– Place the dough on a parchment or silpat lined baking sheet. Roughly 12 inches long by 3-4 inches wide by 1 inch thick. You can also form it into two smaller loaves and the second bake time will be reduced.
– Bake for 35-40 minutes, or until firm to the touch.
– Lower oven temperature to 300F.
– When the Biscotti is cool, slice on a bias with a serrated knife and return to oven. Bake for 15 minutes, flip to the other side and bake another 15 minutes, or until well dried.

Four lucky winners will win one of the following:
Prize #1: 1 (one) KitchenAid 9-Speed Hand Mixer plus 1 (one) 4lb bag of Zulka Pure Cane Sugar
Prize #2: 1 (one) OXO gift set including the following: 1 (one) 3-in-1 Egg Separator, 1(one) Cookie Press, 1(one) Autumn Cookie Disk Set, 1(one) 3 piece Cookie Cutter Set, 1(one) Bowl Scraper, 1(one) 2 Cup Adjustable Measuring Cups
Prize #3: 1 (one) King Arthur Flour gift set including the following: 1(one) King Arthur Unbleached All Purpose Flour -5lb bag, 1(one) Snowflake Cookie Cutter Set, 1(one) King Arthur Flour Pure Vanilla Extract, 1(one) Sparkling Sugar Collection, 1(one) Semi-Sweet Chocolate Wafers – 16oz and 1(one) 4lb bag of Zulka Pure Cane Sugar
Prize #4: 1 (one) Silpat Halfsize Mat and 1(one) 4lb bag Zulka Pure Cane Sugar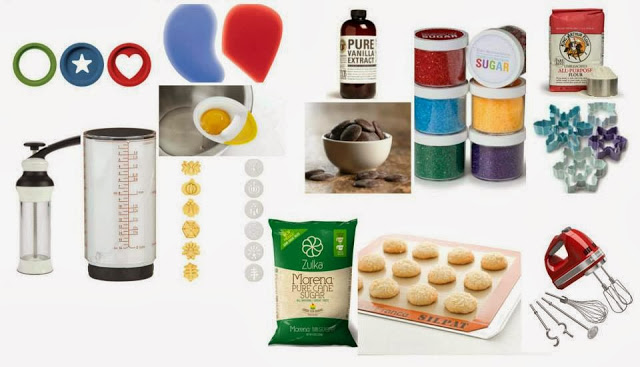 This giveaway is open to US residents from November 11, 2013 through November 16, 2013 11:59pm EST and will be picked from random draw. The winners will be notified via email and have 72 hours to respond, if not their prize is forfeited and another winner will be chosen.



How to Enter:
Mandatory Entry: Leave a comment with your favorite cookie to bake during the holidays or for cookie swaps.
Many more ways to enter in the rafflecopter widget!


A little about our sponsors:
The iconic Kitchenaid stand mixer was born in 1919, from there stemmed an entire kitchen of high-performance appliances -all created with the same attention to detail and quality. OXO's mission is dedicated to providing innovative consumer products that make everyday living easier. King Arthur Flour was founded in 1790, as America's oldest flour company they provided pure, high-quality flour to residents of the newly formed U.S., still going strong, they are the nation's premier baking resource. Silpat was founded in 1965 by M Guy Demarle in Northern France. He was an experience baker seeing a better way to bake bread with forms using non-stick silicone coatings. He invented the first non-stick baguete baking trays and a few years later invented and created the original Silpat. Zulka Pure Cane Sugar is a Non GMO Project Verified "Morena" sugar – a term used to described granulated sugars that do not undergo conventional refining processes. Zulka is perfect for baking, it tastes better, is less processed and is a cup for cup replacement.
Disclaimer: KitchenAid, OXO, King Arthur Flour, Silpat and Zulka Pure Cane are providing the prizes free of charge. All opinions stated are my own.
Also, Check out the other #CookieWeek Participants and give them some love!
Until next time,
LOVE & CONFECTIONS!