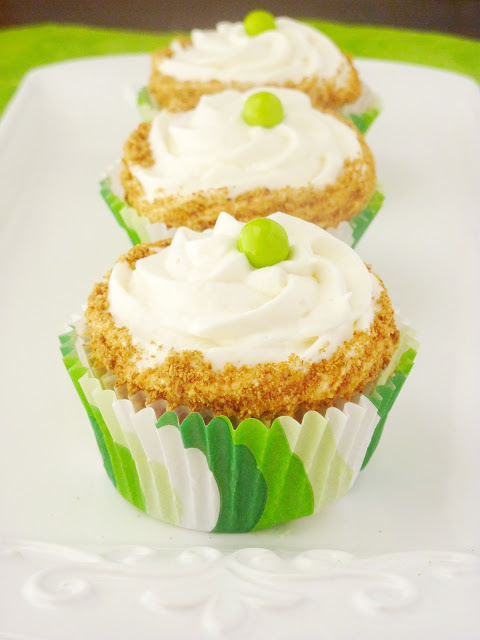 I L-O-V-E Key Lime Pie. I'm a Florida girl, what can I say? Growing up in Miami, it was always on restaurant dessert menus and with the Florida Keys – especially Key West – so close, who can't help but to love this little, inconspicuous, intensely flavored lime! It goes without saying, that if I am ever out at a restaurant and decide to have dessert, if Key Lime Pie is on the menu, most probably my decision has already been made for me – with the exception of Chocolate Souffle… a great Chocolate Souffle trumps Key Lime Pie any day… mmm Chocolate Souffle… we'll leave the souffle day-dreaming for another day and another post.
On to the Key Limes…
Key Limes are indigenous to the Florida Keys. They are smaller and rounder than standard limes and are more yellow than green, having a yellow rind and yellowish-green fruit. Key Limes have more seeds, a higher acidity, stronger aroma, a thinner rind and are much more tart than common Persian Limes.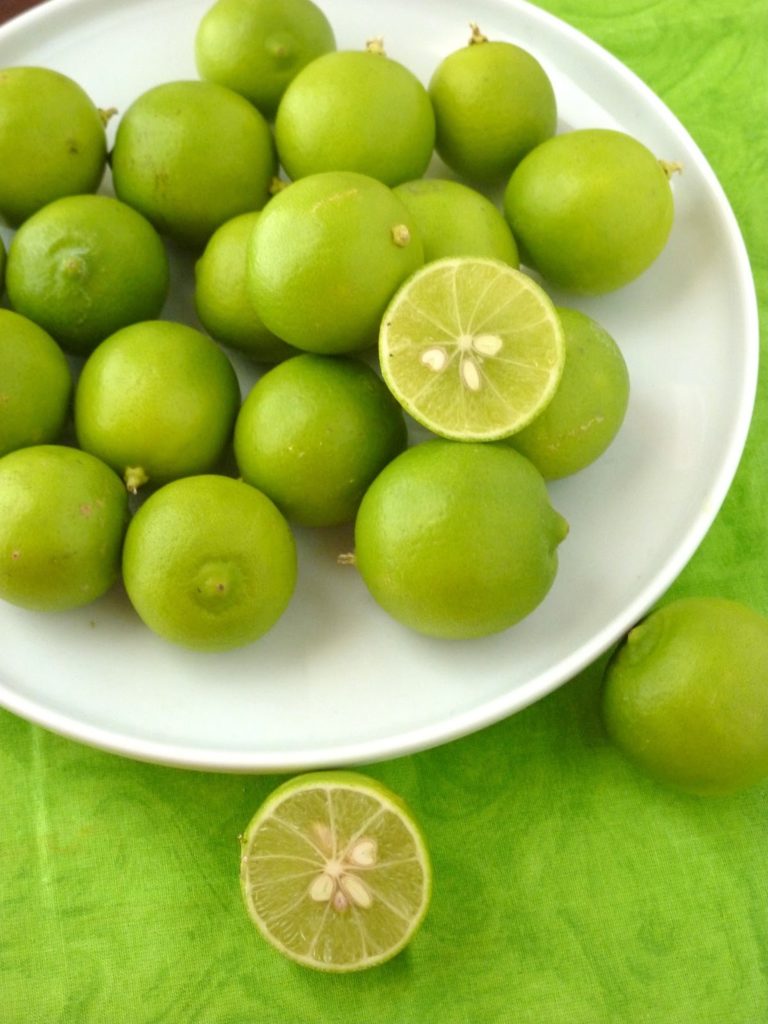 I am lucky enough to have some great local blogging friends. Orlando Foodie (Lenore) gave me some Key Limes from her tree. Little did I know that I would get 20 glorious, green, tart beautiful Key Limes! I was so grateful. Now, what to make? What to make? Like I said, I love Key Lime Pie, but I wanted to do something a little different with these babies. Cupcakes! Curd! Buttercream! Lightbulb! And the little cartoon light bulb above my head lit up. What?! Doesn't everyone have a little cartoon light bulb above their head?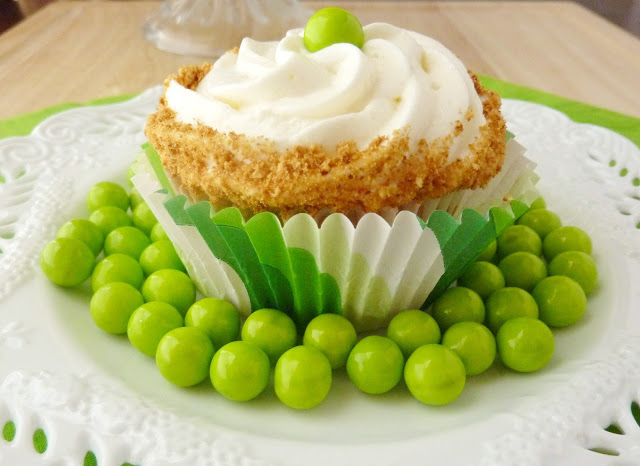 Key Lime Cupcakes with Key Lime Buttercream
Love & Confection original cupcake recipe
Buttercream Recipe adapted from a culinary school recipe
Key Lime Cupcake Ingredients:
– 175 grams Cake Flour (1 & 1/2 cups)
– 1 & 1/2 teaspoons Baking Powder
– 1/2 teaspoon Baking Soda
– 1/2 teaspoon Salt
– 113 grams Unsalted Butter, softened (1 stick)
– 225 grams granulated Sugar (a little more than 1 cup)
– 2 Eggs
– 1/2 teaspoon Vanilla Extract
– 1 teaspoon Key Lime Extract
– 60 grams Sour Cream (about 1/4 cup)

– 175 grams Milk (about 3/4 cup)
– 1 tablespoon Key Lime Zest (or regular lime zest)
– 1 cup prepared Key Lime Curd for filling
– 1 batch Key Lime Buttercream (recipe follows)
– 1 cup toasted Graham Cracker Crumbs for decoration
– Green Sixlets or Sprinkles for decoration
Key Lime Cupcake Directions:
– Preheat oven to 350 degrees. Make sure your ingredients are room temperature.
– Sift the Flour, Baking Powder, Baking Soda and Salt into a mixing bowl, or your stand mixer bowl.
– Add the Butter and mix with the paddle attachment until combined. Scrape the sides and bottom of the bowl with a spatula to ensure everything is mixed properly
– Add in the Sugar, and mix until combined. Scrape the sides and bottom.
– Add in the Eggs and mix until combined. Scrape the sides and bottom.
– Add in the Vanilla Extract, Key Lime Extract, Zest and Sour Cream. Scrape down the sides and bottom of the mixing bowl.
– Add in the Milk and mix to incorporate and create a smooth batter.
– Portion into cupcake tins lined with cupcake wrappers. I use a 2 ounce ice cream scoop, to ensure that my cupcakes are even and uniform. Batter makes about 18 cupcakes
– Bake for 15-18 minutes, or until light golden brown and a toothpick comes out clean when inserted into the middle of a cupcake.
Key Lime Buttercream Ingredients:
– 100 grams Egg Whites (about 3 egg whites)
– 200 grams granulated Sugar
– 226 grams Unsalted Butter (2 sticks)
– 226 grams Powdered Sugar
– 1-2 teaspoons Key Lime Extract
Key Lime Buttercream Directions:
– Buttercream can be made a day in advance and kept in the refrigerator. I also keep mine in an airtight container on the counter if it will be used the next day. Make sure all the ingredients are at room temperature before starting.
– Create a double boiler on the stove by warming a small pot of water on medium until little bubbles form. Make sure the bottom of your stand mixing bowl cannot touch the water.
– Place Eggs and granulated Sugar in the bowl of your stand mixer and put on top of the pot. Turn the temperature down to medium-low and whisk continuously until the sugar completely dissolves and the eggs are warm.
– Once warm, immediately place the bowl on your stand mixer, fitted with the whisk attachment, and whip on high until white, glossy and doubled in size. (I place aluminum foil around my mixer to keep the heat in.
warm eggs whip better. Remove the foil once the eggs are ready.)
– Continue whipping the eggs on medium-high until they are room temperature
– Add the Butter into the whipped egg whites and whip until incorporated. Scrape the sides and bottom of the mixing bowl
– While on low speed, gradually add in the Powdered Sugar. (not all at once, or both you and your kitchen will be covered in white!)
– Add the Key Lime Extract and mix to incorporate.
Assembly:
– Once the cupcakes are cool, either with a paring knife or apple corer, take out the middle of the cupcakes.
– Fill each hole by piping in the Key Lime Curd.
– Using a piping tip (I used a star tip) and bag, pipe the Key Lime Buttercream onto the cupcakes.
– Use the Graham Crackers for decoration and crunch along the sides of the buttercream and green candy of your choice. (I used green sixlets. You can use sprinkles or gummy lime slices also)
Until next time,
LOVE & CONFECTIONS!
var _gaq = _gaq || [];
_gaq.push(['_setAccount', 'UA-33655660-1']);
_gaq.push(['_trackPageview']);
(function() {
var ga = document.createElement('script'); ga.type = 'text/javascript'; ga.async = true;
ga.src = ('https:' == document.location.protocol ? 'https://ssl' : 'http://www') + '.google-analytics.com/ga.js';
var s = document.getElementsByTagName('script')[0]; s.parentNode.insertBefore(ga, s);
})();