In my Candy Bar Chocolate Coconut Bundt Cake, moist and rich chocolate combines with sweet coconut that is reminiscent of a popular candy bar.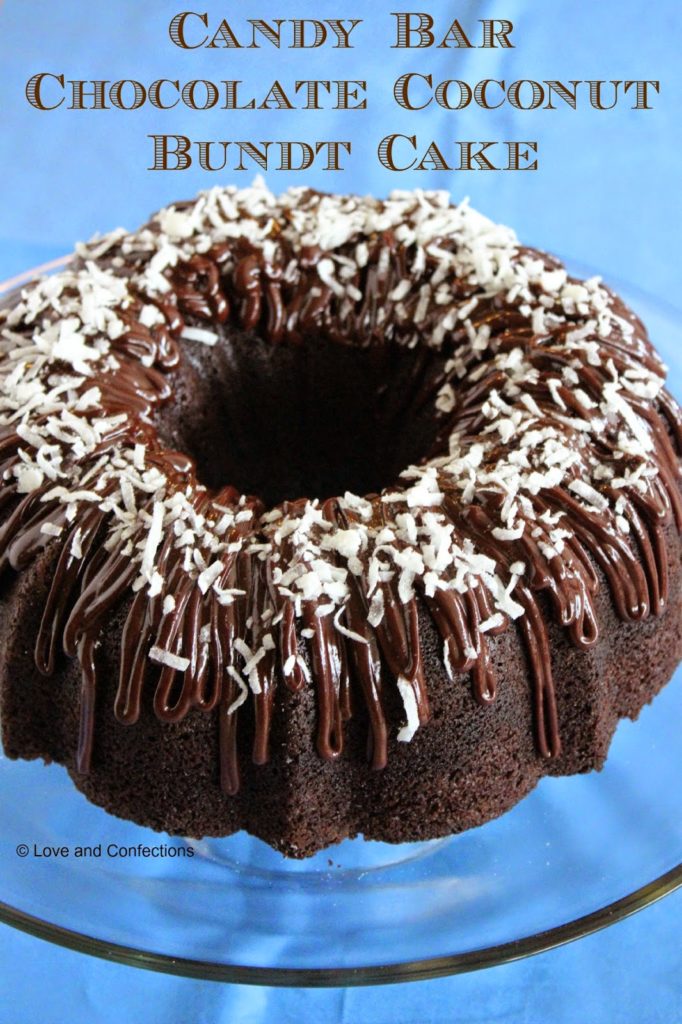 I am hosting this month's Bundt Bakers. Coconut and I have a love-hate relationship. I have always been back and forth on coconut. Sometimes I will eat it when it's fried on shrimp, sometimes not. So why choose coconut for the theme? Because there are so many ways to use it: shredded coconut, coconut milk, coconut sugar, coconut oil.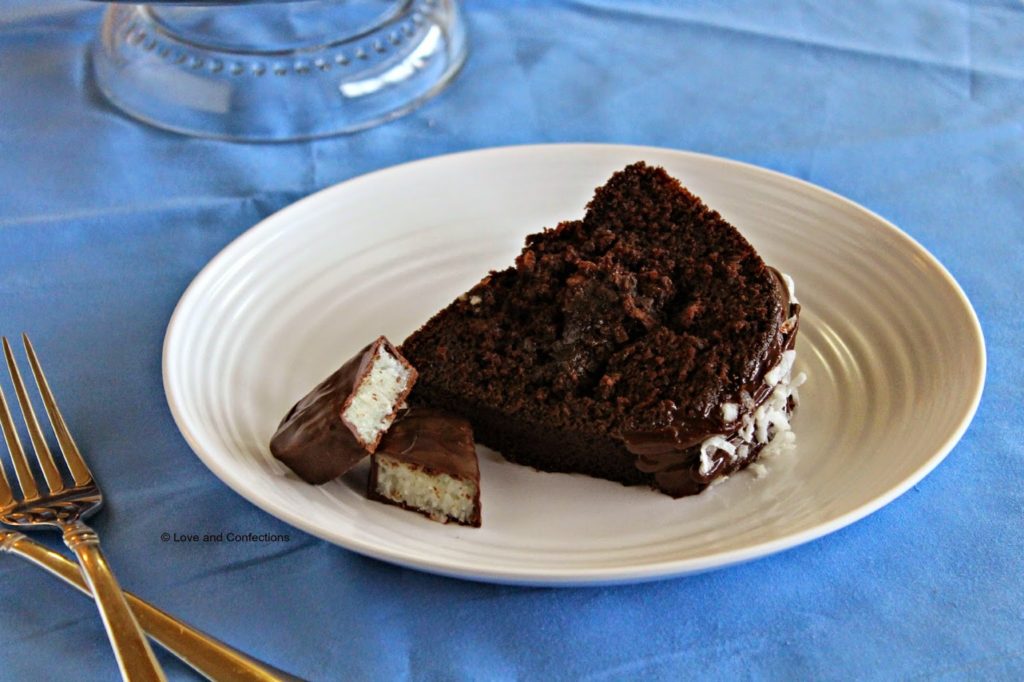 Even though I don't like it all the time, I have very fond memories with coconut. One of my first experiences I remember with coconut was at our house in Miami. We had some coconut palms and whenever one fell, my Dad would let us try and crack it open. Some of you might know how hard that can be, but a determined 10-year-old and her 6-year-old little sister thought they were no match for the coconuts. We would bang them and drop them on the driveway for hours – now that I think about it, he might have given it to preoccupy us at the time – makes sense now. Anyway, we would try and try and he eventually ended up cracking it open for us.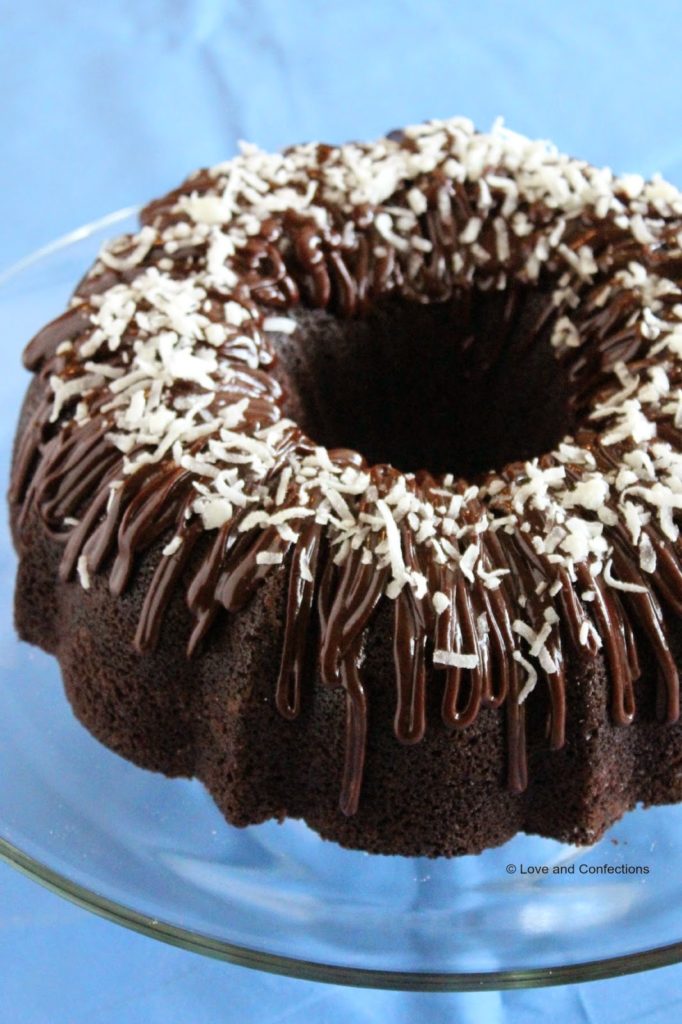 We jumped with excitement as the shell cracked and little by little the coconut water started to leak out and the white flesh appeared. We tried some coconut because we had worked our little hearts out to break the thing open, but didn't like it too much. Even now I sometimes like them prepared in certain ways and sometimes not, but either way, coconuts give me some great memories of my childhood at home or the beach, trying to break them open with my little Sister and Dad. It's funny how food can do that. We associate so many memories with food.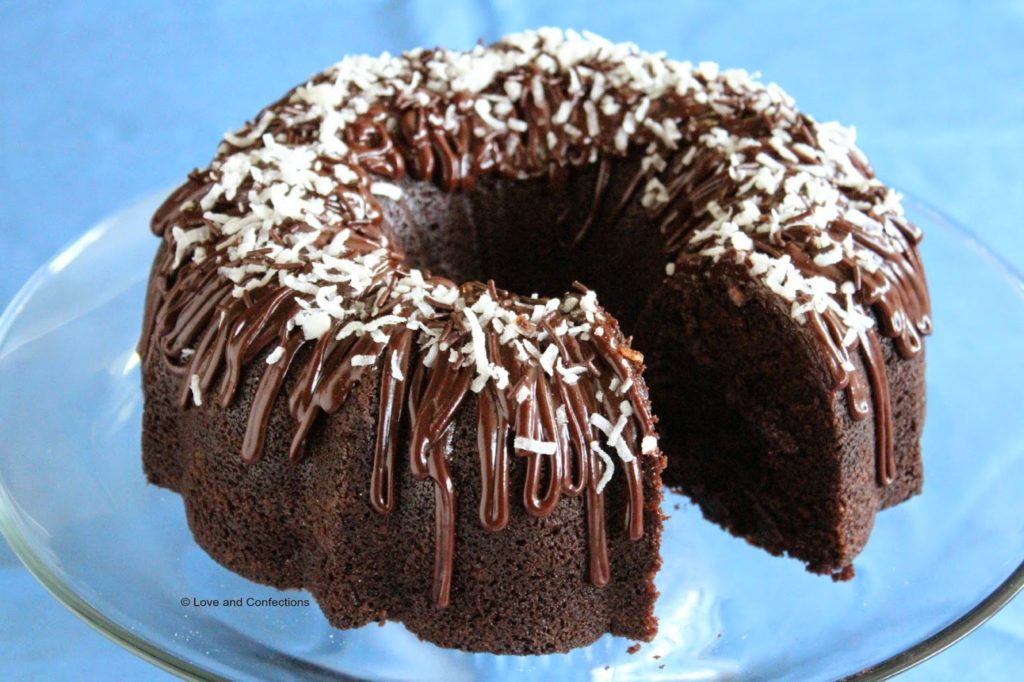 I hope you enjoy this cake. I made it for my Dad. It is a very easy, one-bowl recipe – if you're not using the coconut streusel, but you really should. No coconuts were harmed in the making of this cake. 😉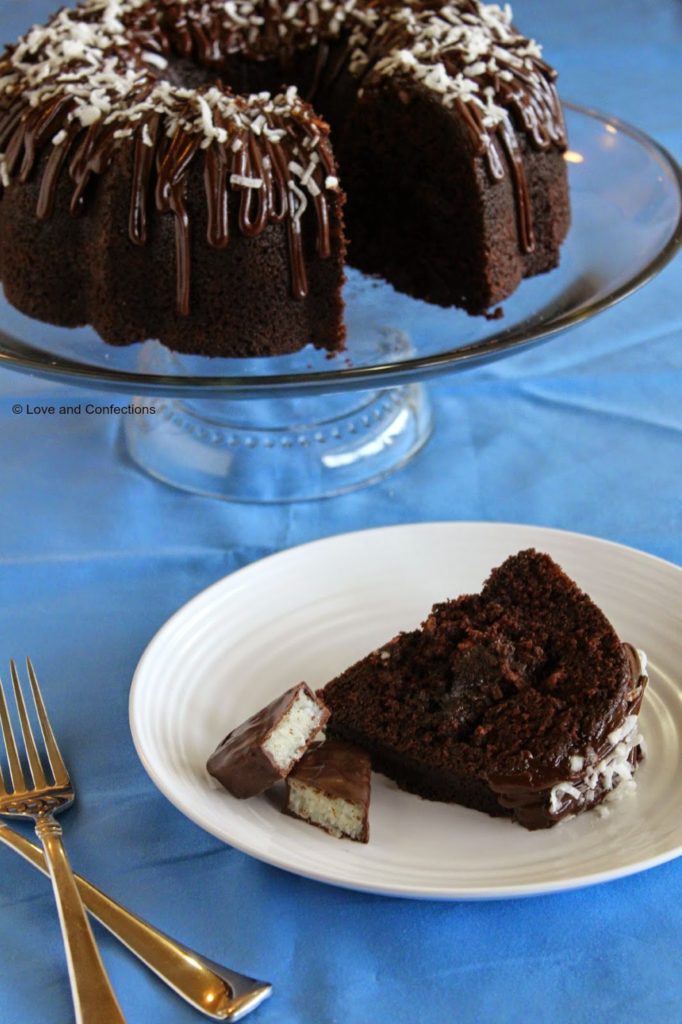 Candy Bar Chocolate Coconut Bundt Cake
Adapted from Food.com
Click here for a printable recipe
Candy Bar Chocolate Coconut Bundt Cake Ingredients:
– 2/3 cup Cocoa Powder, sifted
– 2 & 1/4 cups All Purpose Flour
– 2 cups Granulated Sugar
– 1 & 1/2 teaspoons Baking Powder
– 1 & 1/2 teaspoons Baking Soda
– 3/4 teaspoon Salt
– 1 & 1/2 teaspoon Espresso Powder
– 1 &1/2 cups warm Water
– 3 large Eggs
– 2 teaspoons Vanilla Extract
– 1 & 1/4 cups Vegetable Oil
Optional Streusel Ingredients:
– 1/2 cup Shredded Coconut
– 1/3 cup Brown Sugar
– 1 tablespoon Cocoa Powder
Candy Bar Chocolate Coconut Bundt Cake Directions:
1. Heat oven to 350F and generously grease a bundt pan with baking spray.
2. In the bowl of your stand mixer or with an electric hand mixer, mix all the cake ingredients on medium speed until well combined. Scrape down the sides as necessary.
3. Make the Streusel by mixing together the Coconut, Brown Sugar and Cocoa Powder in a small bowl with a spoon.
4. Pour 1/3 of the batter into the bundt pan, sprinkle the streusel over that, then cover with the rest of the batter.
5. Bake for 45-55 minutes, or until a cake tester inserted into the cake comes out clean. Let it cool a minimum 15 minutes in the pan before trying to turn out onto a cake plate. Garnish with Chocolate Ganache and Shredded Coconut. Enjoy!
Chocolate Ganache Ingredients:
– 2 ounces Heavy Cream
– 4 ounces Semi-Sweet Baking Chocolate, chopped into small pieces
– Shredded Coconut (optional garnish)
– Chocolate Sprinkles (optional garnish)
Chocolate Ganache Directions:
1. In a small pot, heat the Heavy Cream just until hot and tiny bubble begin to appear. You don't want to boil it and please don't ever leave when heavy cream is on the stove as it can boil over and create a mess in seconds.
2. Have the chopped Chocolate in a small bowl and pour the Heavy Cream over it. Let it sit for 5 minutes before touching it. After 5 minutes, whisk to create a creamy ganache.
3. Place chocolate in a piping bag and pipe onto the top of the cake. Garnish with shredded Coconut and Chocolate Sprinkles
Until next time,
LOVE & CONFECTIONS!
Here are today's Coconut themed Bundt Bakers:
Almond Joy Bundtlettes from Sew You Think You Can Cook
Candy Bar Chocolate Coconut Bundt Cake from Love and Confections
Chocolate Italian Cake from Magnolia Days
Coconut & Banana Bundt Cake from Just One Bite Baking
Coconut Banana Bundt Cake from Basic N Delicious
Coconut Carrot Bundt Cake from Media Racion Doble, Por Favor
Coconut Cream Bundt Cake from Adventures in All Things Food
Coconut Hummingbird Bundt Cake from Patty's Cake
Coconut Milk Bundt Cake from I Love Bundt Cakes
Coconut Milk Bundt Cake from Un Mordisco Un Pecado
Coconut Oil Pound Cake from The Spiced Life
Coconut Sugar Banana Cake from A Kingdom for a Cake
Cranberry and Coconut Bundt Cake from La Cocina de Aisha
Cranberry, Orange and Coconut Bundt Cake from Kids & Chic
German Chocolate Bundt Cake from The Freshman Cook
Glazed Chocolate Macaroon Bundt Cake from Food Lust People Love
Gluten-free Coconut Orange Bundt Cake with Coconut Whipped Cream from Cassie's Kitchen
Gizzada Mini Bundts from Passion Kneaded
Key Lime and Chocolate Chip Bundt Cake from Eat, Drink and Be Mighty
Key Lime Coconut Cream Bundt from A Day in the Life on the Farm
Mini Samoa Bundt Cakes from Making Miracles
Orange & Coconut Bundt Cake from Living the Gourmet
Oreo Coconut Bundt Cake from Indian Curries/Stew
Pina Colada Bundt Cake from Jane's Adventures in Dinner
Rhubarb n Rose Coconut Frosted Bundt Cake from Baking in Pyjamas
Rum Bundt Cake with Coconut and Lime from Bourbon and Brown Sugar
Toasted Coconut and Sweet Potato Bundt from Tea and Scones
Toasted Coconut Lime Bundt Cake with Chili Lime Glaze from Brooklyn Homemaker
#BundtBakers is a group of Bundt loving bakers who get together once a month to bake Bundts with a common ingredient or theme. Follow our Pinterest board right here. Links are also updated each month on the BundtBakers home page.
We take turns hosting each month and choosing the theme/ingredient.
If you are a food blogger and would like to join us, just send Stacy an email with your blog URL to foodlustpeoplelove@gmail.com.