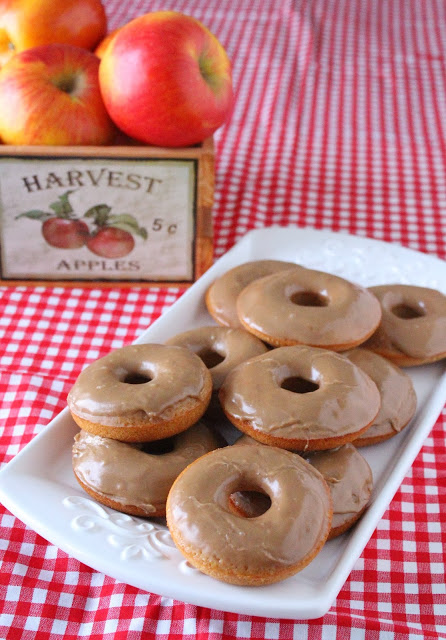 I hope you all had a fabulous Thanksgiving holiday and long weekend! Now that it is December, I am counting down the days until Baby L&C makes her appearance. We are so excited (and scared – first-time Mom here) and ready to meet our little one. I have been doing some last minute baking to prep for baby down-time from the Blog. Hoping she holds out so I can get a few more recipes done. Speaking of recipes, here is one that I have wanted to try for a while…
I love doughnuts! Who doesn't? I mean, when you decide to go to the local mom & pop donut shop to celebrate your birthday, it's kind of a given. I love all kinds of doughnuts: baked, fried, filled, etc. There is no doughnut snobbery in this household.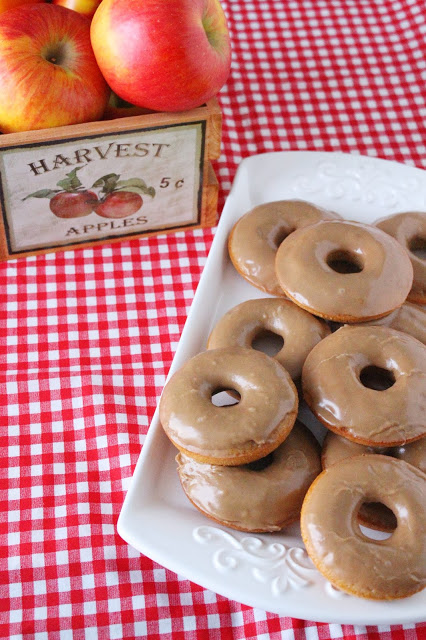 I was given the opportunity to try out King Arthur Flour's Doughnut Pan recently. Aside from doughnuts, this pan is great for making Breakfast Sandwiches. King Arthur Flour also gave me a bottle of Boiled Cider to try out – man is this stuff good! There was no question when I decided to make Apple Cider Doughnuts for my first doughnut-making experience – I know, never made doughnuts. It's crazy, especially since they are so easy to make.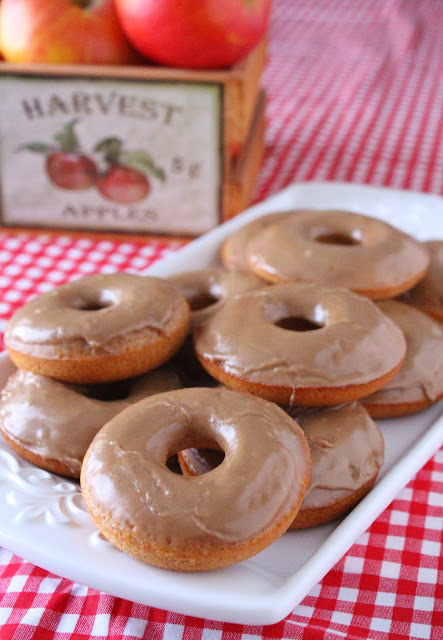 This is a great doughnut pan. It bakes evenly and is a breeze to clean. The little handles make it easy to take out of the oven. I still use cooking spray, even though it is a non-stick surface – you can never be too careful. It is slightly bigger than my other doughnut pan by another baking company. I will probably adjust my recipes to make a fluffier doughnut because it is slightly bigger. There are no complaints on my end about it and I can't wait to whip up another batch of delicious doughnuts!
Apple Cider Baked Doughnuts
adapted from King Arthur Flour
yield 18 doughnuts
Apple Cider Baked Doughnut Ingredients:
– 1/3 cup Vegetable Oil
– 3 large Eggs
– 1 & 1/4 cups granulated Sugar
– 1 cup Applesauce
– 4 tablespoons Boiled Cider*
– 1 & 1/2 teaspoon Vanilla Extract
– 1 teaspoon ground Cinnamon
– 1 & 1/2 teaspoon Salt
– 1 & 1/2 teaspoon Baking Powder
– 8 ounces All Purpose Flour
Apple Cider Baked Doughnut Directions:
– Heat oven to 350F and lightly grease the doughnut pan with cooking spray.
– In the bowl of your stand mixer with the paddle attachment, combine all the ingredients except the Flour. Add in the flour and mix until combined.
– Using a 1/4 measuring scoop, fill the doughnut tray and bake for about 16-18 minutes or until a toothpick comes out clean.
Maple Glaze Ingredients:
– 1 & 1/2 cups Powdered Sugar
– 1 teaspoon Maple Flavoring, optional
– 2 tablespoons Maple Syrup
– 3-5 tablespoons Heavy Cream, depending on glaze consistency
Maple Glaze Directions:
– Mix all the ingredients together in a small bowl and dip the doughnut tops to cover. Alternatively, spoon glaze over doughnuts. Let sit for a few minutes so the glaze sets. Enjoy!
Until next time,
LOVE & CONFECTIONS!
* The Boiled Cider has a very tangy and potent apple flavor. You can use anywhere from 2-4 tablespoons depending on the flavor profile you want.


Disclaimer: I received a Doughnut Pan and bottle of Boiled Cider for review purposes. All opinions are my own.