Celebrate Halloween with a bright and colorful sweet treat! Two tiers of purple velvet cake are layered with vanilla buttercream, then topped with a chocolate drip, Halloween sprinkles and royal icing decorations.
This post is sponsored in conjunction with #HalloweenTreatsWeek. All opinions are mine alone.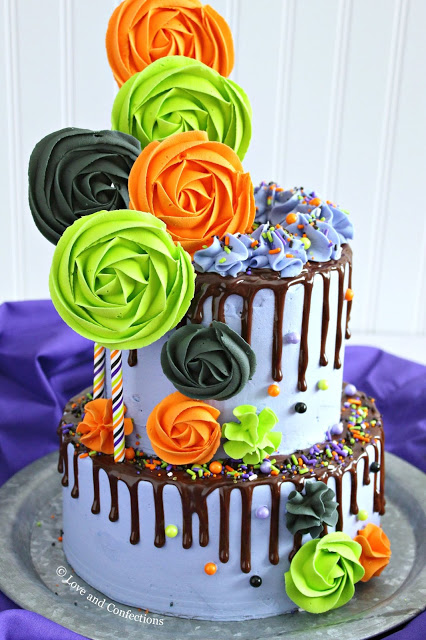 This cake is everything! I am seriously in love with it and can't stop staring. Purple velvet cake, vanilla buttercream, royal icing decorations, chocolate drip and SPRINKLES! It was such a fun cake to put together and I love the vibrant colors.
It's funny how you get an idea in your head and then are in total awe when it comes to life – I love that feeling!! This cake was inspired by Sweets & Treats Boutique "Monster Mash" sprinkle mix. I knew I wanted to make a layer cake, but didn't have a set design in mind until I received the sprinkles, and this idea was born.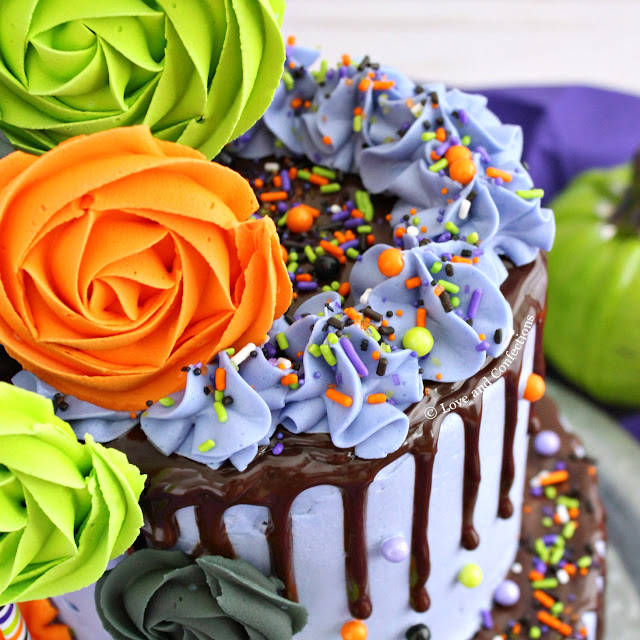 If you hadn't already known, I totally have a sprinkle (and paper straw) hoarding problem. Sprinkle mixes are the best, especially when they are holiday themed and inspire a whole cake! I loved this sprinkle mix from the moment I unwrapped it and knew this would be a fun cake from the start.
There were a few elements I definitely wanted to have and a purple velvet cake was top priority. I wanted a show-stopping cake for this year's Halloween celebration, like my Black Velvet Spider Cake from a few years back. Holiday cakes are so much fun to make and my purple velvet is definitely up there on the favorites list. I totally forgot to cut a piece to show you the inside; but don't worry because I already have plans for another purple velvet cake soon and then you can see the beautiful color.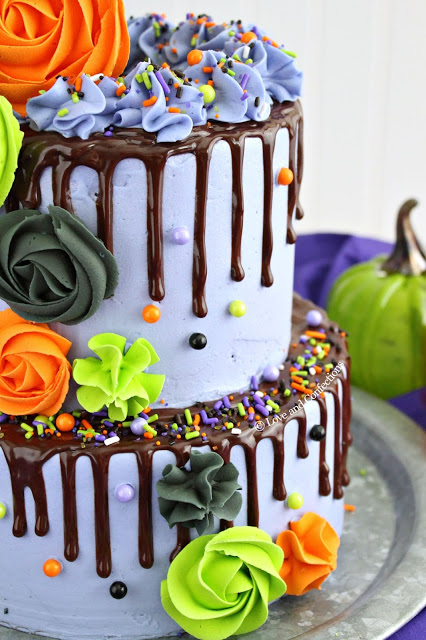 You can't miss the bright and colorful rosette lollipops. My original intention was to make meringues, but I live in Florida where it is hot and humid still, and meringues might not have held up as I would have liked. Royal icing to the rescue! I made a batch of stiff royal icing, separated it into three bowls and colored them black, lime green, and orange.
I wasn't sure regular lollipop sticks would hold them up and am glad I made the decision to use some matching paper straws I had on hand (self-proclaimed straw hoarder). The colors matched perfectly, which was great because I staggered the decorations and some straws were actually on the outside of the cake. The straws also held up really well to the weight of the royal icing.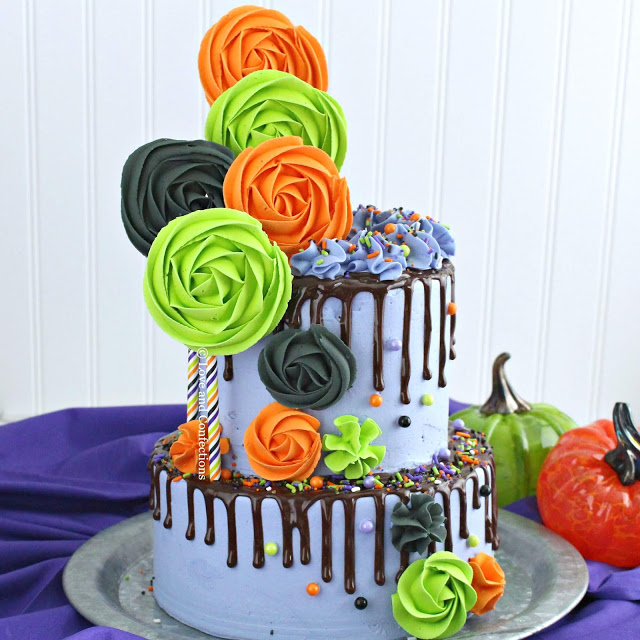 I adore chocolate drips on cakes – here's my Candy Corn Layer Cake from last year – and knew I needed that chocolate contrast with all the bright colors. It is an easy element to add to any cake and gives it a whimsical touch.
The vanilla buttercream is very easy to work with and the color matched the little pearl candies from the sprinkle mix perfectly. I didn't want to go too dark with the buttercream, because the inside is already a dark purple, and then you wouldn't be able to see the chocolate drip as well.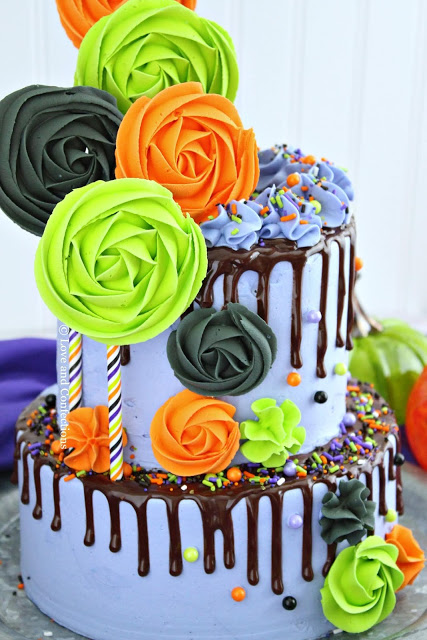 Here are a few items I used for today's recipe: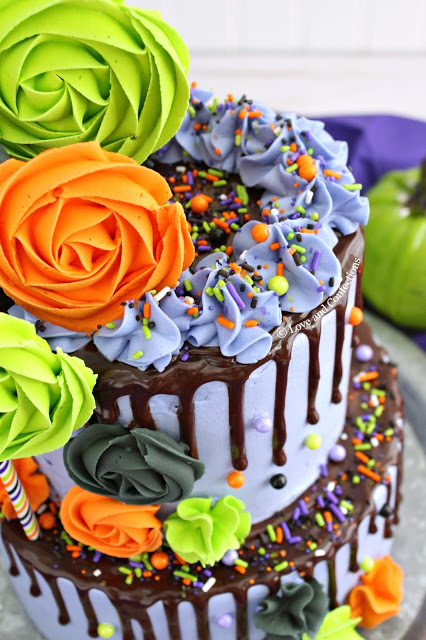 Purple Velvet Halloween Layer Cake
By adapted from Joy of Baking
This recipe is for 1 tier. Double if you wish to do a 2-tiered cake as pictured
Ingredients
2 cups plus 2 tablespoons cake flour
1 teaspoon salt
1 1/2 teaspoons Dutch-processed cocoa powder
1/2 cup (1 stick) unsalted butter, room temperature
1 1/2 cups granulated sugar
2 large eggs, room temperature
2 teaspoons vanilla extract
1 cup buttermilk, room temperature
Purple gel food color
1 teaspoon white distilled vinegar
1 teaspoon baking soda
Instructions
Heat oven to 350F. Prepare cake pans with parchment on bottom and grease sides with baking spray
In medium bowl, sift together flour, salt and cocoa powder. Set aside
In stand mixer bowl, or large bowl with hand mixer, beat butter and sugar on medium to medium-high until light and fluffy, approximately 3-5 minutes. Add eggs one at a time until fully combined. Scrape down the bowl after each egg addition.
Combine vanilla and buttermilk. While mixer is on low, alternate flour and buttermilk, in 5 additions, beginning and ending with the flour. Add preferred amount of gel food coloring (advised no more than 1/2 teaspoon, preferably 1/4 or less). Scrape down sides of bowl to make sure color is combined throughout.
In a small bowl, combine the vinegar and baking soda and let fizz. Quickly mix or fold into batter.
Divide between cake pans (2 if using 8-inch, 3 if using 6-inch) and bake for 23-25 minutes, or until a toothpick inserted into the center comes out clean. Cool in pans for 10 minutes, then transfer to wire rack to cool completely. Can be made a day in advance, wrapped tightly in plastic wrap and refrigerated.
Vanilla Buttercream
By Love and Confections
Ingredients
2 cups vegetable shortening
2 cups unsalted butter, room temperature
1 teaspoon clear vanilla extract
10 cups Dixie Crystals Confectioners Powdered Sugar, sifted
pinch salt
3-4 tablespoons milk
Purple gel food color
Instructions
In bowl of stand mixer fitted with paddle attachment, beat shortening for 3-5 minutes. Add in butter, and vanilla and beat to combine.
Sift powdered sugar. Slowly add to butter mixture, alternating with milk 1 tablespoon at a time, depending on desired consistency. If frosting is too yellow from butter, add a tiny drop of purple food color from the end of a toothpick and whip.
If not using immediately, transfer to bowl, cover with plastic wrap and store in the refrigerator. Bring to room temperature and re-whip before using.
You can choose to layer and crumb coat in white or purple. I used white, then added purple for the final buttercream. Please be advised of the amount of food color used. Add amount at your discretion. It may change consistency of buttercream and stain tongue if too much is added. I used around 5-8 drops.
Chocolate Drip
Ingredients
1 cup dark chocolate chips
1/2 cup heavy cream, plus 2 tablespoons
Instructions
In microwave-safe measuring cup, heat heavy cream for 45-60 seconds, until just before boiling. Add chocolate chips and let sit for 2 minutes. Stir with spatula until combined. If not thin enough for a drip and still warm, add in 1-2 tablespoons heavy cream. If necessary, heat ganache for additional 10-15 seconds in microwave then add 1-2 tablespoons heavy cream. Place in uncut piping bag.
Cake Assembly
Level cakes if necessary. Place a small amount of frosting on cake board to secure cake. Place bottom layer on cake board. Add frosting to cake and level with offset spatula (approx 1/3 – 1/2 cup) Place second layer on top (if using three 6-inch layers) and repeat.
Place last layer on top upside-down and apply a crumb coat* over cake. Place in freezer for 15-20 minutes. Repeat with additional cake if making two tiers.
Frost top and sides and smooth with cake scraper/comb. Place in freezer for 15-20 minutes to chill. Repeat with additional cake if making two tiers.
Place dowels in bottom layer to support top tier. Stack cakes. Make ganache drip. Drip chocolate over bottom tier and top tier. Let sit for 5 minutes.
Fill piping bag fitted with 1M tip and pipe frosting along the top. Add sprinkles on top of both tiers.
Add royal icing lollipops** and additional royal icing decorations. Serve or refrigerate then bring to room temperature before serving.
* Crumb coat is a thin layer of frosting applied after stacking the cake, so the crumbs do not show when the final layer of frosting is applied.
** Prepare royal icing lollipops minimum 24 hours before needed, preferably 48 hours. Use Wilton meringue and instructions on container. Divide icing and color using gel food color. Place parchment on sheet pans with sides, lay straws down and pipe rosettes using 1M piping tip. Vary size and colors as needed.
Check out the amazing #HalloweenTreatsWeek recipes from our bloggers today!


Check out the amazing #HalloweenTreatsWeek recipes from our bloggers today!
Happy Halloween! We hope you're ready for a spooktacular event as we celebrate Halloween with the first annual #HalloweenTreatsWeek event hosted by Angie from Big Bear's Wife. This haunting week-long event is filled with fantastic Halloween treats, recipes and some frightfully fun giveaways.

"When witches go riding, and black cats are seen, the moon laughs and whispers 'tis near Halloween."
For our very first #HalloweenTreatsWeek event we have 30 talented bloggers that are sharing their favorite Halloween recipes throughout the week! There are going to be over 100 Halloween themed recipes shared during this year's #HalloweenTreatsWeek and we can't wait for you to see them all!
Plus, don't forget that we have 5 (five) great giveaways for you this week thanks to our amazing sponsors!
Scroll down to take a look!

Prize #1
Prize #1 — Dixie Crystals
is giving away one (1) Instant Pot (8 Qt) to one lucky winner!
Prize #2
Prize #2 — Adam's Extract
is giving away – 1 Gift Pack – including Pure Vanilla Extract, Ground Cinnamon, Caramel Extract, Almond Extract, Pumpkin Pie Dip Mix and Adam's Best Twice as strong Vanilla
Prize #3
Prize #3 —
Wilton
is giving away a Wilton Gift Pack – including – Halloween Cookie House Bat, Tombstone and Skull 3-Piece Cookie Cutter Set, Halloween Skull Tube Pan, Zombie Cupcake Liners, Skull Sugar Decorations
Prize #4
Prize #5
Giveaway open to US Residents 18 years or older. All entries will be verified. No PO Boxes Please. Prizes will be sent directly from sponsors to winners, bloggers are not responsible for prizes. This giveaway runs from October 1st – October 6th at 12AMEST. Winners will be selected soon afterward and contacted by e-mail. Winners will have 48 hours to respond or a new winner will be chosen. There are a total of 5 (five) prizes and therefore we will have a total of 5 (five) winners. No purchase necessary. Void where prohibited by law.
Disclaimer: These posts and recipes are part of the week-long event, #HalloweenTreatsWeek but all opinions are 100% mine! We would like to Thank our amazing sponsors: Dixie Crystals, Adam's Extract, Wilton, Sweets and Treats Shop and Treat Street USA ! These wonderful sponsors provided the prize packs for our giveaways and also sent samples and products to the #HalloweenTreatsWeek bloggers to use in their recipes.