Chocolate peppermint yogurt bundt cake topped with peppermint yogurt ganache and crushed candy canes is the perfect holiday season treat. Stonyfield Yogurt is my secret ingredient in this moist and fudgy chocolate cake.
This sponsored post is written on behalf of
Stonyfield
and
Krups
. All opinions are my own.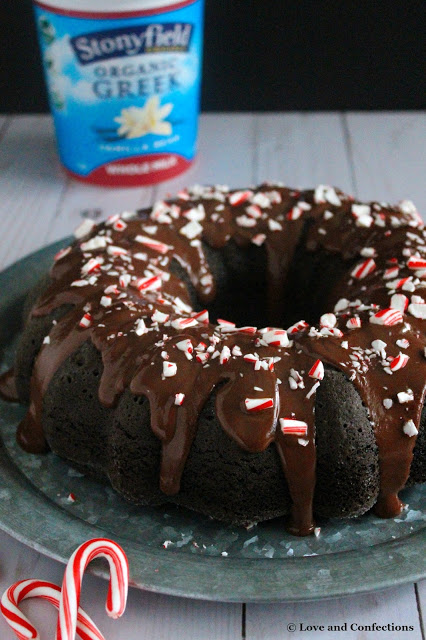 As the holiday season comes to a close, I am still lingering on the flavors of Christmas. Peppermint, cranberry, and gingerbread are all still being used in my kitchen. I am holding on to those flavors as long as I can. While I welcome the New Year, Christmas is my favorite time because of the traditions and flavors that accompany it.
Most people are recovering from their Christmas feasts and preparing for all the New Year's Eve and New Year's Day celebrations. Our NYE celebrations include appetizers, drinks and desserts. Among them is this Chocolate Peppermint Yogurt Bundt Cake. I love all things champagne, but there are definitely some chocolate-lovers in my house and this cake is always a hit.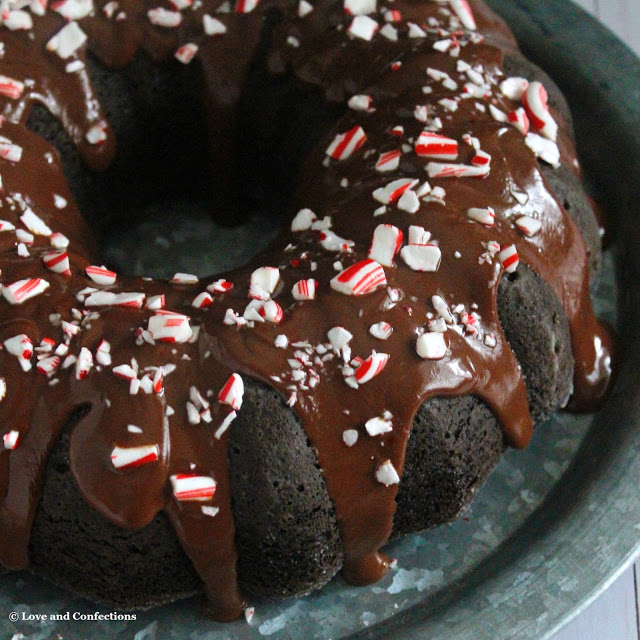 I always have Stonyfield Yogurt in my refrigerator all the time and thought a Greek yogurt cake would be a nice twist on the classic sour cream bundt cake. A delicious added bonus is that I used the Stonyfield Greek Vanilla Whole Milk Yogurt, which not only helps to bake a moist cake, but also adds a little extra vanilla flavor. I use Stonyfield yogurt to lighten up my recipes and it is a great substitution for oil, mayo, sugar, sour cream, butter, and more.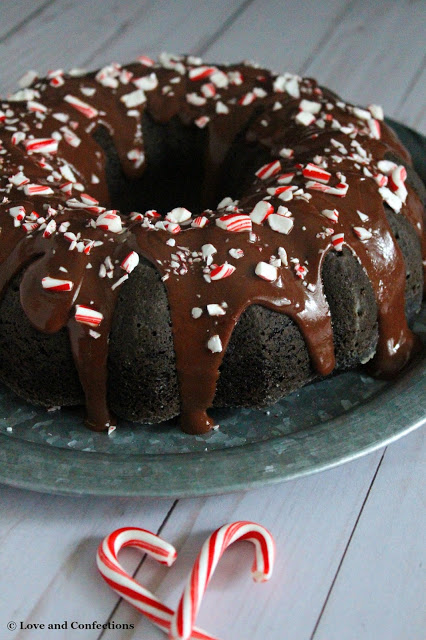 Everything Stonyfield makes isn't just delicious, it's also made with certified organic and organic compliant ingredients. Stonyfield Organic makes things simple because it's made without the use of toxic pesticides, artificial hormones, antibiotics and GMOs.
The peppermint flavored cake and yogurt ganache blends the flavors of the holiday season while creating a delicious fudge cake for a crowd. Peppermint can definitely be a strong flavor so you don't want to overdo it. Everything in moderation! This cake can easily be prepared the day before and glazed before serving – to cut down on prep time. I will also admit that it is great the morning after, with a cup of coffee from my Krups Coffee Maker.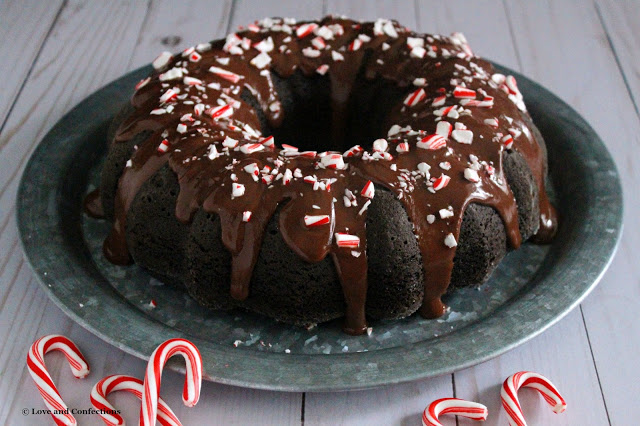 One of my baking secrets is that I use espresso powder or instant espresso when baking with chocolate. If you only use a little bit, it brings out the flavor of the chocolate, as opposed to making a mocha flavored dessert. If you don't have espresso powder on hand just use a cup of coffee, brewed from your Krups Coffee Maker, in place of the powder and hot water in the recipe.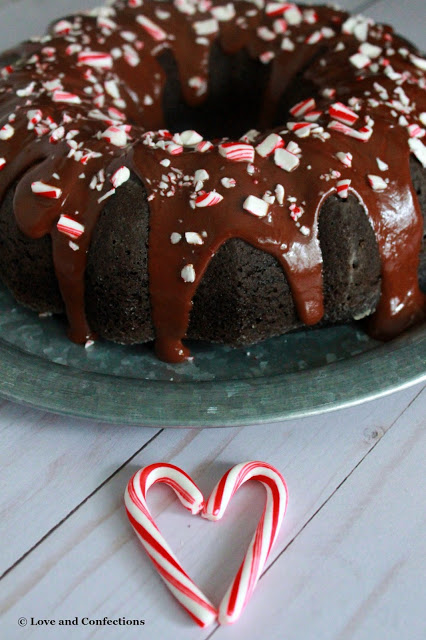 Chocolate Peppermint Yogurt Bundt Cake
By Love and Confections
Ingredients
1 cup hot water
1 tablespoon espresso powder or instant espresso
1/2 cup dark cocoa powder
2 cups sugar
1 teaspoon baking powder
1/4 teaspoon baking soda
1 teaspoon salt
2 cups all-purpose flour
1 teaspoon vanilla extract
1/2 teaspoon peppermint extract
2 large eggs
1/2 cup Stonyfield Vanilla Bean Greek Yogurt
Instructions
Heat oven to 350F. Butter and flour bundt pan and set aside.
In medium saucepan, combine hot water, espresso powder, and cocoa on low until butter has melted. Let liquid cool to room temp.
In medium bowl, whisk together sugar, baking powder, baking soda, salt and flour. In separate bowl or measuring cup, whisk together vanilla extract, peppermint extract, eggs and yogurt.
Add chocolate mixture to flour and stir to combine. Add egg mixture in and stir to combine.
Pour into bundt pan and bake for 45-55 minutes, or until a toothpick or skewer inserted into the center comes out clean. Let cool for 5 minutes in the pan, then turn out onto serving plate to cool completely.
Chocolate Peppermint Yogurt Ganache
By Love and Confections
Ingredients
1 1/2 cups mini semisweet chocolate chips
1/4 cup Stonyfield Vanilla Bean Greek Yogurt
3-4 tablespoons heavy cream
Instructions
In small saucepan, heat ingredients on medium-low, stirring constantly, until chocolate has completely melted. Pour onto cake then top with crushed candy cakes. Store cake in refrigerator.
Until next time,
LOVE & CONFECTIONS!
I have an ongoing relationship with Stonyfield Yogurt as a recipe developer. Thank you for supporting the brands that make Love and Confections possible. This post may contain Amazon Affiliate links – if you make a purchase after clicking the link, the price will not be higher, but a portion of the sale will go towards the sustainability of this website. As always, all opinions are my own.